–
The Performance
[Rating:3.5/5]
Johann Strauss, II, "The Waltz King," wrote more than a dozen operettas of which Die Fledermaus (The Bat) is easily the most popular. This December 31, 1990 Royal Opera House production marked the farewell performance of Dame Joan Sutherland. Dame Joan's husband, conductor Richard Bonynge led the Royal Opera House Orchestra and Chorus.

John Cox's traditional staging, sets and period costumes are quite stunning and receive loving attention from video director Humphrey Burton's camera crew. The English language-performing version by John Mortimer reveals the copious humor in this piece, with numerous ad libs aimed at today's audiences.
Die Fledermaus is a musical sit-com with a romantic triangle between Gabriel von Eisenstein (Louis Otey), his wife Rosalinde (Nancy Gustafson), and her former lover Alfred (Bonaventura Bottone).  Following a botched defense by his incompetent lawyer Dr. Blind (John Dobson), Eisenstein must serve an eight-day prison stay for insulting a public official. Later, Alfred and Rosalinde are discovered together by the warden Colonel Frank (Eric Garrett). Alfred identifies himself as Rosalinde's husband and is carted off to jail.
Prince Orlofsky's (Jochen Kowalski) gala ball on the stage of the Imperial Theater is the perfect opportunity for the lawyer Dr. Falke (Anthony Michaels-Moore), another of Rosalinde's former flames, to get even with Eisenstein for publicly humiliating him. Some years earlier after a night of carousing, Eisenstein left the Falke in the town's center, passed out and in a bat costume. Courtesy of Falke's insistence, Eisenstein arrives at the party and attempts to seduce Rosalinde (disguised as an Hungarian countess) who makes off with his prized watch. Rosalinde's maid Adele (Judith Howarth, disguised as an actress in one of Rosalinde's dresses), cozies up to Colonel Frank while the guests guzzle champagne.
After a truly comic scene in the town jail, presided over by the jailer Frosch (John Sessions), Rosalinde and Eisenstein reconcile, Falke's need for revenge is satisfied and the Colonel becomes the patron for Adele's acting career.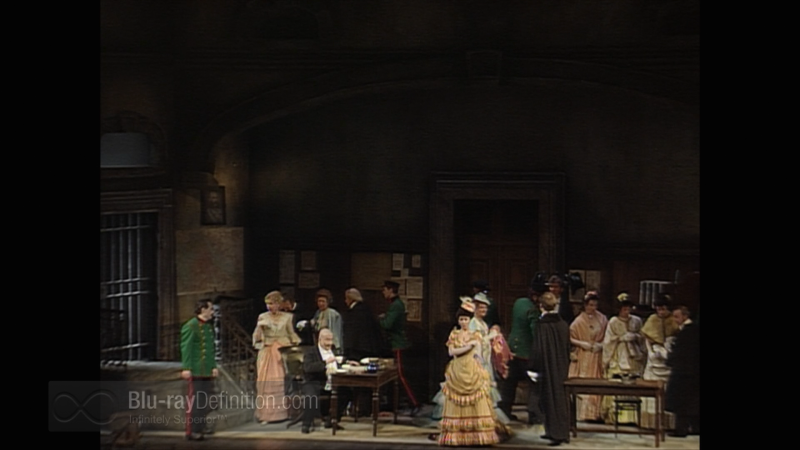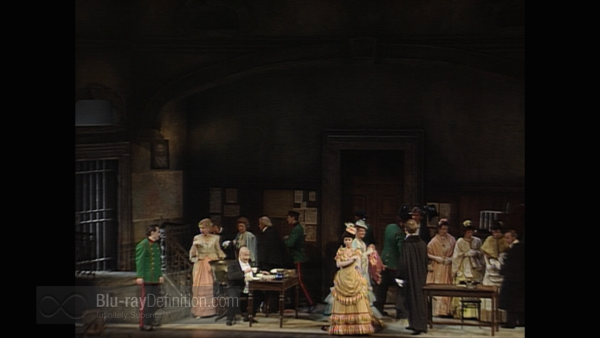 This gala farewell performance is oozing with joie de vivre. Although many of the excellent cast may be unfamiliar to today's audiences, they form a terrific ensemble. Special mention goes to Otey's physical prowess and flawless intonation, Bottone's hysterical spoof of the Italian tenor, and the unusual touch of having a countertenor (Kowalski) inhabit a role that is usually portrayed by a woman. The cameo performances in Act II feature tenor Luciano Pavarotti, soprano Sutherland, and mezzo-soprano Marilyn Horne in solos and duets of some of their signature roles. The "impromptu" program concludes with Dame Joan's moving rendition of "Home, Sweet Home," leaving nary a dry eye amongst an audience that gives out a long and raucous standing ovation.

Video Quality
[Rating:3.5/5]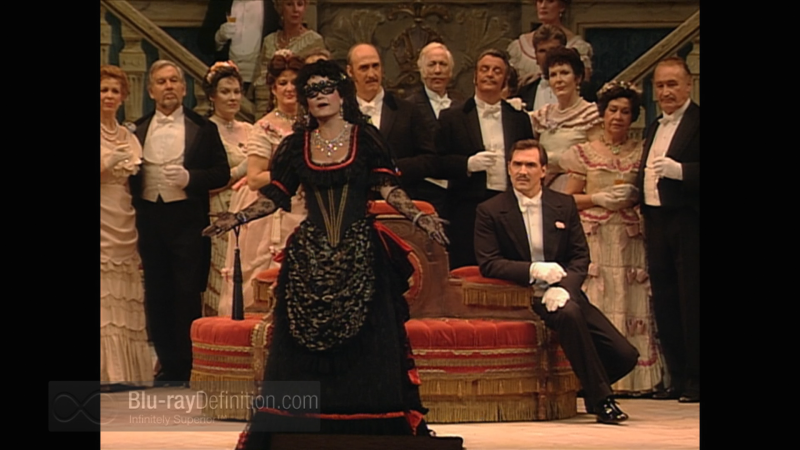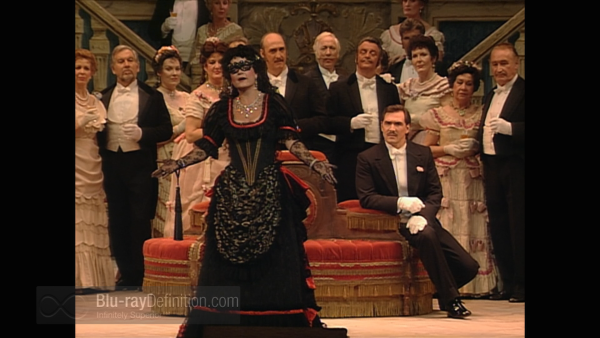 This is a standard definition video that excels considering its 25-year old vintage.  While not nearly as sharp as today's high-resolution Blu-rays, the close-ups shots are astonishingly well-defined and the colors often quite brilliant.

Audio Quality
[Rating:4/5]
The soundtrack is clear and the rather sumptuous 48kHz/16-bit version comes across with the requisite "Viennese" gemutlichkeit that is at the heart of this operetta. The voices are given prominence that enables that every single word, and I mean every single word, to be heard most clearly.

Supplemental Materials
[Rating:3/5]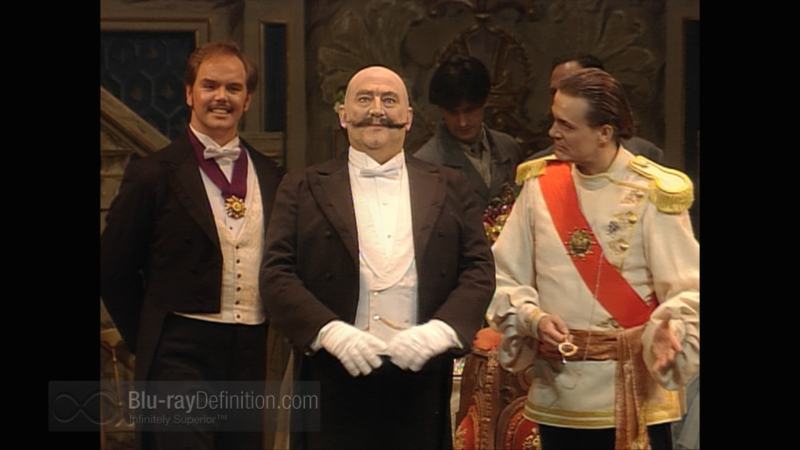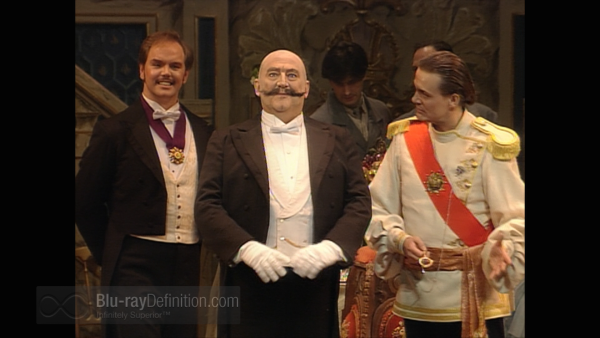 As a bit more of the embarrassment of riches on this disc are three Opera Australia selections from the Sutherland catalog, all in standard definition and introduced by the Dame herself:
"D'amor sull'all rosee" (Verdi: Il Trovatore): 9:14 (48k/24b)
The Mad Scene (Donizetti: Lucia di Lammermoor): 9:54 (48k/24b)
"Casta Diva" (Bellini: Norma): 10:29 (48k/16b)
Tacked on to the formal program is "A Farewell to Joan Sutherland," complete with streamers, balloons, and Prime Minister John Major:
Strauss: Unter Donner und Blitzen Polka: 3:18
"Prime Minister, Ladies and Gentleman" (Jeremy Isaacs, Director Royal Opera House): 4:22
"I'm sorry my projection is not as good as Jeremy's" (Joan Sutherland): 3:08
The program booklet contains excellent background essays on the composer and this operetta as well as the current performance. Cast and production credits, a track listing, and a synopsis are also included. Arthaus Musik provides the usual classical trailers.

The Definitive Word
Overall:
[Rating:3.5/5]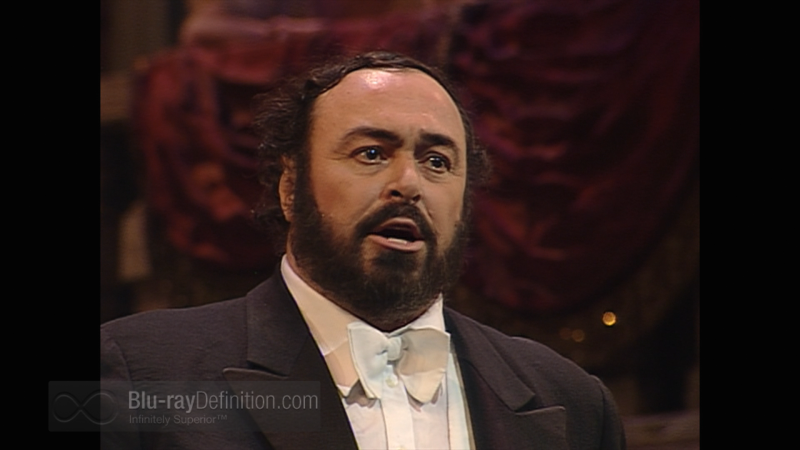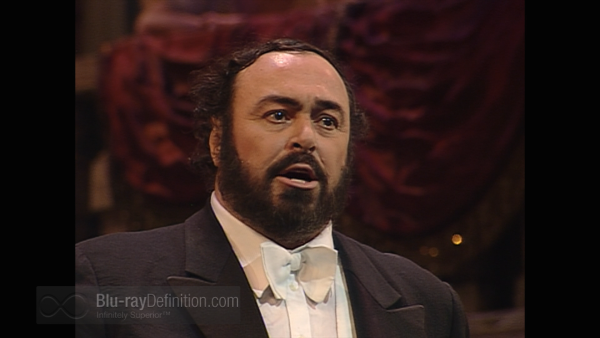 While there may be better sung renditions of this beloved operetta, this Blu-ray version is among the most delightful that I have seen and yields many moments of sheer pleasure. The cast of true singing actors is well balanced and Bonynge's conducting in this musical comedy is sans pareil. The inclusion of the Sutherland-Pavarotti-Horne trio is alone worth the price of this disc. The three hours of this whipped-cream affair race by with countless laugh-out-loud moments. Just enjoy over and over again with your favorite champagne!

Additional Screen Captures