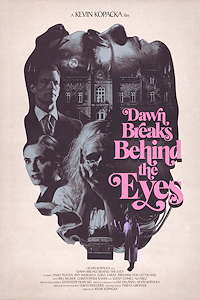 Having just inherited a run-down castle, Margot (Luisa Taraz) and Dieter (Frederik von Luttichau) decide to spend the night, only to soon realize that time and reality are quite what they seem inside said castle. In an almost rapid pace, the couple find their relationship put to the test, resulting in an alternate world being opened up, a world where both our placed in opposite roles. What results with Dawn Breaks Behind the Eyes is a film that is simultaneously visceral and aural on the senses.
Visually, the film is a visceral treat. While the sound design is also something to behold (I'll touch on that in a few,) some of the visuals Director of Photographer Lukas Dolgner has come up with capture the essence of the film. There are instances of hallucinations that may make some queasy, but that all but adds to the themes Kopacka and company are trying to capture.
One of the best aspects of Kopacka's Dawn Breaks Behind the Eyes has to be the film's subtle, but highly effective sound design. Small spiders walk, which one may think might not be important; however, each little leg of said spiders creates a little creaking, as they quickly move away. Outside, we hear all of nature envelope the films sound field truly bringing us into this odd, yet highly entrancing world.
Dawn Breaks Behind the Eyes (2021)
Dawn Breaks Behind the Eyes is something in a film I've very rarely seen before, kind of reminding me of the 2013 Andy Muschietti film Mama. Where that film had some issues with the script, the opposite can be said of this. Simply put, if you're a fan of a type of horror that is more old school, give Dawn Breaks Behind the Eyes a spin. You won't be disappointed.
---
Studios & Distributors: Crossbones GmbH | Sylenteye Films | Dark Sky Films
Country: Germany
Language: German
Run Time: 74 Mins.
Director: Kevin Kopacka
Written By: Kevin Kopacka | Lili Villányi
Street Date: 24 June 2022 (US) (Digital)