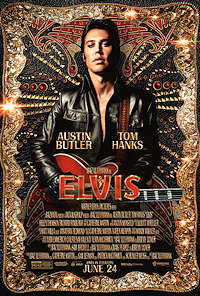 Musical biopics can be hit-and-miss affairs but taking on the much larger than life rock 'n roll legend Elvis Presley is another challenge all by itself. Yes, I did see "The King's" first television appearance on the Dorsey Brothers weekly variety show, followed by his guest appearances on other shows hosted by Milton Berle, Steve Allen, and Ed Sullivan.  It soon became apparent that this singer would become a major star in the firmament of popular recording artists.
Elvis begins in 1997 as a dying Colonel Tom Parker (Tom Hanks), Presley's manager and promoter, reminisces about Elvis's achieving fame and fortune. Early in his life, a young Elvis (Chaydon Jay) becomes infatuated with the Black Gospel and R&B music of the 1940s.  Parker, a previous carny sideshow operator and con man—"show business is snow business"—is already managing the  career of C&W star Hank Snow (David Wenham). The Colonel hears Elvis' radio performances and hires him to join the Hank Snow tour where he eventually gets top billing. Elvis (Austin Butler) with his swivel hips and pelvic thrusts on the stage causes young women to swoon and gets older women to throw their panties at him. However these stage moves get Elvis arrested for lewd behavior in public. To avoid jail time  Parker gets him to enlist in the US Army. Elvis gets stationed in Germany where he meets young Priscilla Beaulieu (Olivia DeJonge),an Army officer's daughter.  Eventually,  they get married and have a daughter but their marriage begins to founder when Colonel Parker commits Elvis to a long-term contract at the International Hotel and Casino in Las Vegas. Elvis' regular involvements with other women and his growing addiction to performance-enhancing drugs provided by Dr. Nick (Tony Nixon) finally tank his marriage and his drug-dependence causes his premature death.
This is as good a musical biopic as I have seen in a long time. There is an outstanding  supporting cast that includes Helen Thomas as Elvis's alcoholic mother Gladys, Richard Roxbrough as his ineffectual father Vernon, as well as stunning impersonations of Black pop music legends like Alton Mason's Little Richard. The weak link in this otherwise strong cast is Olivia DeJonge's Priscilla but this is more the result of how her role was written than from her acting ability. Austin Butler and an unrecognizable Tom Hanks turn in performances  almost certain to generate Oscar buzz. Butler completely inhabits the title character as underscored by the almost eerie morphing of his closing song into actual footage of Elvis himself performing the same number. Hanks' portrayal of an illegal Dutch immigrant who was neither a Colonel nor a Parker simply oozes the smarminess of an experienced con man. But the real star of this production is Australian writer-director Baz Luhrmann who takes on an iconic entertainer and creates an engrossing two-and-a-half hour story of a life only lasting for 42 years. Luhrmann also interposes major events of those unsettled times such as the 1968 assassinations of Martin Luther King, Jr. and Bobby Kennedy, and does so with a deft touch.  Visuals in Luhrmann films consistently bowl viewers over, and Elvis certainly delivers those goods thanks to the  work of Australian cinematographer Mandy Walker and film editors Jonathan Redmond and Matt Villa that places viewers in the middle of the action and often juxtaposes two or more images on the big screen. The songs speak for themselves with a nearly equal number being original Presley recordings and their new versions by Austin Butler.
It is not often that I walk out of a movie theater feeling that I have just had a new revelation about an artist who I thought I knew quite well but that was certainly the case with Elvis. Die-hard Elvis fans will surely eat this film up and it may also generate a new audience of younger people less familiar with this singer. Highest recommendation.
Elvis is now showing in theaters
---
Rating Certificate: PG-13 (for substance abuse, strong language, suggestive material and smoking)
Studios & Distributors: Warner Bros. | Bazmark Films | Roadshow Entertainment | The Jackal Group | Whalerock Industries
Country: USA | Australia
Language: English
Run Time: 159 Mins.
Aspect Ratio: 2.39:1
Director: Baz Luhrmann
Written By: Baz Luhrmann | Jeremy Donner
Release Date: 24 June 2022