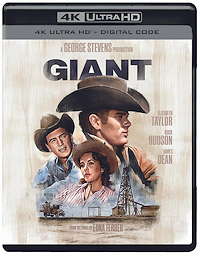 Giant is a sprawling epic from director George Stevens based on the Edna Ferber novel. Starring Hollywood legends Rock Hudson, Elizabeth Taylor, and James Dean in his final role before his untimely death.
The story traces the rivalry over decades between Texas rancher Jordan "Bick" Benedict (Hudson) and his former ranch hand turned oil tycoon Jett Rink (Dean). The film begins in 1922 Maryland where Jordan is interested in purchasing a horse to take back to Texas, but his host's beautiful daughter Leslie Lynnton (Taylor), catches his eye. He's smitten, she's smitten, the two fall in love and marry. They travel back to Texas, but the honeymoon is quickly interrupted when Leslie finds herself butting heads with her new husband's sister Luz (Mercedes McCambridge), at his ranch Reata. Luz, the unmarried, tough-as-nails head of the ranch asserts herself as the one in charge and the rightful mistress of the house over Leslie. Things take a terrible turn, however, when the headstrong Luz takes an unwise ride on Leslie's somewhat wild horse, and it bucks her. Luz dies, leaving Leslie the sole lady of the ranch, and she quickly begins to assert herself and to begin to take interest in Reata's Mexican worker who are living in squalor on the edge of the property. Luz's death also brings about a major change for Reata – she leaves a small piece of property long thought worthless to ranch hand Jett Rink.
Rink, who has an obvious attraction to Leslie, takes the land instead of the cash Bick tries to buy him off with and works its dead oil mines until eventually they strike, making him a wealthy man. This only serves to intensify what was already a growing rivalry and hatred the reasons for which are not immediately spelled out between Bink and Jett. As time passes and Jett's oil company grows, he grows increasingly powerful and influential, while Bink's power and influence wanes, but the two men and their families remain intertwined.
Giant is one of the most enduring epics from this era in Hollywood most notably because it deals with issues we are still dealing with today and because of the powerhouse performances from the leads. This must surely be one of the best performances from Rock Hudson outside of Seconds and, of the three films made by James Dean, it is the most complete and well-rounded of the characters, offering a glimpse of what could have been had he lived. Elizabeth Taylor also shines as the woman caught in the middle of it all. George Stevens' direction is neither too melodramatic nor too testosterone fueled. It offers a fine balance between the drama and epic western that this film is.
The Video
Giant is a new 4K restoration sourced from both the original camera negatives and protection RGB separation master positives, color corrected in Dolby Vision HDR. It is brought to 4K Ultra HD in a 2160p (4K UHD) encodement with Dolby Vision and framed at 1.66:1. The HDR metadata shows a MaxLL of 1559 nits and a MaxFALL of 126 nits.
The image of Giant is mixed at best. While the transfer does the best it can with the mixed sourcing, there is too big a difference in quality between the OCN and the RGB separation master positive to go unnoticed, and the issue is that the OCN makes up the smallest portion of the restoration, probably only a third. When the image is from the original negative, it is stunning – gorgeous colors, extended details, and organic film grain. The other frames, however, offer significant drop off in quality. While there is no noise, macroblocking posterization, or edge enhancement, these portions often look very soft, even blurry almost, and show some haloing around objects. It's sad that this great film's source wasn't better kept, but such is the case.
The Audio
Giant has an English DTS-HD Master Audio 2.0 monaural audio track. The audio was sourced from a 1995 protection copy of the original magnetic mono soundtrack. It sounds as good as can be expected given this provenance, and with the lossless 2.0 track is hefty enough to pack good punch in places like when Dean strikes oil on his land.
The Supplements
The only on-disc supplement for Giant is the detailed, but often quiet audio commentary. There is access to the iTunes Extras via the Movies Anywhere Digital Copy, however, which offers a lot more bonus content, including the audio commentary.
Commentary by George Stevens Jr., Screenwriter Ivan Moffat, and Film Critic Stephen Farber
iTunes Extras:

Introduction by George Stevens Jr. (2:53)
Return to Giant (55:09)
Memories of Giant (51:38)
New York Premiere Telecast (28:51)
Hollywood Premiere (4:20)
Giant Stars Are Off to Texas (0:37)
Behind the Cameras:

On Location in Marfa, Texas (5:57)
A Visit with Dimitri Tiomkin (6:32)

George Stevens: A Filmmaker's Journey (1:51:29)
George Stevens: Filmmakers Who Knew Him (45:38)
Trailers:

Book Version
1956 Re-Issue
1963 Re-Issue
1970 Re-Issue
The Final Assessment
A great classic that holds up to time hampered only by the unfortunate issues with its source, but Warner have done a bang-up job nevertheless with the resources they have to bring this one to 4K.
Giant is out on 4K Ultra HD Blu-ray June 21, 2022 from Warner Bros. Home Entertainment
---