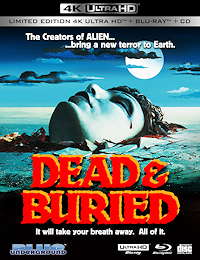 Dan O'Bannon and Ronald Shusett, the screenwriters for Alien, moved on from that massive success to crafting this atmospheric early-1980s horror film, Dead & Buried.
The story follows Dan Gillis (James Farentino), who has recently returned to his hometown of Potter's Bluff to be the sheriff of this small town. Dan's job becomes instantly more complicated than usual for a small-town sheriff when a string of out of towners begin turning up dead and his investigations seem to link the deaths to local mortician elderly mortician, Dobbs (Jack Albertson, in his final feature film role). But Dan's problems don't end there. He has suspicions that the killings may also have some sort of cult link to them, and matters worsen when he discovers his wife has been hiding books on witchcraft and strange ritual knives from him. When Dan finally does get to the bottom of what is going on, he realizes it is far deeper than he ever expected.
Dead & Buried is a film squarely planted in the early 1980s rebirth of the horror genre. It is an atmospheric, creepy, almost folk horror that hits you gore, practical effects, and jump scares at the right moments. It is almost a lab in how to build suspense, but unfortunately it is hindered by a few misses when it comes to one or two hastily put together visual effects.
Despite the flaws, we have a believable story and a cast that really works well together. The scenes between Farentino and Albertson as they banter and intense set pieces such as a family driving through that stumble into trouble in Potter's Bluff or of course the shocking opening sequence. There is more than enough in this film please genre fans that love both more visceral horror and more cerebral horror.
The Video
Dead & Buried is a new 4K restoration from the 35mm IP approved by Director of Photography Steven Poster, ASC (Donnie Darko, Someone to Watch Over Me). It uses a 4K DI and arrives on 4K Ultra HD Blu-ray in a 1.85:1 HEVC 2160p (4K UHD) with Dolby Vision (compatible with HDR10) encodement. Given this is not from the original camera negative, one can expect it to look a little softer and grainier, and it does, but it looks very clean and natural otherwise with good overall color reproduction and natural flesh tones. The Dolby Vision HDR application is one of the best I have seen for a catalogue genre film to date and that is not hyperbole. The flames in the infamous immolation scene, the bright orange, and amber flames really 'pop' from the screen and have a more vibrant pallet than on the Blu-ray. Also, throughout, the camera flashes are blindingly bright.
The Audio
There are multiple sound mixes to choose from included on the 4K Ultra HD Blu-ray and included Blu-ray Disc. The original mono in DTS-HD 1.0, an Atmos mix, a DTS-HD Master Audio 5.1 mix, and a French dub in DTS-HD Master Audio 1.0. If you want the most authentic experience, then, go with the perfectly acceptable, intelligible, and clean English mono mix. For the best spruced up experience, go with the Atmos mix. It extends the soundstage nicely without sounding too gimmicky. One of the best examples of this is the scene on the docks with the foghorn blowing in the distance. In the lossless 5.1 mix, this sound collapses, and it is coming from somewhere in front of you, but in the Atmos mix, there's much more height awareness and the sound emanates more from a distant place above you.
The Supplements
Dead & Buried is a set with a nearly overwhelming amount of bonus features and collectibles included. There are a grand total of four audio commentaries, each worth a listen, particular the ones with the director, the DOP, and film historians Troy Howarth and Nathaniel Thompson.
Audio Commentaries:

Audio Commentary #1 with Director Gary Sherman
Audio Commentary #2 with Co-Writer/Co-Producer Ronald Shusett and Actress Linda Turley
Audio Commentary #3 with Director of Photography Steven Poster, ASC
Audio Commentary #4 with Film Historians Troy Howarth and Nathaniel Thompson

NEW! Behind the Scenes of Dead & Buried (1080p; 00:33:18)
NEW! Dead & Buried Locations: Now & Then (1080p; 00:03:57)
NEW!Murders, Mystery, and Music – Interviews with Director Gary Sherman and Composer Joe Renzetti (1080p; 00:15:16)
NEW! The Pages of Potters Bluff – Interview with Novelization Author Chelsea Quinn Yarbro
Stan Winston's Dead & Buried EFX (1080p; 00:12:49)
Robert Englund: An Early Work of Horror (1080p; 00:12:25)
Dan O'Bannon: Crafting Fear (1080p; 00:14:26)
Theatrical Trailers (1080p; 00:04:55):

International Trailer
S. Trailer
Teaser Trailer

Poster & Still Galleries (1080p):

Posters
Advertising Materials
Japanese Souvenir Program
Lobby Cards
Stills
Stan Winston's FX
Video & Book

Steven Poster's Location Stills (1080p)
BONUS! DEAD & BURIED Original Motion Picture Soundtrack CD by Joe Renzetti
BONUS! Collectible Booklet with new essay by Michael Gingold
Reversible sleeve and moving lenticular slipcover (First Pressing Only)
The Final Assessment
A masterful restoration of this cult horror flick should be an instant purchase for any genre fans.
Dead & Buried (Limited Edition) is out on 4K Ultra HD Blu-ray Combo July 20, 2021 from Blue Underground
---
Rating Certificate: R
Studios & Distributors: Aspen Productions (I) | Barclays Mercantile Industrial Finance | Blue Underground
Director: Gary Sherman (as Gary A. Sherman)
Written By: Jeff Millar (story) | Alex Stern (story) | Ronald Shusett (screenplay) |Dan O'Bannon (screenplay) | Chelsea Quinn Yarbro (novel)
Run Time: 94 Mins.
Street Date: 20 July 2021
Aspect Ratio: 1.85:1
Video Format: HEVC 2160p (4K UHD)
HDR Format: Dolby Vision (HDR10 Compatible)
Primary Audio: English Dolby Atmos
Secondary Audio: English DTS-HD MA 5.1 | English DTS-HD MA 1.0 | French DTS-HD MA 1.0
Subtitles: English SDH | French | Spanish