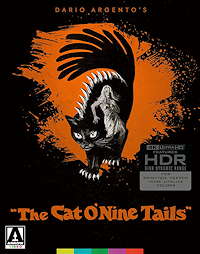 The second film in Dario Argento's so-called "Animal trilogy," Cat o' Nine Tails ups the ante on the Hitchcockian mystery-thriller giallo genre that the filmmaker helped define.
When a man accidentally falls in on the tracks in front of the train of a celebrity arriving in Turin, newspaper reporter Carlo Giordani (James Franciscus) investigates the incident further and gets help from blind, retired news reporter Franco Arnò (Karl Malden). Their investigation leads them to a pharmaceutical company and its new top-secret experiments and to the reality that the accident may have been a murder. There is soon a series of killings to cover up the initial murder and they both become a target of the killer themselves.
In typical Argento fashion, Cat o' Nine Tails is a hyper-stylized and incredibly suspenseful thriller that takes the influences from Hitchcock films like Psycho and Vertigo and turns them up to 11. The chiaroscuro, the mise en scène, the off-kilter camera angles, and of course the shocking twists, all lead the viewer on a labyrinthine journey of violence, mystery, and eroticism. While this film is not on the same level of other Argento films, it is still filled with a rich panoply of enticing Argentoisms that make it worthy of reassessment.
The Cat o' Nine Tails (1971)
The Video
This presentation of Cat o' Nine Tails is a new 4K restoration from the original negative by Arrow Films presented in a 2.35:1 HEVC 2160p (4K UHD) with Dolby Vision (HDR10 compatible) encodement. This transfer steps up the overall video quality a notch over Argento's first film, The Bird with the Crystal Plumage, which isn't surprising, given he likely had a little more money and leeway, which also led to higher picture quality here. The Arrow restoration looks good, with a natural grain structure that looks even finer and more controlled than on Arrow's 2018 Special Edition Blu-ray release. The flesh tones look generally natural although I did see a hint of red push from time to time. As for the Dolby Vision, it really sparkles in this release. There are plenty of opportunities for specular highlights to 'pop' with the many set pieces in the dark, such as when Karl Malden and James Franciscus are making their way through the graveyard with the flashlight or glints of light on the glasses of milk in Franciscus' apartment. They don't use the HDR in a gimmicky way, but to serve this classic film, and it looks very good. The wider color gamut helps a lot as well, like with the deep red blood during fist fights. This is a well-done application of HDR on a catalogue release.
The Audio
Cat o' Nine Tails arrives on 4K Ultra HD with both English and Italian versions in DTS-HD Master Audio 1.0. Technically, both are dubs with the film having been recorded in English and then redubbed in English and Italian. I would say that both fully restored soundtracks sound very good even though the sound is limited to the center channel. If your center channel is good enough, you get a quite full and clean mix that also presents the pseudo-jazz score nicely as well.
The Supplements
Arrow Video as per usual loads up this limited edition release with bonus features and collectibles. Be sure to check out the very entertaining audio commentary by Alan Jones and Kim Newman, with the two of the them giving a running, friendly, conversational, and very listenable commentary that provides lots of detail and background information.
Limited Edition Contents:
Illustrated collector's booklet featuring an original essay on the film by Dario Argento, and writing by Barry Forshaw, Troy Howarth and Howard Hughes
Fold-out double-sided poster featuring original and newly commissioned artwork by Obviously Creative
Six double-sided, postcard-sized lobby card reproduction art cards
Limited edition packaging with reversible sleeve featuring originally and newly commissioned artwork by Obviously Creative
Bonus Features:
Commentary by Alan Jones and Kim Newman
Nine Tails (1080p; DV; 00:15:57) – An exclusive interview with co-writer/director Dario Argento, recorded for Arrow Video in 2017.
The Writer O' Many Tales (1080p; DV; 00:34:46) – An exclusive interview with co-writer Dardano Sacchetti, recorded for Arrow Video in 2017.
Child Star (1080p; DV; 00:11:02) – An exclusive interview with actress Cinzia De Carolis, recorded for Arrow Video in 2017.
Giallo in Turin (1080p; DV; 00:15:11) – An exclusive interview with production manager Angelo Iacono, recorded for Arrow Video in 2017.
Original Ending (1080p; DV; 00:03:09) – The original ending reconstructed with still images and captions.
Trailers (1080p):

Italian Theatrical Trailer
International Theatrical Trailer
US Domestic Theatrical Trailer

Image Galleries (1080p):

Posters
Italian lobby cards
German promotional materials
US promotional materials
US pressbook
Soundtracks
The Final Assessment
A satisfying giallo from the auteur that looks and sounds wonderful in this 4K Ultra HD limited edition from Arrow Video.
The Cat o' Nine Tails (Limited Edition) is out on 4K Ultra HD on August 24, 2021 from Arrow Video
---
Rating Certificate: GP
Studios & Distributors: Seda Spettacoli | Terra-Filmkunst | Labrador Films | Arrow Video
Director: Dario Argento
Written By: Dario Argento (based on a story by, screenplay) | Luigi Cozzi (based on a story by) (as Luigi Collo) | Dardano Sacchetti (story) | Bryan Edgar Wallace (screenplay) (uncredited)
Run Time: 112 Mins.
Street Date: 24 August 2021
Aspect Ratio: 2.35:1
Video Format: HEVC 2160p (4K UHD)
HDR Format: Dolby Vision (HDR10 Compatible)
Primary Audio: English DTS-HD MA 1.0
Secondary Audio: Italian DTS-HD MA 1.0
Subtitles: English | English SDH