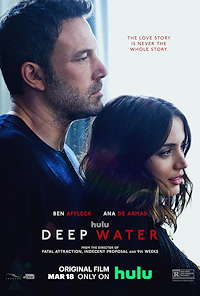 Director Adrian Lyne has not made many films, but nearly half of his output are erotic thrillers like Fatal Attraction, Indecent Proposal, and Unfaithful. Of note, Deep Water is Lyne's first film in nearly two decades and the lead actors, Ben Affleck and Ana de Armas became romantically involved during the filming that stretched out over two years.  Screenwriters Zach Helm and Sam Levinson adapted Patricia Highsmith's novel of the same name.
Vic Van Allen (Affleck) lives with his wife Melinda Van Allen (de Armas) and daughter, Trixie (Grace Jenkins) in a small rural Louisiana town. Vic retired at an early age thanks to a large sum of money he received from creating guidance chips for drones. Unfortunately, the spark has gone out of the Van Allen's marriage and, by agreeing not to divorce Vic, Melinda is allowed to have other lovers, the latest of which is a musician Joel Dash (Brendan C. Miller). When Vic gets alone with Joel and lies to him that he murdered Martin McRae, Melinda's previous lover (not true), Dash gets scared off. Melinda next takes up with piano teacher Charlie De Lisle (Jacob Elordi) who drowns during a pool party at the home of Vic's friend Jonas Fernandez (Dash Mihok). Melinda believes that Vic killed Charlie and has another of their friends, the writer Don Wilson (Tracy Letts) help her hire a private detective, a move that backfires on Don.
The final straw is Melinda's "reunion" with a college sweetheart Tony Cameron (Finn Wittrock). Vic who has become pathologically jealous of Melinda's affairs decides that enough is enough and the pace of this film finally picks up speed to its somewhat surprising denouement.
You would think that a director as experienced as Adrian Lyne is in this film genre would be able to generate a pulse-pounding film with a surfeit of explicit sex, but his latest effort generally disappoints in both respects. Even the title is somewhat ambiguous since the only "deep water" on the screen is in the deep end of a swimming pool. Because there is virtually no backstory about the relationship between Vic and Melinda, viewers will have to piece together what the emotionless engineer—rather like the persona Affleck portrayed in The Accountant– and the randy but vacuous young housewife ever had going for them except for an adorable young daughter played by scene-stealer Grace Jenkins. It is also unclear how Vic cultivated any of his friends with a personality so devoid of human interest. There is little opportunity to generate much sympathy for either of these lead characters and, with an ending far different from that of the Highsmith novel, you are left with an "is that all there is" feeling when the curtain falls. I wish that Lyne and his scriptwriters had made some dramatic use of the snails that Vic cultivates since these little critters return to the screen at least three times. If you want to see Lyne at his best, revisit Fatal Attraction and pass this one by.
Deep Water is streaming now on Hulu
---
Rating Certificate: R (for sexual content, nudity, language and some violence)
Studios & Distributors: 20th Century Studios | Regency Enterprises | Entertainment One | New Regency | Keep Your Head | Entertainment 360 | Film Rites | Hulu
Country: USA
Language: English
Run Time: 115 Mins.
Aspect Ratio: 1.85:1
Director: Adrian Lyne
Written By: Zach Helm | Sam Levinson
Release Date: 18 March 2022