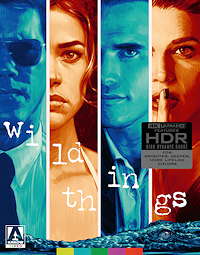 Wild Things is the 1998 neo-noir mystery/thriller from director John McNaughton who does the bulk of his work on television. After you get only short way into this campy thriller, you'll see why Naughton spends most of his time on TV work – this comes across as more of a titillating Lifetime movie than a big screen feature film at many turns, but it does hold one's attention.
Matt Dillon plays high school guidance counselor Sam Lambardo at the ritzy south Florida town of Blue Bay's Blue Bay High School. He's liked by most of the kids and outwardly a nice guy, but there's something nefarious bubbling under the surface. He's had an affair with one of his student's, Kelly Van Ryan's (Denise Richards) wealthy mothers, is currently involved with another one of the town's wealthy, upper crust women, and seems to be hated by Suzie Toller (Neve Campbell), a student from the wrong part of town, so to speak, who was once arrested for drug possession and left to hang out to dry by Mr. Lambardo who claimed to be her friend. Things begin to go awry for Lambardo when Kelly Van Ryan claims he raped her at his house after offering her a ride home and police detectives Ray Duquette (Kevin Bacon) and Gloria Perez (Daphne Rubin-Vega) come in to investigate the charges. Sam can't afford a top lawyer, so he gets the shady, bargain attorney Ken Bowden (Bill Murray) to represent him against the top attorneys Kelly's mom throws at him.
Saying more beyond this would spoil a lot of this very twisting narrative and juicy plot filled with one twist after another – maybe one or two twists too many. There's no denying the gorgeous visual style of this film and the fan service it offers it up. In 1998 a make out session between Neve Campbell and Denise Richards may have still passed as risqué, but not so much today. Looking back, it seems more exploitative and cliché, especially when one considers they are supposed to be high school students.
Flaws aside (and there are many) this is still an enjoyable guilty pleasure sort of film with performances that fall just short of so camp they elicit laughter, and so many head spinning twists just when you have the mystery solved, another curve ball comes your way.
The Video
Wild Things comes with new 4K restorations of both the Original Theatrical Version and the Unrated Edition from the original camera negatives by Sony Pictures Entertainment. Like many of Sony's own releases to 4K of their films, this does not disappoint. This is pure reference from the very opening credits when we see the title splash across the screen against the backdrop of sundown in the everglades, the beautiful orange, amber, black, and deep purple colors that 'pop' from the screen courtesy of the Dolby Vision HDR. This 2.35:1 HEVC 2160p (4K UHD) Dolby Vision encodement presents a gorgeous layer of sharp grain structure, excellent depth of field, nuanced shadows in the numerous scenes set in the dark, such as the turning point moment between Sam, Kelly, and Suzie where Suzie is seemingly drugged and clobbered over the head with a champagne bottle by Sam. There's no noise or posterization, and a fantastic array of colors, especially in the neon signage in the dive bar. This is top notch.
The Audio
Wild Things comes on 4K Ultra HD with an English DTS-HD Master Audio 5.1 mix as the sole audio track for the film apart from the audio commentaries. This mix is actually very good with superb ambience and a mix of sounds that "bounce" into the surround channels. Check the first scene where we see Sam Lambardo sailing into dock with his students. You can hear the clanking of sails from a 'non-distinct' distant location in the surrounds. The musical score has a lush, reverberant sound and dialogue comes across clearly.
The Supplements
Arrow come through again with a brilliant collection of special features curated in a beautiful collectible package and tchotchkes with brand-new artwork with reversible sleeve, and art cards. The two audio commentaries are must-listen inclusions that bring a lot to the table.
Reversible sleeve featuring original and newly commissioned artwork by Sam Hadley
Six double-sided, postcard-sized lobby card reproductions
Double-sided fold-out poster
Exclusive new interview with John McNaughton (1080p; 00:26:20)
Exclusive new interview with Denise Richards (1080p; 00:14:04)
On-set Interviews (1080i; 00:04:17)
"An Understanding Lawyer" outtakes (1080p; 00:00:27)
Trailer (1080p)
Stills Gallery (1080p)
Illustrated collector's booklet featuring new writing on the film by Anne Billson and Sean Hogan
Exclusive new audio commentary by director John McNaughton and producer Steven A. Jones
Commentary by director John McNaughton cinematographer Jeffrey Kimball, producers Steven A. Jones and Rodney Liber, editor Elena Maganini and score composer George S. Clinton
The Final Assessment
A juicy bit of guilty pleasure comes wrapped up in gorgeous packaging with a strong selection of bonus features and reference quality audio and video in 4K with Dolby Vision. This is another winning release from Arrow who continue to amaze us with their 4K releases.
Wild Things (Limited Edition) is out on 4K Ultra HD May 24, 2022 from Arrow Video
---
Rating Certificate: R (for strong sexuality, nudity, language and some violence)
Studios & Distributors: Mandalay Entertainment | Sony Pictures Entertainment | Arrow Video
Director: John McNaughton
Written By: Stephen Peters
Run Time: 108 Mins. (Theatrical) | 114 Mins. (Unrated)
Street Date: 24 May 2022
Aspect Ratio: 2.35:1
Video Format: HEVC 2160p (4K UHD)
HDR Format: Dolby Vision (HDR10 Compatible)
Primary Audio: English DTS-HD MA 5.1
Subtitles: English SDH