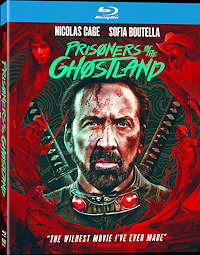 Described as a horror western, director Sion Sono's Prisoners of the Ghostland is a surreal fever dream of a film that could probably be put up against the films of Dalí and Buñuel in its opaqueness.
To gain his freedom, an infamous bank robber (Nicolas Cage) agrees to go to the Ghostlands – an eerie and mysterious land from which it is said no one ever returns – to help retrieve a nefarious wealthy warlord's daughter (Sofia Boutella).  If he cannot retrieve her within five days, explosives attached to his leather suit will detonate and kill him.
Sion's film does not run linearly by any means. There are numerous side trips through what seem like hallucinatory imagery. There are chants, strange parades, switching between traditional Japanese garb and classic western motifs, even the language, which is mainly English, is fluid, seamlessly switching between Japanese and English. The film can seem opaque at first, even aimless, but there is a peculiar atmosphere to the film that hooks you. Cage's unhinged performance fits in perfectly in this world and Sofia Boutella is quite the charmer as well.
Prisoners of the Ghostland (2021)
The Video
Prisoners of the Ghostland was shot on the Arri Alexa SXT Plus and Arri Alexa Mini cameras with Zeiss Ultra Prime lenses at 3.4K resolution. A 2K digital intermediate (DI) was utilized for mastering and the film arrives on Blu-ray in an AVC 1080p encodement framed at 2.35:1. The image is just about as flawless as it can be on this Blu-ray and it leans more towards a pristine, digital look than a filmic one, not to say it doesn't look cinematic. It surely does look that way with lots of nuance in shadows and an often-gorgeous color palette that switches between cooler shades, earth tones, and vivid primaries.
The Audio
Prisoners of the Ghostland comes with a bi-lingual DTS-HD Master Audio 5.1 mix. While the sound is wonderfully dynamic with good extension into the lower range and an airy high end that doesn't present any issues with fatigue, much of the sound is mixed across the front three channels with the surrounds offering lush atmospherics.
The Supplements
The bonus features are slim, with only a brief making of featurette that includes some behind the scenes footage and an interview with Cage, and some production stills.
The Making of Prisoners of the Ghostland (1080p; 00:08:14)
Movie Still Photo Gallery (1080p)
Behind the Scenes Photo Gallery (1080p)
The Final Assessment
A surreal western horror film that seems the perfect fit for Nicolas Cage. This film may not be Sion's best, but it is a film that can hold up to multiple viewings.
Rating Certificate: NR
Studios & Distributors: Patriot Pictures | Eleven Arts | Baked Studios | Boos Boos Bang Bang | Untitled Entertainment | XYZ Films | RLJE Films
Director: Sion Sono
Written By: Aaron Hendry | Reza Sixo Safai
Run Time: 103 Mins.
Street Date: 16 November 2021
Aspect Ratio: 2.35:1
Video Format: AVC 1080p
Primary Audio: English DTS-HD MA 5.1
Subtitles: English SDH | Spanish