Estimated reading time: 4 minutes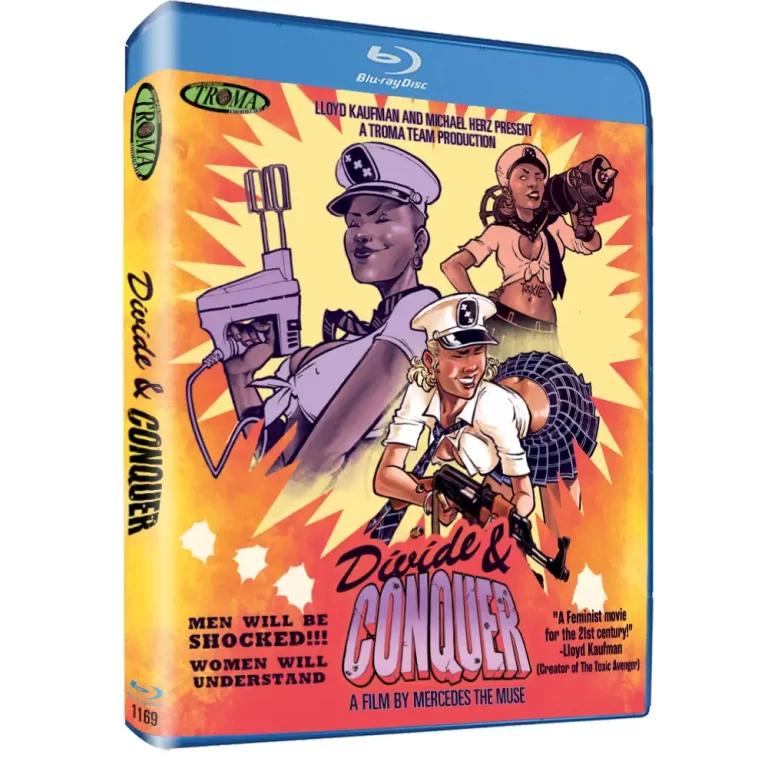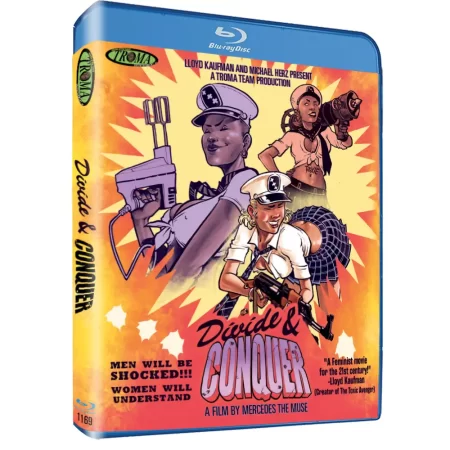 Lloyd Kaufman's Troma has never been known for good taste or anything other than schlock horror B-movies and Divide & Conquer does nothing to move those goal posts. Written and directed by Mercedes the Muse, the film is another in a long line that, like the infamous Troma classics Class of Nuke 'Em High and The Toxic Avenger, revels in its trashiness, low budget gonzo filmmaking style, and gore.
In what Kaufman himself in the film's intro refers to as 'true feminism,' Divide & Conquer follows three warrior women calling themselves the Gynos who are on the run in Tromaville – but this does not stop them from dishing out lots of butt-kickings to every misogynist male they come across. In typical tasteless Troma fashion, the women get help subduing their male opponents by the hypnotizing aroma of p***y farts. There is a not so subtle nude shower scene with a tongue-in-cheek mention about 'giving them the shower scene they want' and a journey through an oddball S&M club.
Freaks, sex, and just enough T&A and gore to keep any self-respecting Troma fan interested. These are after all the sorts of films that inspired the likes of Takashi Miike and more.
The Video
Divide & Conquer comes in a 2.35:1 AVC 1080p encodement on Blu-ray. Let's face it, this is never going to be a reference quality disc with eye-popping color-coding and brilliant visual effects. What we have here is something that has a lot of video noise in places and looks like home video, but in 24fps. There is nothing wrong with that. There is enough detail and color to make it a reasonable presentation.
The Audio
The audio is the most disappointing part of the presentation. The English lossy Dolby Digital 2.0 stereo mix sounds cluttered and lacking in dynamic range. Some of the dialogue is a little bit difficult to pick up at times as well.
The Supplements
There are only three inclusions that are definitely worth going through and that's the audio commentary with Mercedes and guests, the intro with Lloyd Kaufman, and the short film with the muses.
Blu-ray Intro (1080p; 00:02:06)
Divide & Conquer Q&A in Santa Ana, California (1080p; 00:06:35)
Divide & Conquer at the Balboa Theater in San Francisco, California (1080p; 00:04:22)
"The Three Muses" Short Film (1080p; 00:33:24)
Making a Damn Movie – The Making of Divide & Conquer (1080p; 00:22:06)
Radiation March (SD; 00:00:56)
Gizzard Face 2: The Return of Gizzard Face (1080p; 00:01:00)
American Cinematheque Honors 40 Years of Troma (1080p; 00:02:04)
Commentary with Mercedes the Muse and Guests
The Final Assessment
Divide & Conquer is over-the-top "girl power" schlockfest for genre fans that love this sort of filmmaking.
---
Divide & Conquer is out on Blu-ray February 7, 2023, from Troma
---
Rating Certificate: Not Rated
Studios & Distributors: MVD Entertainment | Troma Entertainment
Director: Mercedes the Muse
Written By: Mercedes the Muse
Run Time: 93 Mins.
Street Date: 7 February 2023
Aspect Ratio: 1.78:1
Video Format: AVC 1080p
Primary Audio: English DD 2.0 Stereo
Subtitles: English SDH