Estimated reading time: 4 minutes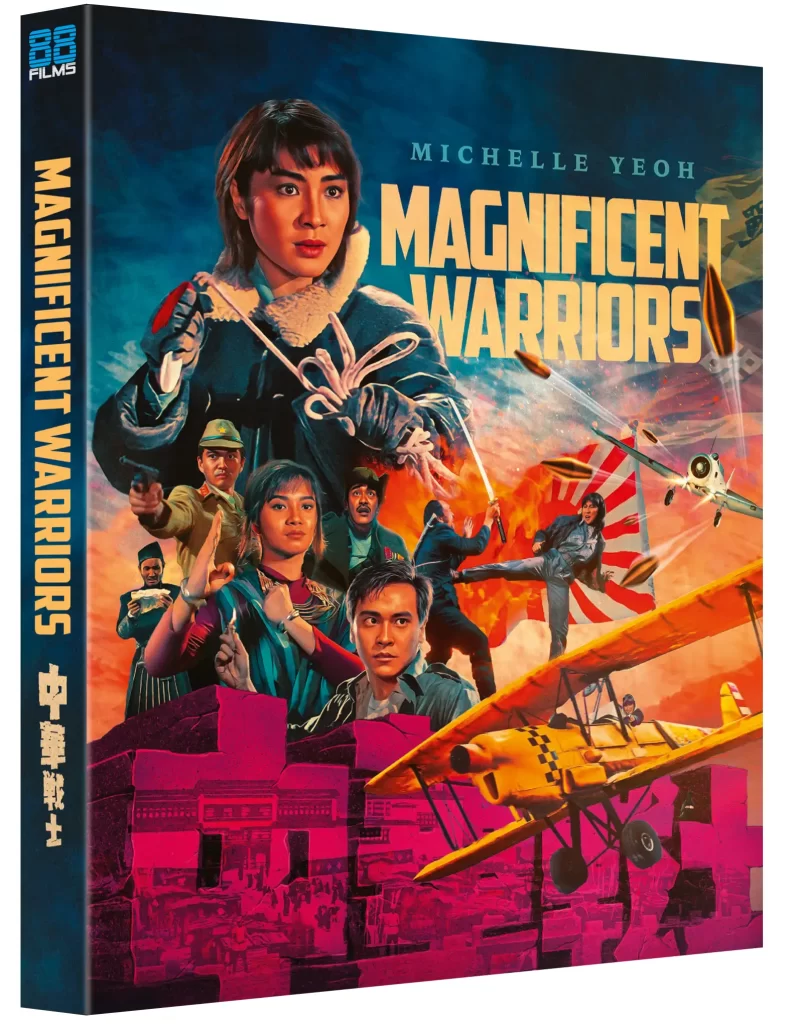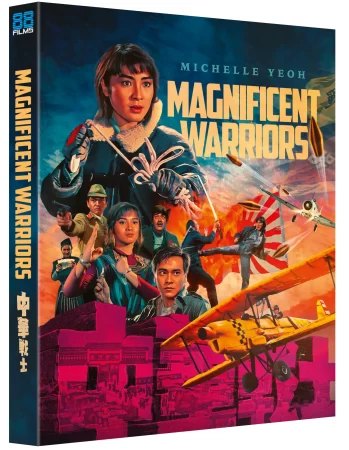 In 1987's Magnificent Warriors, Michelle Yeoh basically plays a female Indiana Jones; she's a whip-wielding, daredevil pilot who is a spy for the Chinese resistance during the Second Sino-Japanese War during World War II. Her mission is to meet up with another Chinese undercover resistance agent and rescue the leader of the city of Kayi from a brutal Japanese military leader.
Yeoh is the definite star of this film, showing off her charm and versatility in both her acting and martial arts skills, with a whip and rope dart, and her famous backwards kick. Director David Chung infuses the film with kinetic energy, keeping the pace quick and the action scenes pulsating, while using some realism of the brutality of the Japanese military makes the film worthy and enjoyable.
The Video
The film gets a brand new 2K restoration from the original camera negative and is brought to Blu-ray in a 2.35:1 AVC 1080p encodement. There is some film softness in the source but generally this is a good-looking transfer that shows lots of detail. The granularity could look a little more natural, but there is a definite, fine layer of grain in the image, so this has not been smoothed out. Colors are also rich, especially the primaries like red or the yellow of Michelle Yeoh's airplane.
The Audio
Magnificent Warriors comes with the original Cantonese mono mix in LPCM 2.0. The mix offers clear dialogue, but the impact of kicks and punches is not quite as full as I have heard for some other kung fu films that are even older than this one. That said, apart from the usual boxiness and mild clipping on louder sounds and the score, this is a satisfying audio transfer and about what one would expect. There are also newly translated English subtitles available.
The Supplements
The Frank Djeng audio commentary is always one of the best special features on many of these martial arts releases that have been coming out in recent years and that holds true for this release. 88 Films also gives us the beautiful artwork and poster, plus a thick booklet with essay and production stills.
Double-sided artwork featuring new art by Sean Longmore and original poster
Limited Edition O-card Slipcase
Double-sided A3 foldout poster
Collector's booklet featuring new writing by Matthew Edwards
Audio Commentary with Frank Djeng
Archive Interview with Michelle Yeoh (1080i; 00:06:57)
Archive Interview with Stunt Coordinator Tung Wai (1080i; 00:12:53)
English Opening Credits Sequence (1080p; 00:01:49)
Hong Kong Trailer One (1080p)
Hong Kong Trailer Two (1080p)
English Trailer (1080p)
Stills Gallery (1080p)
The Final Assessment
This is a young Michelle Yeoh in her action prime in what is an enjoyable and quick-paced film that deals with historical events. It looks better than ever in this new restoration on Blu-ray from 88 Films. Recommended.
---
Magnificent Warriors (Special Edition) is out on Blu-ray February 21, 2023, from 88 Films.
---
Rating Certificate: R (for violence)
Studios & Distributors: D & B Films Co. Ltd. | Fortune Star | 88 Films
Director: David Chung
Written By: Tsang Kan-Cheung
Run Time: 92 Mins.
Street Date: 21 February 2023
Aspect Ratio: 2.35:1
Video Format: AVC 1080p
Primary Audio: Cantonese LPCM 2.0 Mono
Secondary Audio: English LPCM 2.0 Mono
Subtitles: English