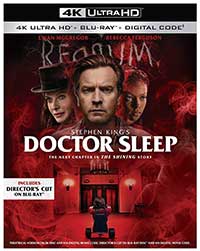 Doctor Sleep is written and directed by Mike Flanagan (Gerald's Game). This 2019 film is an adaptation of Stephen King's novel of the same name, itself a sequel to his novel The Shining. Flannagan's film and King's novel pick up the story of Danny Torrance decades after the violent and traumatic events that took place at the Overlook Hotel.
Danny Torrance (Ewan McGregor) is now an adult who tries to use alcohol to bury the pain from his past and numb the special powers he has, but rather than help it only leads him to a life of alcoholism and bad decisions. His old friend Dick Hallorann (Carl Lumbly), now a ghost that acts as his sort of Obi-Wan, if you will, has to point him in the right direction and help him dig himself out of his hole. Looking for a change of pace, Danny heads to a small town in New Hampshire where he begins to get dry, find himself a job, and a friend that also doubles as his sponsor in his program to stay off alcohol. He also begins to start receiving messages from a girl named Abra (Kyliegh Curran) with similar powers to his.
Abra is seeing a circle of powerful people led by a woman named Rose the Hat (Rebecca Ferguson) that are preying on young children and stealing their essence in an effort to gain immortality. Rose the Hat, sensing that Abra is looking in on her, soon sets her sights on Abra, who she sees as too powerful and too dangerous to herself to leave out there. Meanwhile, Hallorann advises Danny that he must find and protect Abra, so he does and finds himself entangled in what becomes an all-out brawl of supernatural powers between Abra and Rose the Hat.
While ostensibly Doctor Sleep is an adaptation of King's 2013 novel, there is no arguing that Kubrick's 1980 film looms large over it and Flanagan does in fact bring these two together buy referencing both Kubrick's film and King's original novel, The Shining, as well as bringing the core story of the sequel to the screen. We are treated to lookalikes of Shelley Duvall, Jack Nicholson, and Scatman Crothers in the form of Alex Essoe, Henry Thomas, and Carl Lumbly respectively. And, without giving away any spoilers, Flannagan changes parts of Doctor Sleep to reflect certain key parts of The Shining that Kubrick changed in his film from the original novel.
This film is definitely different in tone and probably more in line with much of the Stephen King output on screen. More traditional psychological horror and less artful than Kubrick's film, but there is plenty for King fans to grab onto and appreciate here. The first half of the film is an atmospheric, slow-building story that leads to a powerful conclusion, and we are kept in thrall by the budding chemistry between Danny and the young Abra, while also having a lot of empathy for Danny himself who has also had a very difficult life due to his abilities and the violence he witnessed as a kid at the Overlook Hotel.  Visually, Doctor Sleep doesn't quite approach The Shining, but there are plenty of visual tricks that are engaging and Flannagan uses them well.
[envira-album id="122099″]
The Video
Doctor Sleep was originally shot on the Arri Alexa 65 with Hasselblad Prime DNA lenses in ARRIRAW (6.5K). The film is provided in a 1.85:1 HEVC 2160p (4K) encodement with both Dolby Vision and HDR10+ HDR, both of which are compatible with HDR10. My LG OLED display supports HDR10 and Dolby Vision, so I watched the film in Dolby Vision. It looks clean and has crisp details. The overall palette is just a bit desaturated, but the range of colors 'pops' brilliantly thanks to the WCG, from the color of lamplight to clouds in the skies or fires burning. And there is a lot of nuance in what can be a shadowy film at times. There are no issues with crush or clipping.
The Audio
Doctor Sleep comes to 4K Ultra HD with a fantastic immersive Dolby Atmos audio mix that is one of the better ones out there. This one really makes good use of the surrounds and overhead/height channels for lots of effects and atmospherics and even some of the score is mixed into the Atmos channels. There are good dynamic range and low-range extension, clear dialogue. The effect of the "shine" where people talk to each other telepathically really sounds like it is inside your head.
The Supplements
It's great to see both Stephen King and Mike Flannagan make appearances in these featurettes discussing the new adaptation of Doctor Sleep and Kubrick's film The Shining, both of which factor into this production.
Movies Anywhere Digital Code
Blu-ray featuring Director's Cut
From Shining to Sleep (1.78:1; 1080p; 00:04:56) – Stephen King and Mike Flannagan talk about King's sequel to The Shining and the blending of both his original vision and Kubrick's vision.
The Making of Doctor Sleep: A New Vision (1.78:1; 1080p; 00:13:57)
Return to the Overlook (1.78:1; 1080p; 00:14:59)
The Final Assessment
A sequel separated by so many years is often a very hard sell. Those people who were around for the original may have moved on (in multiple senses of the phrase) or younger generations may not even care. This film takes a while to buildup and some references may be lost on those unfamiliar with the previous novel or film, but it is still a strong horror film with good performances and excellent production values.
Doctor Sleep is out on 4K Ultra HD Combo February 4, 2020 from Warner Bros.
[amazon box="B07XN49SXY"]
---
The Creative Content: 3.0/5
The Video (Overall) 4.5/5
HDR Effect: 4.5/5
The Audio: 5/5
The Supplements: 3.5/5
Rating Certificate: R (for disturbing and violent content, some bloody images, language, nudity and drug use.)
Studios & Distributors: Warner Bros. | Intrepid Pictures | Vertigo Entertainment | Warner Bros. Home Entertainment
Director: Mike Flanagan
Writers: Stephen King (based on the novel by) | Mike Flanagan (screenplay)
Run Time: 152 Mins. | 180 Mins. (director's cut)
Original MSRP: $44.95
Street Date: 4 February 2020
Aspect Ratio: 1.85:1
Video Format: HEVC (H.265) 2160p (4K) | AVC 1080p (Blu-ray)
HDR Format: Dolby Vision | HDR10+ | HDR10
Primary Audio: English Dolby Atmos (Compatible w/ Dolby TrueHD 7.1)
Secondary Audio: English DD 5.1 | English Descriptive Audio (US) | English Descriptive Audio (UK) | French DD 5.1 | Italian DD 5.1 | Spanish DD 5.1
Subtitles: English SDH | Italian SDH | Korean | Norwegian | French | Spanish | Danish