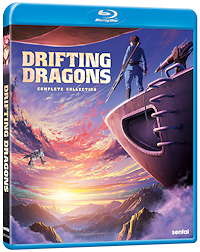 Drifting Dragons is an ONA (original net animation) fantasy anime series based on a Japanese manga series written and illustrated by Kuwabara Taku.
This steampunk-influenced fantasy follows the cowling vessel "Quinn Zaza" drifts through the skies seeking dragons, which they capture and, butcher, and use for meat and oil. A big catch can bring in good money and have them eating well for a while. They risk their lives trying to catch these flying behemoths, but also risk confrontations with pirates, starvation, and stops in trading villages where drakers (dragon catchers) are unwelcome in the town limits.
There are obvious parallels in this series with old and contemporary whaling culture; whaling and love of whale meat is still a part of Japanese culture today. These cultural signifiers aside, the series really works not because of these elements, but because of the interactions between the characters and the adventures the crew face. The designs and characters are also beautifully done, from the gorgeous background artwork to the wonderful design of a character like Vanabelle, for instance, the blonde beauty with the cold demeanor who intimidates many aboard the ship.
This is one that is well worth watching, despite the sometimes loose story arc, but there is a series of episodes in the middle of the series where the story tightens as the crew must deal with a runaway dragon they bring in for processing.
Drifting Dragons (TV) (Anime) (2020)
The Video
Drifting Dragons: Complete Collection is provided on Blu-ray in a 1.78:1 AVC 1080p encodement from Sentai Filmworks. The digital animation comes across very nicely in this transfer with crisp line art detail and vibrant colors that aren't oversaturated, but 'pop' when need be, such as when we see gorgeous sunsets or fires ablaze during the series of episodes with the rampaging dragon in the processing center. There are some minor issues with slight banding in fills, but these are nearly imperceptible and only occur occasionally. This disc is a major step up in quality over the streaming versions.
The Audio
Drifting Dragons comes to Blu-ray with the original Japanese-language mix in DTS-HD Master Audio 5.1 and an English dub also in DTS-HD Master Audio 5.1. The 5.1 mixes are very competent with good extension into the low end, especially during the action sequences, clear dialogue, although the Japanese dialogue seems to have a clearer, less boxy sound, but this is by degrees, and there are solid effects mixed through the surrounds. Dynamic range is strong, so this doesn't sound squeezed or overly range-limited in any way.
The Supplements
This disc comes with the clean opening and closing animations (1080p), web previews (1080p) and Japanese trailers (1080p).
The Final Assessment
I really enjoyed this series. It offers a little bit of something for everyone, from comedy to action and gorgeous artwork. The Blu-ray from Sentai Filmworks offers a real upgrade in quality over the streaming so it's worth it to purchase even if you've streamed this already.
Drifting Dragons (Complete Collection) is out on Blu-ray April 12, 2022 from Sentai Filmworks
---
TV Rating: TV-14 (V)
Animation Studio: Polygon Pictures
Distributors: Netflix | Sentai Filmworks
Director: Yoshihira Tadahiro
Written By: Uezu Makoto
Run Time: 300 Mins.
Street Date: 12 April 2022
Aspect Ratio: 1.78:1
Video Format: AVC 1080p
Primary Audio: Japanese DTS-HD MA 5.1
Secondary Audio: English DTS-HD MA 5.1
Subtitles: Japanese DTS-HD MA 5.1