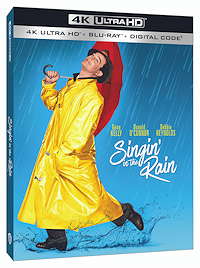 Singin' in the Rain is the classic 1952 romantic comedy musical starring, choreographed by, and co-directed by Gene Kelly who directed alongside Stanley Donen. The film takes a comedic look at Hollywood at the dawn of the advent of the "talkies," or movies with sound.
It's the end of the silent era in film and Don Lockwood (Kelly), vaudeville performer turned Hollywood actor, has built himself up a successful career as the swashbuckling leading man alongside actress Lena Lamont (Jean Hagen). Lockwood's longtime buddy Cosmo Brown (Donald O'Connor) is also scratching out a living writing accompanying music for the films at the studio Lockwood works for. But they are all in for a shakeup: Warner Bros. is about to release their first "Talkie" The Jazz Singer and it goes on to be a smash. All studios in Hollywood rush to convert to sound, including Monumental Pictures. There is a problem, Lena Lamont has a terrible voice and maybe even worse grammar, and the director of Lockwood's successful run of silent films has no idea how to produce films with audio.
In steps the unassuming Kathy Seldon (Debbie Reynolds) who has been on Don's mind ever since he jumped into her car one night after trying to escape a group of breathless female fans. Aspiring stage actor Kathy was unimpressed with his Hollywood acting resume, but not against working in films herself or taking embarrassing side jobs like jumping out of cakes.
When the test screening for Lockwood's first talkie with Lena Lamont goes terribly wrong, he's down in the dumps until his buddy Cosmo and Kathy help him come up with the idea of turning it into a musical and using Kathy to dub Lena's voice.
Singin' in the Rain is a fun, funny, and brilliant from start to finish and you will be amazed at how many songs you know from this film, most of which were taken from other productions, such as "Make 'em Laugh" (an original song), "Singin' in the Rain" (The Hollywood Revue of 1929), or "Good Morning" (Babes In Arms).
The film was only modestly successful at the time but has since gone on to become one of the most legendary films ever made and arguably the greatest musical from the Golden Age of Hollywood. Watching the film one can find where it has influenced so much in popular culture from music videos, dance, fashion, and filmmaking. The Broadway Music/Gotta Dance segment with its ballet dream sequence is just brilliant, full stop. This is one worth watching over and over and studying from every angle.
Singin' in the Rain (1952)
The Video
Singin' in the Rain is remastered in 4K for this release in a HEVC 2160p (4K UHD) encodement with Dolby Vision HDR. The metadata reads a MaxLL of 992 nits and MaxFALL of 103 nits. This isn't much brighter than the previously issued Blu-ray at a glance, but there is definitely finer resolution of the grain on the 4K disc and much more vibrant presentation of the colors from the original three-strip Technicolor production as well courtesy of Dolby Vision's wide color gamut. The showcase scenes are the Broadway Melody ("Gotta Dance") scene with its neon lights, black backgrounds, and Crayola-colored outfits, and the famous "Singin' in the Rain" sequence. Here, on the 4K disc, this scene really comes alive with sparkling raindrops, glistening brick walls, and the globular lamplight has a nice, warm glow that 'pops' nicely. On the Blu-ray, while this scene looks good, it looks much flatter, the bricks aren't as well defined, and the specular highlights don't have that sheen that makes the walls and umbrella glisten.
The Audio
This 4K Ultra HD Blu-ray of Singin' in the Rain comes with the DTS-HD Master Audio 5.1 mix and the original Theatrical English DTS-HD Master Audio 2.0 mono mix, which was not included on the original Blu-ray Disc release, which is included with this release.  Both sound very good given this film's 70-year vintage, but the 5.1 does beef up the sound a bit and adds a good, subtle bit of atmospherics in the surround channels and a little bit of a bottom in the LFE.
The Supplements
The bonus features are all previously released, which is disappointing given this is a 70th anniversary release.
Audio Commentary by Debbie Reynolds, Donald O'Connor, Cyd Charisse, Kathleen Freeman, Stanley Donen, Betty Comden, Adolph Green, Baz Lurhmann, and Rudy Behlmer
Access the Musical Numbers
Bonus Features on Included Blu-ray:
Singin' in the Rain: Raining on a New Generation (1080p; 00:50:48)
Theatrical Trailer (SD)
Jukebox
Audio Commentary by Debbie Reynolds, Donald O'Connor, Cyd Charisse, Kathleen Freeman, Stanley Donen, Betty Comden, Adolph Green, Baz Lurhmann, and Rudy Behlmer
The Final Assessment
A musical masterpiece that is both visually stunning and musically pleasing is offered up in a gorgeous 4K Ultra HD remaster from Warner Bros.
Singin' in the Rain (70th Anniversary) 4K Ultra HD Combo is out April 26th, 2022 from Warner Bros.
---
Rating Certificate: NR
Studios & Distributors: Metro-Goldwyn-Mayer (MGM) (controlled by Loew's Incorporated)
Directors: Stanley Donen | Gene Kelly
Written By: Betty Comden | Adolph Green
Run Time: 103 Mins.
Street Date: 26 April 2022
Aspect Ratio: 1.37:1
Video Format: HEVC 2160p (4K UHD)
HDR Format: HDR10
Primary Audio: English DTS-HD MA 5.1
Secondary Audio: Original Theatrical English DTS-HD MA 2.0 Mono | French DD 1.0 | German DD 1.0 | Italian DD 1.0 | Spanish (Castellano) DD 1.0 | Spanish (Latino) DD 1.0
Subtitles: English SDH | French | Spanish