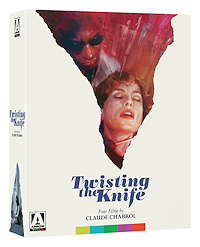 This second volume of Claude Chabrol films from Arrow Video, Twisting the Knife: Four Films by Claude Chabrol, focuses on the final decade of Chabrol's career and four films that deal with, well, exactly what's implied by the title of the collection.
The 1997 comedy heist film The Swindle has heavy Hitchcockian influences. Issabelle Hupert and Michel Serrault play duo of con artists Betty and Victor who until recently have stuck to small-time scams like scoping out casino and after the flirtatious Betty gets one up to his hotel room by drugging him grabbing his cash when the inspecting dupe is knocked out cold. But after Betty reveals to Victor she's been working a long con on Maurice (François Cluzet), a treasurer for large multinational corporation who is planning on misappropriating five millions Swiss Francs in cash he is supposed to transfer via attaché for a group of dubious gangsters, Victor becomes suspicious that Betty may be getting ready to two-time him.
The Swindle, released in France as Rien ne va plus is a bit of a muddled film that never finds its footing as either a thrilling heist or a funny love story between two grifters who can't quite trust each other completely. The love triangle between Betty, Paul, and Maurice is underdeveloped and uninteresting at best, and by the time the film's big heist comes around, it feels underdeveloped, a bit anticlimactic to say the least.
The big-name actors in The Swindle are what truly help to keep the film afloat, even though they are working with what is one of Chabrol's lesser quality films, his 50th overall.
Claude Chabrol's 1999 dramatic thriller, Au coeur du mensonge (The Color of Lies), is a multilayered psychological study on the effects of a brutal crime on an idyllic small town and a marriage.
When the newly appointed new chief of police, Frederique Lesage (Valeria Bruni-Tedeschi), arrives in a tight-knit seaside town in Bretagne, her first order of business quickly becomes solving a brutal crime. 10-year-old Eloise was found raped and murdered in the local woods and the last person to see her alive was René Sterne (Jacques Gamblin). René, a once successful artist who now lives a devoted life to his wife, Vivianne (Sandrine Bonnaire), a nurse, and eking out a living teaching art classes to local children, quickly becomes the focus of the investigation. With no real physical evidence left on the girl's body, things don't look good for René, and he becomes more reclusive and embittered than usual. His eccentric and cynical behavior, a direct contrast to his wife's sunny demeanor, drives Vivianne right into the arms of his hated rival, a local TV celebrity and author (Antoine de Caunes) who wastes no time seducing the attractive and vulnerable woman. Meanwhile, the chief of police finds herself getting roped into the eccentricities of the townsfolk, including a busybody shopkeeper and her husband and local petty thief, all of whom will eventually factor into her investigation.
Au coeur du mensonge is absent the usual mechanics of the crime procedural. Instead Chabrol focuses his attentions on the crime's effects on René and Vivianne's marriage, an implied sense of mistrust, if not on the part of Vivianne, then on René's for suspecting that his wife suspects him. He uses mostly long, lingering shots with few tight close-ups, as if to allow us to contemplate what's going on, take it all in in its entirety. And he builds the entire story to a most satisfying twist ending, one that makes sense in the grand scheme, but, also, we might never have seen coming.
In one of his last films, Nightcap or Merci pour le chocolat, Claude Chabrol crafted an interesting psychological thriller around suspicion, murder, and music, from American author Charlotte Armstrong's crime novel The Chocolate Cobwebb.
Marie-Claire "Mika" Muller (Isabelle Huppert) is the head of large Swiss chocolate company and has recently re-married her ex-husband, famous classical pianist André Polonski (Jacques Dutronc), to whom she was briefly wed nearly 18 years earlier. André is a widower who was left to raise his son Guillaume (Rodolphe Pauly) on his own after his second wife Lisabeth died in a car crash. The interesting story is, Guillaume was almost accidentally switched at birth with a girl shortly after he was born. That young woman, Jeanne (Anna Mouglalis), now grown, and bearing a striking resemblance to André's deceased wife, hears about this story from her mother and her mother's friends, and has to investigate. She shows up at André's home one evening and tells him and Mika that she was that baby girl that Guillaume was almost switched with. Mika, is wary, but outwardly affable toward Jeanne. Meanwhile André takes a liking to her right away, because Jeanne, unlike his own son Guillaume, is also a highly skilled pianist and is currently practicing for a major competition. André offers to tutor Jeanne. Later that same evening, Jeanne becomes suspicious of Mika's ultimate intentions when Mika offers her some of her famous homemade hot chocolate as a nightcap. When Jeanne sees Mika purposely spill the chocolate all over her, she takes her stained sweater to her boyfriend Axel (Mathieu Simonet), who works in her mother's medical lab, and has him test it. Sure enough, the chocolate is laced with a notorious date rape drug. It's the beginning of the unraveling of a deeper mystery involving Mika, Guillaume, and perhaps even Jeanne.
Merci pour le chocolat may not be up to the same quality of Chabrol's invigorating, early efforts from the 1950s like Le beau Serge or Les cousins (in fact, there are a few lapses, just check out the scene in Chapter 5, at approx. The 38 Min. 50 sec. mark where you can actually spot the overhead mic drop into the frame, screen capture number 14 below), but there is plenty to love about this still very much gripping crime thriller.
Firstly, Isabelle Huppert's performance is mesmerizing. She is cold as ice and impeccable as the possible killer with the caring exterior. The final scene with the credits rolling as the tears roll down her cheeks, obviously real as it is done with no edits, is remarkable acting. She conveys so much emotion just in her face alone. Secondly, Chabrol uses so much symbolism here — a web weave cover on a couch, the black and white backgrounds or black and white clothing denoting good versus evil as Mika squares off against Jeanne's mother – one could go on for days finding them. Lastly, the beautiful photography, courtesy of Renato Berta (Au revoir les efants) is reminiscent of the inventiveness of the early Nouvelle vague in its often freeform feel or sometimes angular framing, super close-ups on faces, and intelligently framed shots.
Still, the story here does tend to break down a bit. Either it is too short or too many things are left unanswered, such as why Jeanne is so easily accepted into this family in the first place, being basically a stranger. The strained relationship between father and son is left by the wayside, and the most glaring defect is the mystery at the center of the story is not a mystery at all. All clues point to Mika being a cold-blooded killer from the beginning, especially when they tell you that she's been dosing her famous hot chocolate with benzodiazepine from early in the film. So, the only things to hold onto in Merci pour le chocolat are the incredible performance from Huppert and the gorgeous way in which the film is shot.
The final film in this collection is 1988's The Flower of Evil (La fleur du mal). It follows three generations of the bourgeois Charpin-Vasseur family. Opening in the present with a murder during a local election as son Francois (Benoit Magimel) returns home to Bordeaux after spending four years away in the United States. While his stepmother Anne (Nathalie Baye) is running in local elections, Francois begins an affair with her daughter Michele (Melanie Doutey) and right before the elections, someone reveals something from the family's past about a crime dating all the way back to WWII that could derail their ambitions.
The Flower of Evil was shot with the usual competency Chabrol was known for throughout his career. At over fifty films, his mastery of the artform is undeniable, but this film is that of a craftsman working on muscle memory, not necessarily pushing the boundaries of his artform. The mystery or thrill in this film is subtle at best, even as the cast do their best to put forth a valiant effort.
Twisting the Knife: Four Films by Claude Chabrol (Arrow Video)
The Video
Twisting the Knife comes with new 4K restorations of The Swindle, Nightcap and The Flower of Evil. All films, including The Color of Lies, are presented in 1.66:1 AVC 1080p encodements on Blu-ray. The three with new 4K restorations standout the most. The Swindle has brilliant primary colors, especially the vibrant reds. Nightcap and The Flower of Evil are a bit more reserved in their color palette but not less brilliant to look at with their fine presence of grain, excellent resolution of textures, and subtle nuance in shadows. The Color of Lies comes up just a tad softer than the other three films but is still very satisfying overall.
The Audio
The Swindle and The Color of Lies come with French LPCM 2.0 stereo mixes while Nightcap and The Flower of Evil have both French DTS-HD Master Audio 5.1 and LPCM 2.0 stereo mixes. The audio is solid whether it's stereo or 5.1. The stereo mixes have wide stereo-imaging and clear dialogue with good dynamics and airy sound for the scores. The 5.1 mixes offer much of the same with good, subtle atmospheric effects in the surrounds such as chirping birds and the reverberant scores.
The Supplements
Arrow does it again – they have packed this collection with a hefty offering of commentaries, video essays, and Chabrol himself offering select commentaries. The packaging with its newly commissioned artwork and 80-page booklet will be most desirable for collectors.
80-page collector's booklet of new writing by Sean Hogan, Brad Stevens, Catherine Dousteyssier-Khoze, Alexandra Heller-Nicholas, and Pamela Hutchinson
Limited edition packaging featuring newly commissioned artwork by Tony Stella
The Swindle
Audio commentary by Barry Forshaw & Sean Hogan
NEW Chabrol's 'Soap Bubble' (1080p; 00:14:36) – Film scholar Catherine Dousteyssier-Khoze, author of Claude Chabrol's Aesthetics of Opacity, takes a closer look at one of Chabrol's most playful films, and the games he plays with both characters and audience. Recorded exclusively for Arrow Video in 2022.
NEW Film as a Family Affair (1080p; 00:38:11) – In this in-depth interview, Cécile Maistre-Chabrol, the stepdaughter of Claude Chabrol and his assistant director on fourteen features, discusses his life, work, and wisdom, and their relationship both on and off the film set. Filmed exclusively for Arrow Video in 2022, it was conducted online due to the Covid 19 pandemic.
Introduction by film scholar Joël Magny (1080p; French w/English subtitles; 00:02:27)
Scene Commentaries by Claude Chabrol (1080p; French w/English subtitles; 00:24:19)
Behind the Scenes (1080i; French w/English subtitles; 00:08:21)
A Conversation with Isabelle Huppert (1080i; French w/English subtitles; 00:25:37)
Theatrical Trailer (1080p)
Stills Gallery (1080p)
The Color of Lies
Audio Commentary by Barry Forshaw & Sean Hogan
Nothing Sacred (1080p; 00:13:57) – In this visual essay film critic Scout Tafoya examines the slippery notions of art in Chabrol's The Color of Lies (Au couer de mensonge)
Introduction by film scholar Joël Magny (1080p; 00:02:33; French w/English subtitles)
Scene Commentaries by Claude Chabrol (1080p; 00:20:07; French w/English subtitles)
Behind the Scenes (1080p; 00:25:46; French w/English subtitles)
Theatrical Trailer (1080p)
Stills Gallery (1080p)
Nightcap (Merci pour le chocolat)
Audio Commentary by Justine Smith
NEW When I Pervert Good… (1080p; 00:11:15) — In this visual essay film critic Scout Tafoya takes a close look at late period Chabrol through the lens of his masterful thriller Nightcap (Merci pour le chocolat). Recorded exclusively for Arrow Video in 2022.
Introduction by Film Scholar Joël Magny (1080p; 00:03:11)
Scene Commentaries by Claude Chabrol (1080p; 00:43:48)
Isabelle Huppert, "Héroïne Chabrolienne" (1080i; 00:07:06) – In this archive interview actress Isabelle Huppert tries to define what characterizes the 'Chabrol heroine', the similarities and differences in film after film, through the evocation of her character of Mika in Nightcap (Merci pour le chocolat).
Interview with Jacques Dutronc (1080i; 00:32:02) – In this half-hour archive interview, singer-songwriter Jacques Dutronc talks about his experience acting for Claude Chabrol and the link between music and cinema.
Behind the Scenes (1080i; 00:26:05)
Screen Test for Anna Mouglalis (1080i; 00:10:33)
Theatrical Trailer (1080p)
Image Gallery (1080p)
The Flower of Evil
Audio Commentary by Farran Smith Nehme
Behind the Masks (1080p; 00:14:30) – In this video appreciation by Agnès Poirier, the author of Left Bank: Arts, Passion, and the Rebirth of Paris 1940-1950 shares her personal reminiscence of Claude Chabrol and his unique position in French culture and cinema. Recorded exclusively for Arrow Video in 2022.
Introduction by Film Scholar Joël Magny (1080p; 00:03:31)
Scene Commentaries by Claude Chabrol (1080p; 00:49:29)
Behind the Scenes (1080i; 00:25:36)
Interview with Screenwriter Catherine Eliacheff (1080i; 00:24:47)
Theatrical Trailer (1080p)
Image Gallery (1080p)
The Final Assessment
A fine collection of latter day Chabrol films with beautiful transfers in a typically magnificent package from Arrow. For fans of French films and Claude Chabrol, this second volume of the auteur's films is a magnificent journey through the last part of his career.
Twisting the Knife: Four Films by Claude Chabrol is out on Blu-ray April 26, 2022 from Arrow Video
---
Studios & Distributors: MK2 Productions | Arrow Video
Director: Claude Chabrol
Run Time: 419 Mins.
Street Date: 26 April 2022
Aspect Ratio: 1.66:1
Video Format: AVC 1080p
Primary Audio: French LPCM 2.0 Stereo
Secondary Audio: French DTS-HD MA 5.1
Subtitles: English