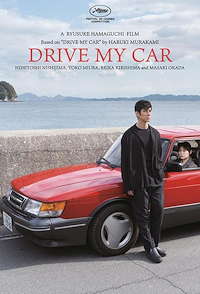 Adapted from Haruki Murakami's short story of the same title by writer-director Ryusuke Hamaguchi, Drive My Car finds actor-director Yūsuke Kafuku (Hidetoshi Nishijima) and his scriptwriter wife Oto (Reika Kirishima) having sex during which she spins out the storyline for her next project to him.  When Yūsuke arrives home unexpectedly and sees Oto having sex with the young actor Kōji Takatsuki (Masaki Okada), he is crushed but leaves without being noticed. A few days later, Yūsuke returns home late only to find Oto lying dead from a brain hemorrhage. His world collapses after Oto's funeral and he cannot continue performing in Chekhov's Uncle Vanya the play in which he was staring at the time.
Two years later, Yūsuke becomes the resident director for a theater company in Hiroshima that is planning to mount a production of Uncle Vanya. For the two months he will be spending there, the theater company requires Yūsuke be driven in his own red Saab coupe by young Misaki Watari (Toko Miura), a surprisingly accomplished chauffeur. During the auditions for parts, Yūsuke deliberately casts Kōji as Uncle Vanya although he is too young for this part and has a history of behavioral instability. The remaining cast features a young Korean actress Sonia Juan (Janice Change) as Yelena the young wife of retired Professor Serebryakov played by Roy Lucelo (Perry Dixon) and his daughter Sonya performed by mute Korean actress Lee Yoon-a (Park Yu-rim).
During their daily drives, Yūsuke and Watari begin open up to each other. Yūsuke tells Watari about Oto's infidelity and the death of their daughter who now would be Watari's age. Watari relates how her mother, who died in a mudslide five years earlier, taught her how to become a good driver but had a split personality and abused her. Much later, during a car trip to Watari's childhood home in Hokkaido, Watari reveals she could have saved her mother but chose to let her die while a guilt-ridden Yūsuke confesses he might have prevented Oto's death had he only returned home earlier.
The erratic Koji has a session in a bar with Yūsuke. When he leaves, Koji temporarily goes off to beat up a man who had been taking pictures of him without permission. Koji's final ride with Yūsuke forms the film's dramatic crux as he discusses his relationship with the unfaithful Oto and shares the fantastic story that she told him during sex. When the photographer dies, the police arrest Koji during a rehearsal.  The theater's managers offer Yūsuke an ultimatum: choose between playing Vanya, a role he has previously found too difficult to undertake himself or to have the play canceled.
I thought I would find a Japanese film with subtitles and a three-hour running time quite daunting. But I had not counted on Drive My Car being a masterful exposition of love and loss, infidelity and guilt, and with an eventual road to redemption for the stage director and his young chauffeur who remain works in progress at the final curtain.  Hamaguchi has fashioned a slow-burning evolution of characters in conflict with themselves but still manages to make them interesting in their own rights. Nishijima's Yūsuke suffers in silence while Okada's Takatsuki is unaware of his superficiality. Watari's Toko takes the longest personal journey as Yūsuke helps her out of her self-imposed shell. I was also very much taken by the expressiveness of Park Yu-rim' sign language that rendered spoken words unnecessary. Hidetoshi Shinomiya's cinematography is stunning whether rolling along the Japanese highways or exposing the backdrops of mountains and seashore. In sum, this is a beautifully done film that tells a simple story to perfection with great emotional impact. A definite contender for Best Picture and highly recommended.
Drive My Car is now being shown in theaters and streaming on HBO Max
---
Rating Certificate: NR
Studios & Distributors: C&I Entertainment | Culture Entertainment | Bitters End | Nekojarashi | Quaras | Nippan Shuppan Hanbal | Bungeishunju | L'Espace Vision | The Asahi Shimbun Company
Country: Japan
Language: Japanese | English | Korean
Run Time: 179 Mins.
Aspect Ratio: 1.85:1
Director: Ryusuke Hamaguchi
Written By: Ryusuke Hamaguchi | Takamasa Oe
Release Date: 24 November 2021 (theatrical) | 2 March 2022 (streaming)