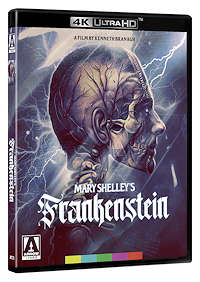 Director/actor Kenneth Branagh's 1994 adaptation of the 19th century sci-fi/horror classic, Mary Shelley's Frankenstein, is arguably the closest to the source of the numerous film adaptations of Shelley's work.
It's 1794 and Captain Walton (Aidan Quinn) and his now failing expedition to the North Pole encounter a man who turns out to be Dr. Victor Frankenstein (Kenneth Branagh). He is in pursuit of — something. He begins to recount to them in flashback his story.
Victor grew up in Geneva with his adopted sister, Elizabeth Lavenza (Helena Bonham Carter), who becomes the woman he falls in love with. He is a man who became obsessed with death, or, more precisely, with stopping people from dying, when he lost is mother in childbirth. Following his father (Ian Holm) into medicine, Victor becomes obsessed with using electricity to bring people back to life, despite admonitions from his professors. He wants to conquer death. He spends time stealing cadavers and body parts and putting them together in his lab until he is finally able to create his creature (Robert De Niro) and bring it to life on a stormy night using electricity from the storm. But instantly upon seeing his creation, Victor is repulsed and regrets what he has done. He abandons the creature, leaving the scarred, disfigured, untrained creature to fend for himself in an unforgiving world.
As Victor returns to Geneva to marry Elizabeth, he finds his brother murdered, and the family servant Justine (Trevyn McDowell) blamed for the crime, but Victor suspects it is the creature. The creature then abducts Victor and demands he make a mate for him, and Victor agrees, but he reneges when the creature wants him to use Justine's body. Enraged, the creature kills Elizabeth on her wedding night. Of course, Victor races to bring her back, but it does not go as planned, and he vows to kill the creature.
Branagh's interpretation of Shelley's work has been criticized for being overly melodramatic and using too many camera effects, thereby diverting focus away from the story. I tend to disagree. I think this version plays up the gothic aspects of the story and creates a very thrilling atmosphere that is spiced with some shocking moments, most relating to the anatomical dissections of cadavers and De Niro's hideous creature. This is Frankenstein absent the B-Movie architecture we are so used to seeing around this this story and it works.

The Video
This is a new 4K restoration from the original camera negatives by Sony Pictures Entertainment brought to 4K Ultra HD Blu-ray in a 1.85:1 HEVC 2160p (4K UHD) Dolby Vision HDR encodement. The original 35mm film source looks nothing short of beautiful in this transfer. Yes, there is and always has been a lot of grain, particularly in some of the North Pole scenes. There are some frames where the grain is very coarse, but this is on the production side and what you get on this 4K Ultra HD Blu-ray release is some very crisp, mostly fine, and organic film structure. Adding to this is the Dolby Vision HDR, which is not applied to seem gimmicky, but in a subtle and natural way. The HDR metadata has a MaxLL of 531 nits and MaxFALL of 317 nits. So, the image isn't a lot brighter, but the grading is nicely nuanced and there is excellent 'pop' in the specular highlights where they are needed. Check out Chapter 8 at the 01:17:00 mark with the lightning flash in the barn to see some serious highlights and shadow nuance or the Chapter 9 at the 01:23:50 second mark for wonderful shadow details as the creature walks off into the dark.
The Audio
Mary Shelley's Frankenstein comes with English DTS-HD Master Audio 5.1 and LPCM 2.0 Stereo audio mixes. The 5.1 is very atmospheric, especially in the "it's alive!" scene where Frankenstein power up his device to bring life to the creature. We hear a lot of thunderclaps and rainfall in the surrounds, and a little bit of low-end extension in the LFE, but not floorboard rattling lows by any means. The dialogue remains clear and full without any audible clipping. The 2.0 mix is also very good with very wide, almost surround-like stereo imaging.
The Supplements
Arrow provides its usual set of abundant and high-quality bonus features for this release including lots of new interviews, and most welcome, a 2K restoration of the very first film adaptation of Frankenstein from 1910 by the Edison Studios.
NEW Audio Commentary by Michael Brooke and Johnny Mains
NEW Mary Shelley and the Creation of a Monster (4K; DV; 00:29:37) – British gothic specialists David Prie, Stephen Volk, and Johnathan Rigby discuss the genesis and subsequent stage and screen incarnations of Mary Shelley's classic tale.
NEW Dissecting Mary Shelley's Frankenstein (4K; DV; 00:15:33) — David Prie, Stephen Volk, and Johnathan Rigby discuss the differences between the novel and the 1994 film adaptation.
Frankenstein (1910) (4K; DV; 00:12:55) – The first screen adaptation of Mary Shelley's classic tale, directed by J. Searle Dawley for Edison Studios and released on 18 March 1910 from a 2K restoration by the Library of Congress, with music by Donald Sosin.
NEW Interviews:

Stitching Frankenstein: An Interview with Costume Designer James Acheson (4K; DV; 00:14:53)
We'll Go No More a Roving: An Interview with Composer Patrick Doyle (4K; DV; 00:12:40)
Making it all Up: An Interview with Make-Up Artist Daniel Parker (4K; DV; 00:14:22)

Trailers:

Trailer #1 (4K)
Trailer #2 (4K)

Image Gallery (1080p)
Reversible sleeve featuring original and newly commissioned artwork by Laz Marquez
FIRST PRESSING ONLY: Illustrated collector's booklet featuring new writing by Jon Towlson and Amy C. Chambers
The Final Assessment
Arrow gives us a gorgeous release of this gothic classic its typical flair. Packed with numerous new featurettes, interviews, and the original Edison Frankenstein film adaptation for cinephiles to enjoy in addition to the gorgeous collectible packaging and essay, this is highly recommended.
Mary Shelley's Frankenstein (Special Edition) is out on 4K Ultra HD & Blu-ray April 12, 2022 from Arrow Video

---
Rating Certificate: R (for horrific images)
Studios & Distributors: TriStar Pictures | Japan Satellite Broadcasting (JBS) | IndieProd Company Productions | American Zoetrope | Arrow Video
Director: Kenneth Branagh
Written By: Mary Shelley (novel) | Steph Lady (screenplay) | Frank Darabont (screenplay)
Run Time: 123 mins.
Street Date: 12th April 2022
Aspect Ratio: 1.85:1
Video Format: HEVC 2160p (4K UHD)
HDR Format: Dolby Vision (HDR10 Compatible)
Primary Audio: English DTS-HD MA 5.1
Secondary Audio: English LPCM 2.0 Stereo
Subtitles: English SDH