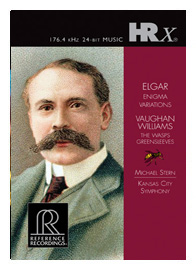 – –

The Album
[Rating:5/5]
Reference Recordings continues its series of recordings with Michael Stern's Kansas City Philharmonic, following the lead of a phenomenally successful disc of popular Benjamin Britten works.  Stern, one of the young stars on today's concert stage, has considerably raised the level of this orchestra, making it a contender for one of the best in America. Even more so, this performing team seems to have an affinity for British orchestral works, as now witnessed in this program of two popular pieces by Ralph Vaughn-Williams and Edward Elgar's best know composition (after Pomp and Circumstance).
The playlist is as follows:
Vaughan-Williams: The Wasps-Aristophanic Suite (25:18). This lighthearted five piece contains the overture and four selections from music that V-W composed for Aristophanes's social comedy.
Vaughan-Williams: Fantasia on "Greensleeves" (4:34). A clever reworking of a traditional British song attributed to John Bull with a haunting melody that will be familiar to nearly all listeners.
Elgar: Enigma Variations (31:16). The title  of this set of 14 variations, each based on Elgar's friends or family (with the last dedicated to himself), stems from the fact that, unlike traditional theme and variations compositions, Elgar never introduces the actual theme.
Maestro Stern and his Kansas City players deliver performances of these familiar works that are strong enough to hold their own against the formidable competition (including definitive readings by Englishman Sir Adrian Boult).
Audio Quality
[Rating:5/5]
RR records its digital masters at 176.4 kHz/24-bit resolution and this new release is a DVD-R in its HRx series that is a bit-for-bit copy of the master itself. Keith Johnson's audio team laid down these tracks at the Community of Christ Auditorium in Independence Missouri.  This is a spacious venue that is very friendly to the orchestra. Orchestral details and potent bass lines abound in a completely believable and holographic presentation.
I had the opportunity to compare, side-by-side, this HRx version with its hybrid 2-channel SACD counterpart. It was difficult to pick a winner here since you are starting off with two state-of-the-art recordings. I thought the hi-res DVD-R had a slight edge in spatial presentation and low-end information. On the other hand, the hybrid SACD disc has a 5.1 mix  that adds a significant amount of hall ambience.
Supplemental Materials
[Rating:1/5]
Richard Rodda contributes excellent program notes about each piece (with margin illustrations for the Elgar work by artist Joel Fontaine). The booklet also has background notes about the Kansas City Symphony, Michael Stern, and a roster of the individual players. Recording  information completes the supplement.
The Definitive Word
Overall:
[Rating:4.5/5]
When you combine superb musicianship with top-flight recording and production values, you get a winner. While HRx discs are expensive (nearly three times the price of the hybrid SACD), they are the closest that listeners will get to what the audio engineers heard at their recording sessions. HRx discs are stored as uncompressed WAV files and because there is no PCM conversion step, potential sonic anomalies are removed from the playback chain. When these DVD-Rs were initially released, they required playback from a PC. Now there are a number of disc players, like the current Oppo models, that have excellent onboard DACS capable of handling these data files. Reference Recordings' website  provides a partial list of compatible hardware for playback. All things considered, Elgar/Vaughan Williams is one of those self-recommending discs that should be seriously considered by those who have the requisite playback equipment to do it justice.