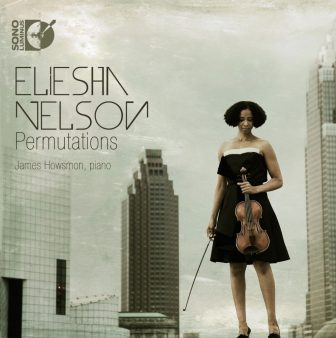 –
The Album
[Rating:4/5]
Unlike the violin, its smaller sibling, the viola has enjoyed far fewer chamber works created specifically for its essentially mellow tonality.  In Permutations, violist Eliesha Nelson attempts to rectify that situation with five works that are either intrinsically American or, in the case of the Kapustin sonata, American-influenced.
The program is all 20th century with solo viola or viola and piano works with dates of composition that span nearly half a century:
Nicholai Kapustin: Sonata for Viola and Piano, Op. 69 (16:54). This three-movement work owes much of its improvisational nature to the the "cool" jazz musical idiom with viola providing the melodies and the piano, the basso obstinato beat.
John McLaughlin Williams: Two Pieces for Solo Viola (5:37). This African-American composer is an accomplished violinist, pianist, and GRAMMY-winning conductor. These two pieces, Sarabande and Toccata, harken back to the Baroque era with tonalities reminiscent of J.S. Bach. Both works were intended for Ms. Nelson and exploit the rich tone of her instrument.
Ross Lee Finney: Second Sonata for Violin and Piano (18:51). This is the earliest piece of the recital, having been composed in 1953. Finney employs the dodecaphonic tone row echoing the Second Viennese School that included Alban Berg and Arnold Schoenberg. The second movement, "Permutations," gave rise to the title of this program and is a virtuosic display piece that contrasts sharply with the following largo teneramente's solemn nature, and concludes with an uptempo Allegro con moto.
Jeffrey Mumford: Wendings (7:58). This brief solo viola work was dedicated to violist Wendy Richman, going so far as to use the "E, D, C, H, A" of her name as the notes for the harmonic material therein. There are contemplative passages, interrupted by sharp attacks, tremolos, and changes of pace that challenge the violist's abilities.
George Walker: Sonata for Viola and Piano (14:21). The composer, himself a successful musician, dedicated this two-movement piece to his father. It is atonal and presents yet another challenge to the soloist and accompanist. The burnished tonal palette of the viola is again expertly drawn out with the second movement's sometimes frenetic tempo making the soloist work quite hard just to keep pace.
Ms. Nelson is an extremely talented violist who, surprisingly enough, took up the viola relatively late in her music education. Making up for lost time, she has achieved an amazing degree of virtuosity on her instrument of choice and has had an extremely successful career both as a soloist and orchestra member.  Her accompanist, pianist James Howsmon is a veteran of the concert stage with over 1000 recitals to his credit, as well as being a faculty member of the Oberlin Conservatory.  This duo renders what must be considered definitive performances of these works as well recorded premieres for all except "Wendings."

Audio Quality
[Rating:4/5]
Recordings were done at DTS-HD Master Audio 7.1 (192kHz/24-bit) although the 7.1 channel version on the Pure Audio disc is reduced to 96kHz/24-bit.  I preferred either of the other high-resolution formats for their depth and overall impact.  Both viola and piano receive very big sound images making them appear to be closer to the foreground of the soundstage, perhaps a tad closer than I usually like to hear them.

Supplemental Materials
[Rating:4/5]
Ms. Nelson contributes insightful backgrounds on the works of the program and her rationale for their inclusion. The booklet also contains brief biographies of the performers and the composers. Track listings and production credits are also included. As is customary for Sono Luminus, a bonus red book audio CD in excellent sound is provided along with downloadable Mp3 and FLAC versions via mShuttle.

The Definitive Word
Overall:
[Rating:4/5] 
This excellent recital disc will surely interest viola fans. While not always falling easily on the ear, listeners will still appreciate the incredible skill of Eliesha Nelson and her courage in taking musical roads less traveled.
[amazon-product region="uk" tracking_id="bluraydefinit-21″]B00OZ8XHCQ[/amazon-product]
[amazon-product region="ca" tracking_id="bluraydefinit-20″]B00OZ8XHCQ[/amazon-product]
[amazon-product]B00OZ8XHCQ[/amazon-product]