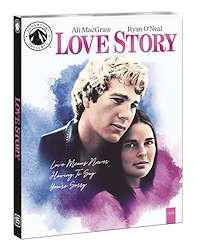 Only the nihilism and hubris of the Boomer generation could lead them to latch on to the most popular line from this 1970 breakout hit romance, "love means never having to say you're sorry." The line uttered by Love Story's lead Ali MacGraw comes after she and co-star Ryan O'Neal have a fight and reunite later in a tear-filled scene.
The film, which is often heralded both as one of the most romantic and most tragic films of all time, had an unusual promotional campaign. Screenwriter Erich Segal wrote a novelization of the screenplay after submitting the screenplay to Paramount and Paramount felt it would be great to release the novel ahead of the film. The novel went on to be a bestseller, providing great promotion for the film, which also became one of the biggest films of the year.
A 'feelgood' film in a tumultuous year of political turmoil, it follows the story of wealthy Harvard law student Oliver Barrett IV (O'Neal) who falls for the Radcliffe music student Jenny Cavilleri (MacGraw), who is a feisty, witty woman from a working class Italian American background. Their romance is swift, the two fall deeply in love, and as their careers begin to send them on diverging paths, they are forced to make a choice about their relationship. Marriage is their decision, but Oliver's father (Ray Milland) disapproves and cuts off his son's allowance, forcing Oliver to have to get an actual job to support himself. Oliver and Jenny find themselves struggling financially, hit with real world problems for the first time in their romance, but they persevere. The biggest challenge comes when Jenny is diagnosed with a fatal illness, which will cause an early death for the young woman so full of life. It's a fate viewers already knew was coming since it is told to us in the very first line of the film by Ryan O'Neal.
The film is very straightforward by today's standards. There is not an ounce of cynicism to be found in Love Story and it could be viewed by many as quite saccharine, but director Arthur Hiller manages to keep the film from lapsing too far into the realm of the unbelievable and keeps us interested through a number of cinematic and dramatic techniques. There are a number of allusions to the Nouvelle vague in his filming technique, such as when Oliver and Jenny are driving around in his convertible, and even some Italian neo-realism. Dramatically, the acting is earnest from MacGraw and O'Neal, but not melodramatic.  Being able to provide an engaging romance and a tearjerker where we know the ultimate outcome but still don't mind following along for the ride is perhaps this film's greatest achievement.


The Video
Love Story comes to Blu-ray in a new 4K restoration from the 35mm film source framed at 1.85:1 in an AVC 1080p encodement. It looks fantastic for a film from 1970 and the grain has definitely been preserved, with very minor hints of source damage and film softness here and there. Basically, this looks very authentic to the era, organic, and offers up lots of texture, with the only flaw being the slightest tilt toward black crush in some of the darker colors.
The Audio
Newly restored versions of the original soundtrack for Love Story are included on the Blu-ray, including a new 5.1 DTS-HD Master Audio mix and a lossy Dolby Digital 2.0 mono mix. The 5.1 mix is a nicely spruced up addition that adds clarity and spaciousness, but does have some weird panning, such as early on during the hockey match where we can suddenly hear a hard pan to the far right with the surround speakers become engaged. The mono track sounds a little bit rougher and boxier, but it is still quite good, and has clear dialogue as well.
The Supplements
The commentary with director Arthur Hiller and the brief video essay on the film from film historian and critic Leonard Maltin are excellent inclusions that offer a lot of history and background on this classic.
Digital Copy
Commentary by director Arthur Hiller
Filmmaker Focus: Leonard Maltin on Love Story (1080p; 00:06:25)
Love Story: A Classic Remembered (1080i; 00:14:51)
Theatrical Trailer (1080p)
Collectible packaging with foldout slipcover featuring original poster art and insert with production stills.
The Final Assessment
Paramount has done another excellent job with this Paramount Presents Blu-ray Release of Love Story, a romantic classic coming just in time for Valentine's Day. Recommended for cinephiles and every sappy-hearted lover everywhere.
---
If you found this review useful please consider clicking the button below and donating to help keep TheaterByte funded and to allow us to continue posting great content.
---
Love Story (Paramount Presents) is out on Blu-ray February 6, 2021 from Paramount Home Media Distribution
---
Rating Certificate: PG (for language and a love scene)
Studios & Distributors: Paramount Pictures | Love Story Company | Paramount Home Media Distribution
Director: Arthur Hiller
Written By: Erich Segal
Run Time: 100 Mins.
Street Date: 9 February 2021
Aspect Ratio: 1.85:1
Video Format: AVC 1080p
Primary Audio: English Restored DTS-HD MA 5.1
Secondary Audio: English Restored Mono DD 2.0 | German Mono DD 2.0 |French Mono DD 2.0 | Japanese Mono DD 2.0
Subtitles: English | English SDH | German | French | Japanese