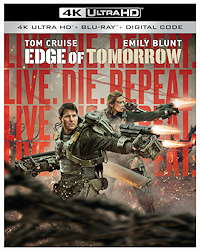 Edge of Tomorrow is the action-packed sci-fi thriller from director Doug Liman (Chaos Walking) starring Tom Cruise and Emily Blunt.
Cruise plays Major William Cage, who is a PR man for the military who is great at doing slick propaganda appearances to help get young people to enlist. There is a global battle raging – the planet has been invaded by a relentless alien race and no military on Earth seems capable of defeating the invaders. What's more, the invaders can reshape time. Cage gets dropped into the middle of a suicide mission and ends up in a time loop, reliving the same brutal day over again. There he meets the highly skilled soldier Rita Vrataski (Emily Blunt), AKA Full Metal B*tch. Eventually Cage trains under Rita and the two determine a plan that can help them defeat the aliens.
Edge of Tomorrow is like the best of Tom Cruise's films – all popcorn action, without much thinking required. Are there some issues with plot holes? Yes, there are, but if you sit back and enjoy the ride, it won't ruin much.  Liman does a fantastic job of pushing the action forward. A story that deals with time loops can get tiring quite quickly, so the screenplay and direction must step in to mix things up with some details and set pieces that add some variations. There are plenty of those here and they fit into the story without any issues.
Rounding out the entertainment is the excellent onscreen chemistry between Blunt and Cruise. The two make the perfect pair on screen for this film and, thankfully, the filmmakers do not bog the film down with a sappy romance subplot – there's a little of it, but it fits. Edge of Tomorrow is pure adrenalin rush popcorn fun.

The Video
Edge of Tomorrow comes to 4K Ultra HD Blu-ray in a HEVC 2160p (4K UHD) HDR10 encodement. HDR metadata shows a MaxLL of 488 nits and a MaxFALL of 106 nits. There is no information provided by Warner Bros. on the source for this new release, on whether it is a new restoration, etc. Given this, I guesstimate based on the image that it is a remaster from the 2K DI upscaled to 4K with HDR10. There is some grittiness in the film grain [ the film was originally shot on 35mm Kodak Vision3 250D 5207, Vision3 200T 5213, and Vision3 500T 5219 film stock on various Arri cameras] but generally this 4K transfer resolves well, shows strong detail, even in the very fast-paced scenes where imagery can tend to break down and blur just a tad. The HDR10 adds an extra dimension of richness with the blazing, dark orange flames that 'pop' a bit from the screen and visual effects of the aliens that have an electric icy glow or a hot amber effect.
The Audio
Much has been made about the English Dolby Atmos mix on this 4K Ultra HD Blu-ray for Edge of Tomorrow being somewhat anemic because of a roll-off of sub 30Hz frequencies that are on the DTS-HD Master Audio 7.1 mix that appears on the Blu-ray Disc. Forget about it. This mix is rollicking and arguably offers more tonal clarity than the Blu-ray. The opening low-end tone is still a room shaker that rattles some bones, but the low end is only one part of the story with this mix. There is sublime height awareness, especially in the numerous battlefield sequences that place lots of motion overhead of helicopters, sounds of gunfire, and the general chaos of battle. Dialogue is generally clean and clear although in some of the most chaotic scenes it is purposely buried for artistic reasons. This track is 100% reference
The Supplements
Edge of Tomorrow comes with the previously released Blu-ray which also contains all previously included bonus features. Additionally, a Movies Anywhere Digital code is included.
Previously released Blu-ray with feature film and previously available bonus features including:

Operation Downfall
Weapons of the Future
Creatures not of this World
On the Edge with Doug Liman
Deleted Scenes
The Final Assessment
This high-octane sci-fi thriller is a must own reference release on 4K Ultra HD. This is a fun one to own for home theater enthusiasts and film buffs alike.
Edge of Tomorrow is out on 4K Ultra HD Combo July 5, 2022 from Warner Bros. Home Entertainment
---
Rating Certificate: PG-13 (for intense sequences of sci-fi action and violence, language and brief suggestive material)
Studios & Distributors: Warner Bros. | Village Roadshow Pictures | RatPac-Dune Entertainment | 3 Arts Entertainment | Viz Media | Province of British Columbia Production Services Tax Credit | Dune Entertainment | Prime Focus | Warner Bros. Home Entertainment
Director: Doug Liman
Written By: Christopher McQuarrie (screenplay by) | Jez Butterworth (screenplay by) | John-Henry Butterworth (screenplay by)
Run Time: 113 Mins.
Street Date: 5 July 2022
Aspect Ratio: 2.39:1
Video Format: HEVC 2160p (4K UHD)
HDR Format: HDR10
HDR Metadata:

MaxLL: 488 nits
MaxFALL: 106 nits

Primary Audio: English Dolby Atmos (Dolby TrueHD 7.1 Compatible)
Secondary Audio: English Descriptive Audio | Italian DD 5.1 | French (Québécois) DD 5.1 | German DD 5.1 | Spanish (Latino) DD 5.1 | French DD 5.1 | Chinese DD 5.1 | Czech DD 5.1 | Hungarian DD 5.1 | Polish lektor DD 5.1
Subtitles: English SDH | German SDH | Spanish (Castilian) | Chinese (Traditional) | Chinese (Simplified) | Korean | Japanese | Spanish (Latino) | Danish | Czech | Finnish | Swedish | Polish | Norwegian