Estimated reading time: 6 minutes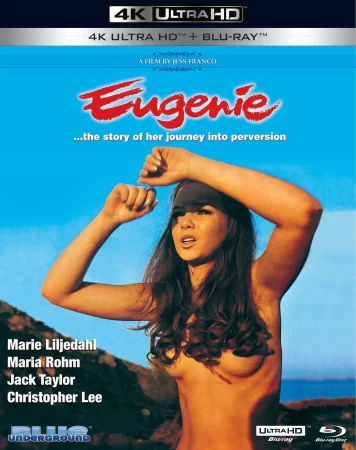 Eugenie…The Story of Her Journey into Perversion is one of five adaptations by Jesus "Jess" Franco of the Marquis de Sade's Philosophy in the Boudoir. The 1970 film is the least explicit of them all but was explicit enough to garner the notorious "X" rating and find itself targeted by censorship fights. Marie Liljedahl plays the titular character, a naïve young woman who travels to an idyllic island paradise with her father's lover, Mme. de St. Ange (Maria Rohm). Whilst there, St. Ange and her brother Mirvel (Jack Taylor), drug and, to put it in mild terms, have their sexual way with Eugenie to live out their perverted sexual fantasies, which includes sadomasochistic games overseen by Dolmance (Christopher Lee). Eventually Eugenie, completely seduced, joins into their sexual fantasies willingly, but the sex games turn violent, and Eugenie is caught in the middle of it.This lavish, sexploitation film is considered one of Franco's best, despite the numerous out of focus shots and emphasis on rape. Liljedahl as the protagonist does a much better job than Romina Power in Justine, bringing not just beauty, but a sense of emotion and innocence that was lacking in Power's performance. Anyone who enjoys classic erotica like Tinto Brass, for instance, should find this an enjoyable film, even in these days where adult films are readily available at the fingertips. This is more artful than internet pornography, however, and should not be classified as such.
The Video
Eugenie is presented completely uncut in a brand new 4K restoration from the original camera negative by Blue Underground in a 2.40:1 HEVC 2160p (4K UHD) Dolby Vision encodement. This film being considered lost at one point obviously has a much different provenance than the companion Marquis de Sade film from Jess Franco Justine on 4K from Blue Underground. Here the source looks a bit rougher and there are some light scratches and tramlines that make their ways into the image. The image is grainier, but the grain still looks organic. What takes away from the detail, and this has nothing to do with the transfer or encodement, is the original production, which has a lot of out of focus shots. That said, the Dolby Vision grading is superb, just like the one on Justine, and we see a spectacular array of colors, strong added brightness and dynamic range, and superb 'pop' in the specular highlights.
The Audio
Eugenie comes with an English DTS-HD Master Audio 1.0 and French DTS-HD Master Audio 1.0 audio mix. The English mix is the default mix, but not necessarily the "original" language since the film is dubbed regardless which track you choose. The English mix has better synching and clearer sound than the French dub.
The Supplements
Blue Underground includes interviews with the cast members (on Blu-ray) and an excellent audio commentary from Troy Howarth and Nathaniel Thompson, among other bonus features.
On 4K:
Audio Commentary with Film Historians Nathaniel Thompson and Troy Howarth
Theatrical Trailer (4K; DV)
On Blu-ray:
Audio Commentary with Film Historians Nathaniel Thompson and Troy Howarth
Perversion Stories – Interviews with Director Jess Franco, Writer/Producer Harry Alan Towers, and Stars Marie Liljedahl & Christopher Lee (1080p; 00:17:32)
Stephen Thrower on Eugenie – Interview with the author of "Murderous Passions: The Delirious Cinema of Jesus Franco" (1080p; 00:18:09)
Jack Taylor in the Francoverse – Interview with Star Jack Taylor (1080p; 00:24:42)
Theatrical Trailer (1080p)
Poster & Still Gallery (1080p)
The Final Assessment
Another spectacular transfer from Blue Underground of a cult film well out of the mainstream, but one that is still entertaining given the visual palette and, let's face it, beautiful cast. Recommended for fans of the genre.
---
Eugenie…The Story of Her Journey into Perversion is out on 4K Ultra HD Combo February 21, 2023, from Blue Underground.
---
Rating Certificate: X
Studios & Distributors: Etablissement Sargon | Hape-Film Company GmbH | Producciones Cinematográficas Balcazar | Video-Tel International Productions | Blue Underground
Director: Jesus 'Jess' Franco
Written By: Harry Alan Towers | Marquis de Sade (novel "La Philosophie dans le boudoir")
Run Time: 87 Mins.
Street Date: 21 February 2023
Aspect Ratio: 2.40:1
Video Format: HEVC 2160p (4K UHD)
HDR Format: Dolby Vision (HDR10 Compatible)
HDR10 Metadata:

MaxLL: 1000 nits
MaxFALL: 361 nits

Primary Audio: English DTS-HD MA 1.0
Secondary Audio: French DTS-HD MA 1.0
Subtitles: English SDH | French | Spanish