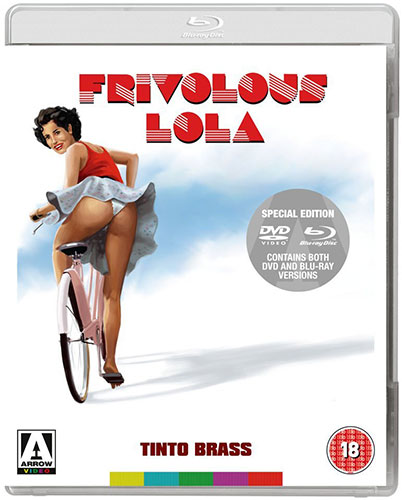 Italian erotica auteur Tinto Brass lends his lavish filmmaking style to this 1998 romp set in 1950s Italy. The story of Frivolous Lola (Monella) follows a young engaged couple, the sexually charged Lola (Anna Ammirati) and the somewhat prudish baker Masetto (Max Parodi), who clash when Lola wants to have sex before marriage, but Masetto wants her to remain a virgin until their wedding day. Of course, Lola and her rather vivid sexual fantasies that often include her erotic photographer stepfather (Patrick Mower) (who may or may not be her biological father) and her mother (Serena Grandi), is intent on finding ways to rile up jealousy in the somewhat hypocritical Masetto (he likes to frequent hookers). She takes to flouncing about town in short skirts without any underwear on, dancing provocatively with soldiers, and even openly flirting with her stepfather.
Like all of Brass' films, Frivolous Lola is meant as eye candy, and that meaning is twofold. The cinematography, in this case courtesy of frequent collaborator Massimo Di Venanzo – who also worked on such Brass films as Black Angel, Cheeky, and All Ladies Do It – is beautifully rendered in light, shade, and Brass' signature use of mirrors and reflections. Secondly, it is eye candy in that it, obviously, is filled with lots of beautiful naked bodies, not the least of which is Anna Ammirati who dominates almost every frame. What would a Tinto Brass film be without this nudity, sex, and, what some might call, absolute misogyny? Or what he might simply refer to as a love of all things female and sexual, especially their rear ends?
Again, it's probably best not to think too hard about a Tinto Brass film. Somewhere in it all there's maybe a subtle, subversive message about traditional roles, sexual prudishness, etc., etc. For the most part, however, it is what it is – pretty erotica.
The Video
The HD transfer of Frivolous Lola is encoded in AVC/MPEG-4 1080p and framed at 1.78:1. Like most Tinto Brass films, the image has a diffuse quality to it, and that remains here in this offering. It doesn't suffer from source damage or video noise, but there's no crispness to the image and textures seem quite smooth. Colors are also rather flat.
The Audio
We get the original Italian-language soundtrack in LPCM 2.0 Stereo (48kHz/16-bit) with newly translated English subtitles and English dub also in LPCM 2.0 Stereo (48kHz/16-bit) with English SDH subtitles. They both have a reasonable amount of clarity, dynamics, and stereo imaging, if just a little edgy in the high-end.
The Supplements
Trailer (1.78:1; 1080p/24; 00:02:21)
Italian-Language Opening Credits (1.78:1; 1080p/24; 00:02:27)
Italian-Language Closing Credits (1.78:1; 1080p/24; 00:01:39)
Reversible sleeve featuring original and newly designed artwork by The Red Dress
Collector's booklet featuring new writing on the film by critic David Flint, illustrated with original archive stills
The Final Assessment

Frivolous Lola may be one of the more straightforward of Brass' films with an easy story to follow and, surprisingly, a little less in the way of his overt diversions into prurience (hey, I said a LITTLE less, this is still a Tinto Brass film). It's surprisingly enjoyable to watch, but hardly any sort of great revelation in filmmaking. Anyone tuning in to find some really strong porn will, however, be greatly disappointed. That is not and has never been what Brass is about.
Frivolous Lola is available on Dual Format Special Edition from Arrow in the UK