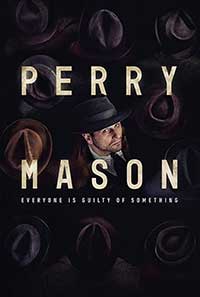 Growing up in the 1950s and 1960s, thick-set Raymond Burr's small screen portrayal of Erle Stanley Gardner's ace criminal defense lawyer was how I thought Perry Mason should look and act. HBO has gone back to the drawing board and sets this new "prequel" with Perry Mason (Matthew Rhys) as a private investigator in early 1930s Los Angeles. This anti-hero is a down-at-the-heels shabbily clad loser whose irresponsible life cost him his marriage and his young son. He received a "blue tag" discharge from the US Army while stationed in France during WW I. Mason now resides in a dilapidated farmhouse inherited from his parents that borders a small airport. Besides heavy drinking, Perry's only other apparent extracurricular activity is occasional bouts of strenuous sex with airplane pilot and neighbor Lupe Gibbs (Veronica Falcon).
The sentinel event that propels this initial episode forward is the kidnapping and murder of one-year-old Charlie Dodson whose parents Matthew (Nate Corddry) and Emily (Gayle Ranking) had just left a suitcase filled with a huge ransom payment in an abandoned apartment.  Perry's father-figure, attorney Elias Birchard "E.B." Jonathan (John Lithgow), informs him that secretary Della Street (Juliet Rylance) has arranged a meeting with wealthy Herman Baggerly (Robert Patrick) who turns out to be Matthew's long-lost father. Baggerly wants Perry to investigate little Charlie's murder. Arriving at the Dodson home, they find Detectives Holcomb (Eric Lange) and Ennis (Andrew Howard) grilling the couple and having difficulty believing Emily's account of that evening and Matthew's questionable whereabouts making the latter a person of interest.
Perry pays his medical examiner buddy Virgil Sheets (Jefferson Mays) to view the baby's body, and he removes one of the sutures that kept its eyes open for evidence. Perry's some-time assistant Pete Strickland (Shea Whigham) next invites him to a swanky New Year's Eve party hosted by studio boss Julian Hammersmith (Howard Korder) (made up to resemble Groucho Marx). Hammersmith not only stiffs Perry for the nude photos of two Hammersmith film actors Chubby Carmichael (Bobby Gutierrez) and starlet Velma "Red" Fuller (Madeline Fuller) having sex but has one of the Hammersmith goons sear his chest with a heated handgun.
[envira-album id="123919″]
It is early New Year's Day and a drunk Perry Mason has finished making phone calls to his ex-wife who will not let him talk to his son. As the curtain falls, the three Dodson kidnappers have died at the hands of Detective Ennis, and Perry is now examining photos from the murder case that are spread out on his floor.
Given the combination of acclaimed director Tim van Patten, talented scriptwriters Rolin Jones and Ron Fitzgerald, and a strong cast, I had high hopes for this new version of Perry Mason. Instead, what I saw in the first of this 1930s-noir series' eight episodes was a meandering storyline, as the title character careens from one bad situation to another.  Even more important, the persona given Matthew Rhys is neither sympathetic nor very interesting, a dramatic pawn rather than a king in unflattering contrast with Erle Stanley Gardner's urbane barrister who at least had some sense of style. Coincidentally, Perry Mason employs a number of the same tropes found in the recent Penny Dreadful: City of Angels: a disfigured corpse, a huge LA evangelical church with a charismatic female leader, self-serving city officials, and a corrupt police force.  While PI Mason eventually passes the California Bar examination (with considerable coaching) and may solve the child murder case that has become a media sensation, given a lead character that is so banal, viewers' interests may not be sufficiently piqued to take in seven more episodes.
Perry Mason may be viewed in weekly installments on HBO and HBO Max
---
The Creative Content: 2.5/5
Show Creator: Erle Stanley Gardner
Original Release Date: 21 June 2020
Network: HBO
Ep. Run Time: 60 Mins.
No. Eps.: 8
Studios & Distributors: Dwight Street Book Club | Inflatable Moose, Inc. | Team Downey | HBO
Rating Certificate: TV-MA