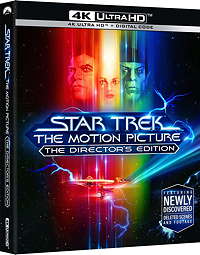 Originally Star Trek the Motion Picture (1979) was a quite laborious film wherein the Enterprise must investigate when a strange alien species attacks and destroys three Klingon ships. Captain Kirk (William Shatner) takes over command and reassembles his old crew in this film with a screenplay that seems more like an extended mid-season episode of the series than feature film material.
The film had been rushed to theaters in December 1979, pressed for time due to being behind schedule on the visual effects. The initial team hired to do the VFX failed to produce, so with seven months to go, Paramount had to bring in visual effects pioneers Douglas Trumbull (2001: A Space Odyssey, The Andromeda Strain, Close Encounters of the Third Kind) and John Dykstra (Star Wars) to finish the job. The result was many scenes were either cut or they were dropping in effects as the film was progressing. In the end, what we got was a languid film with pacing and color timing issues. In 2001, a Director's Edition was completed in which most of these issues were rectified. Scenes were added back in, such as crucial scenes with Spock (Leonard Nimoy) and the big reveal of the V'ger, which never happened in the theatrical version. Some color timing issues were also addressed and the starfield was added to the overture instead of having just a black background. The audio mix was also redone. Now, we have a film that is far more palatable, but it hasn't really been 'alive' until this new restoration. See below.
Star Trek: The Motion Picture DE (1979)
The Video
Star Trek: The Motion Picture Director's Edition has been completely restored in 4K from the original camera negative with the visual effects finally being restored and re-composited as well (originally, they were redone in standard definition). Going back to Douglas Trumbull's 65mm film elements as well as John Dykstra's VistaVision footage, the elements were scanned at 8K and 6K respectively and dropped back into the film. The results are truly breathtaking and have never looked better than in this 2.40:1 HEVC 2160p (4K UHD) Dolby Vision disc from Paramount. We get HDR metadata showing us a MaxLL of 1000 nits and a MaxFALL of 926 nits. Colors are vibrant, with a wide array of nuance and primary 'pop'. The specular highlights shine in the starfields and transporters while control panels all shine through nicely as well. Detail is generally crisp, but there are some minor issues here and there with a little heavy handed DNR that seems characteristic of the Star Trek franchise restorations on Blu-ray and 4K in general. This could have been scaled back a tad, but it doesn't ultimately harm the overall presentation very much.
The Audio
Star Trek: The Motion Picture Director's Edition arrives on 4K Ultra HD with an Atmos mix that is at the top of the list for catalogue remixes. This places a number of sound effects throughout the room, provides strong height awareness, and deep low end. The dialogue is full and clear and there is also a lush amount of ambience where and when needed. The score sounds airy and natural with clarion brass and smooth and warm strings.
The Supplements
Paramount includes some new bonus features with this release as well as previously released extras all on a Bonus Blu-ray Disc. The commentaries and featurettes will definitely all be worth checking out for any fan.
4K Bonus Features:
Commentary by David C. Fein Mike Matessino, and Daren Doterman
Commentary by Robert Wise, Douglas Trumbull, John Dykstra, Jerry Goldsmith, and Stephen Collins
Text Commentary by Michael and Denise Okuda
Blu-ray Bonus Disc Features:
New Features
The Human Adventure 1080p; 00:48:17):

Preparing the Future
A Wise Choice
Refitting the Enterprise
Sounding Off
V'Ger
Return to Tomorrow
A Grand Theme
The Grand Vision

Deleted Scenes (1080p; 00:04:31):

Ilia & Decker in Engineering
Security Guard
Three Casualties

Effects Tests (1080p; 00:03:30)
Costume Tests (1080p; 00:04:40)
Computer Display Graphics (00:03:09)
Legacy Features:
Production – The Longest Trek: Writing The Motion Picture (1080p; 00:10:44)
The Star Trek Universe:

Special Star Trek Reunion (1080p; 00:09:37)
Starfleet Academy SCISEC Brief 001: Mystery Behind V'Ger (1080p; 00:04:24)

Additional Scenes – 1979 Theatrical Version (SD; 00:06:06)
Deleted Scenes – 1983 TV Version (SD; 00:08:013)
Storyboards (1080p):

Vulcan
Enterprise Departure
V'Ger Revealed

Trailers

Teaser Trailer (1080p)
Theatrical Trailer (1080p)

TV Spots (SD):

Hardware
Startle Your Senses
Enterprise
Cast/Human Adventure
Spiritual Search
Spiritual/Startle Your Senses
Spiritual/Human Adventure
Event/Common Experience
The Final Assessment
A Star Trek fan's dream come true, Star Trek: The Motion Picture Director's Edition has never played so well or looked and sounded so wonderful as it does in this new edition from Paramount. This is the ultimate aural and visual upgrade over all previous versions as well as the superior version of the film in general. Highly recommended.
Star Trek: The Motion Picture Director's Edition is out on 4K Ultra HD September 6, 2022 from Paramount
---
Rating Certificate: G
Studios & Distributors: Paramount Pictures | Century Associates | Robert Wise Productions | Paramount Home Entertainment
Director: Robert Wise
Written By: Gene Roddenberry
Harold Livingston Alan Dean Foster
Run Time: 136 Mins.
Street Date: 6 September 2022
Aspect Ratio: 2.40:1
Video Format: HEVC 2160p (4K UHD)
HDR Format: Dolby Vision (Compatible with HDR10)
HDR10 Metadata:

MaxLL 1000 nits
MaxFALL 926 nits

Primary Audio: English Dolby Atmos (Compatible with Dolby TrueHD 7.1)
Secondary Audio: German DD 5.1 | Spanish (Castilian) DD 5.1 | French DD 5.1
Subtitles: English | English SDH | Danish | German | Spanish (Castilian) | Spanish (Latin American) | French | Italian | Dutch | Norwegian | Finnish | Swedish