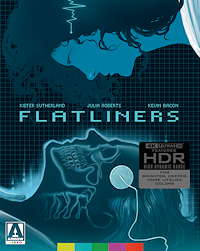 Director Joel Schumacher infuses Flatliners with his usual 1980s/1990s music video flair. A horror/thriller about a group of brilliant medical students who become obsessed with finding out if there really is life after death, it follows them as they carry out a series of secret, late night experiments, inducing death, or "flatlining" and bringing themselves back just before it is too late to be revived. The first to undergo the procedure is Kiefer Sutherland's character Nelson Wright. Each student ups the ante, pushing their time of death farther, longer. But what they experience while flatlined begins to spill into their living reality, and it doesn't take long before they figure out it is misdeeds from their past forcing them to atone.
The nearly Gothic set designs and fast cuts of the waking dream sequences, the rock concert/music video lighting and colorful reds, electric blues, hazy white lights make the film much more compelling and atmospheric than it would otherwise be. Members of the cast, a virtual who's who of actors of the era, including Sutherland, Kevin Bacon, a young Julia Roberts, Oliver Platt, and William Baldwin, make the most of the material, especially Roberts who completely owns the screen.
The Video
Flatliners comes from a brand new 4K restoration from the original negative, approved by director of photography Jan de Bont. It is provided on 4K Ultra HD Blu-ray in a 2.39:1 HEVC 2160p (4K UHD) Dolby Vision encodement. HDR metadata reads MaxLL 10000 (that's ten thousand!) nits and MaxFALL 1335 nits.  This is another beautiful transfer from Arrow. There are some frames – due to the artistic choices and photography – where the image is a little noisy and overly grainy. Apart from these places with the visual effects and noise, this transfer offers up natural grain structure, thinly applied and the depth of field is three dimensional, made even more so by the superbly applied Dolby Vision which absolutely 'pops'. Colors like electric blues and vermillion reds leap from the screen. Check out the scene where Kevin Bacon runs after Julia Roberts under the "el" and the vivid red light engulfs them. There is also excellent handling of the dynamic range, with specular highlights in the bare bulbs in the lair where the experiments are done, and superb inky blacks in the shadows in the same area. The "rock video" lighting really 'pops' and we have excellent gradients from dark to bright. Fires also blaze with oranges and reds. In the brighter, warmer outdoor scenes, such as outside the grade school Kevin Bacon attended, the imagery is exceptionally detailed, and the colors look lively.
The Audio
A lossless DTS-HD Master Audio 5.1 mix is provided for Flatliners. It sounds big and atmospheric. Foley effects like the elevated subway train fill the channels and sound very realistic. The score sounds dynamic and natural and is mixed in with good balance while filling the surrounds and fronts. Dialogue comes through clearly even if it could be a bit fuller. The low end is nicely extended to support some of the louder sound effects.
The Supplements
Arrow provides all new interviews with the crew and, for the first pressing only, an illustrated booklet with essay. It's not mega-packed like the most deluxe Arrow sets, but given the content is all new and we get to hear from everyone from the screenwriter to the production designer, this is a superb collection of bonus features.
FIRST PRESSING ONLY: Illustrated collector's booklet featuring new writing on the film by Amanda Reyes and Peter Tonguette
Audio Commentary by Bryan Reesman and Max Evry
The Conquest of Our Generation (1080p; DV; 00:19:11) – A brand new video interview with screenwriter Peter Filardi, shot exclusively for Arrow Films in 2021.
Visions of Light (1080p; DV; 00:18:23) – A brand new video interview with director of photography Jan de Bont and chief lighting technician Edward Ayer, shot exclusively for Arrow Films in 2021.
Hereafter (1080p; DV; 00:14:22) – A brand new video interview with first assistant director John Kretchmer, shot exclusively for Arrow Films in 2021.
Restoration (1080p; DV; 00:10:47) – A brand new video interview with production designer Eugenio Zanetti and art director Larry Lundy, shot exclusively for Arrow Films in 2021.
Atonement (1080p; DV; 00:11:35) – Brand new video interview with composer James Newton Howard and orchestrator Chris Boardman, shot exclusively for Arrow Films in 2021.
Dressing for Character (1080p; DV; 00:06:26) – Brand new interview with costume designer Susan Brecker, shot exclusively for Arrow Films in 2021.
Theatrical Trailer (1080p; DV)
Image Gallery (1080p; DV)
The Final Assessment
A magnificent restoration of this oft forgotten 1990 sci-fi horror from 1990 that can now be revisited in the best way possible with this gorgeous transfer and feature-rich package from Arrow.
Flatliners (Special Edition) is out on 4K Ultra HD August 2, 2022 from Arrow Video
---
Rating Certificate: R
Studios & Distributors: Columbia Pictures | Stonebridge Entertainment | Arrow Video
Director: Joel Schumacher
Written By: Peter Filardi
Run Time: 114 Mins.
Street Date: 2 August 2022
Aspect Ratio: 2.39:1
Video Format: HEVC 2160p (4K UHD)
HDR Format: Dolby Vision (HDR10 Compatible)
HDR Metadata:

MaxLL: 10000 nits
MaxFALL 1335 nits

Primary Audio: English DTS-HD MA 5.1
Secondary Audio: English DTS-HD MA 2.0 Surround
Subtitles: English SDH