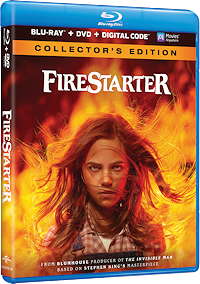 This 2022 film is a reboot of the 1984 film Firestarter and an adaptation of the Stephen King novel of the same name. Zac Efron stars as Andy, a man who was experimented on when he was in college in a shady government program and given the psychic ability to push thoughts into people's minds. He marries Vicky (Sydney Lemmon), who went through the same program and has powers of her own, telekinesis, and together they have a daughter, Charlie (Ryan Kiera Armstrong). Young Charlie develops powers of her own, pyrokinesis, the ability to start fires with her mind. Andy tries to guide his young daughter, but she has trouble controlling her abilities and the family ends up on the run from the government agency that gave them their powers.
The film has a lot of wasted potential. There are so many subplots that are left hanging, and characters act seemingly on a whim. There isn't much exposition to explain the various subplots and characters, we get two-dimensional caricatures of good guys and bad guys. As for Charlie, it is never fully explained how she obtains her powers from two parents who got their powers through experiments. Were they genetically altered? Could those genes be passed down?
This 2022 version of Firestarter is only saved by some good action set pieces thanks to director Keith Thomas who seems adept at infusing the film's action with a lot of atmosphere and adrenalin, but otherwise lets the film drift into banality.
The Video
Firestarter was originally shot on the Arri Alexa Mini and the digital production is presented on Blu-ray in a 2.39:1 AVC 1080p encodement. There isn't anything to really complain about with the image, it's clean, it's detailed, absent of anomalies like banding and noise, but the production and palette are just a bit flat. Even the scenes with the flames don't quite stand out as much against their backdrops. That said, these are very minor issues that relate more to the source than the transfer, which looks good and ultimately satisfying.
The Audio
The sole audio option for Firestarter is a lossless English DTS-HD Master Audio 5.1 mix. It's a very good track with superb sound design. The sounds of flames crackling, explosions and other foley effects often fill all the channels for an engulfing experience, and it handles quiet sounds just as well. Low end is resounding as well, with lots of bombast, offering excellent extension into the lower frequencies to support the action. Dialogue comes through very well.
The Supplements
Even the bonus features included on this Blu-ray seem the typically mundane EPK fare, but they do provide interview segments and peeks behind the curtain.
Movies Anywhere Digital Code
Feature Commentary with director Keith Thomas
Alternate Ending (1080p; 00:02:43)
Deleted and Extended Scenes (1080p; 00:24:14)
Gag Reel (1080p; 00:01:06)
A Kinetic Energy (1080p; 00:06:04)
Spark a Fire (1080p; 00:03:43)
Igniting Firestarter (1080p; 00:03:38)
Power Struggle (1080p; 00:03:28)
The Final Assessment
This is a film that was perhaps better left unmade, but since it is here, maybe rent first or view it on Peacock before purchasing.
Firestarter is out on Blu-ray Combo June 12, 2022 from Universal
---
Rating Certificate: R (for violent content)
Studios & Distributors: Blumhouse Productions | Angry Adam Productions | Night Platform | Universal Pictures | Weed Road Pictures | Universal Pictures Home Entertainment
Director: Keith Thomas
Written By: Stephen King (based on the novel by) | Scott Teems (screenplay by)
Run Time: 94 Mins.
Street Date: 12 June 2022
Aspect Ratio: 2.39:1
Primary Audio: English DTS-HD MA 5.1
Secondary Audio: Descriptive Video Service | Spanish DTS 5.1 | French DTS 5.1
Subtitles: English SDH | Spanish | French