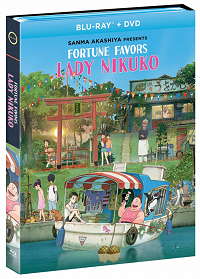 Fortune Favors Lady Nikuko is based on the novel by the same name by Nishi Kanako and was directed by Watanabe Ayumu (Children of the Sea), the family friendly coming of age/mother daughter relationship comedy/drama follows the story of single mother Nikuko (the name literally a play on the Japanese word for meat, "niku") who always falls for the bad guys, but keeps a sunny demeanor, a playful outlook on life, even as she stress eats. Meanwhile, Nikuko's boldness (and weight, it's implied) embarrasses her 11-year-old daughter Kikuko, who is just now trying to settle into life in the latest town they have moved to her whole life – every time Kikuko has a relationship that goes bad. Now, while living on a small boat near a port in this small town, the mother and daughter who have practically nothing in common deal with a lot of things – Kikuko with issues at her school amongst the girls and her closest friend and her mom with financial issues and secrets from the past that that could damage the relationship with her daughter.
Fat shaming aside (Nikuko is quite rotund, and they nickname her "meat lady," a play on her name but also a reference to her weight and eating habits), this is a very touching, heartwarming film about both a mother and daughter's relationship and about a young girl coming of age. There are some issues with storytelling, such as subplots that sort of go nowhere, such as a boy in Kikuko's school, Ninomiya, whom she takes an interest in and who has a facial tick. This subplot with the relationship between them doesn't lead to anywhere, it just sort of trails off.  That said, in general, the strength is the mother-daughter bond, the wonderful way this film is animated and scored, and the way the comedy is easily blended into the drama. This is a superb film about family, what that means, and what the bonds of love truly are.
Fortune Favors Lady Nikuko (2021)
The Video
Fortune Favors Lady Nikuko comes to Blu-ray in a 2.35:1 AVC 1080p encodement that looks beautiful. There is nothing to complain about with this transfer at all. The details are crisp, line art clean, colors vibrant, contrast strong, black levels deep, shadows nuanced and free from noise. This is complete reference anime visual stimuli.
The Audio
Fortune Favors Lady Nikuko comes with the original Japanese-language audio mix in lossless DTS-HD Master Audio 5.1 and it features lovely, natural sound design. The surround channels are used for both subtle atmospherics and the occasional solid sound effects and a flurry of effects from the musical score. The dynamic range from whispers to everyday loud, with good thumps that are underpinned by a nice low-end extension, nothing ground shaking, but enough to give a little beefiness to the sound.
The Supplements
GKIDS & Shout! include a number of interviews and Q&A panels with the cast and crew that are enjoyable to watch and offer lots of info.
DVD – The feature and bonus features on DVD
Making Of (1080i; 01:12:25; Japanese w/subtitles)
Film Completion Press Conference (1080i; 00:25:54; Japanese w/ subtitles)
Official Premiere Event (1080i; 00:18:34; Japanese w/subtitles)
Sanma Akashiya Birthday Event (1080i; 00:18:02; Japanese w/ subtitles)
Guest Speaker Event (1080i; 00:19:55; Japanese w/ subtitles)
Trailers (1080p; 00:04:22)
The Final Assessment
An excellent family film beautifully animated that the whole family can watch. It is gorgeously rendered on Blu-ray from GKIDS and Shout! Factory and receives the highest recommendation.
Fortune Favors Lady Nikuko is out on Blu-ray + DVD July 19, 2022 from GKIDS/Shout! Factory

---
Rating Certificate: NR
Animation Studio: Studio 4°C
Distributors: GKIDS | Shout! Factory
Director: Watanabe Ayumu
Written By: Ooshima Satomi
Run Time: Ooshima Satomi
Street Date: 19 July 2022
Aspect Ratio: 2.35:1
Video Format: AVC 1080p
Primary Audio: Japanese DTS-HD MA 5.1
Subtitles: English for Original Language | Spanish for Original Language