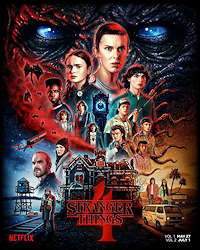 It is now 1986 and six months have passed since our favorite adolescents duked it out with the Mind Flayer in the Starcourt Mall. Law and order has been restored in Hawkins, Indiana as the Upside Down universe is temporarily being held in check. Joyce Byers (Winona Ryder) and sons Will (Noah Schnapp) and Jonathan (Charlie Heaton)  and Eleven "El" (Millie Bobby Brown) have moved to California. Back in Hawkins, Mike Wheeler (Finn Wolfhard) and Dustin Henderson (Gaten Matarazzo) have joined drug dealer Eddie Munson's (Joseph Quinn) Dungeons & Dragons "Hellfire Club." Lucas Sinclair (Caleb McLaughlin) has broken up with Max Mayfield (Sadie Sink).
The first new glimpse of the Upside Down in Hawkins occurs when cheerleader Chrissy Cunningham (Grace van Dien) becomes possessed and killed by Vecna, a dream-world creature (Jamie Campbell Bower). Student reporter Nancy Wheeler (Natalia Dyer) and classmate Fred Benson (Logan Riley Bruner) investigate Chrissy's death, only to have latter also die at Vecna's hands. Nancy enlists Robin Buckley (Maya Hawke) to gather information on Victor Creel (Robert Englund),  an institutionalized psychiatric patient, who blamed his family's murders on the demon possibly responsible these two recent deaths. Not surprisingly, the abandoned  Creel house becomes a portal to the Upside Down.
The action will shift between Hawkins, the Upside Down, and a Russian prison camp in Kamchatka where Joyce's significant other Sheriff Jim Hopper (David Harbour), a survivor of the  Starcourt Mall explosion, is incarcerated. Joyce recruits Russian-speaking Murray Bauman (Brett Gelman) to help free Hopper. Mike visits Eleven in California only to see her taken to an abandoned missile silo in Nevada by psychiatrist Dr. Sam Owens (Paul Reiser) and reunited with her "Papa," Dr. Martin Brenner (Matthew Modine). Brenner has developed an isolation tank to restore her powers so she can bring back Henry aka One from the Upside Down. Back in Hawkins, Max is rescued from Vecna's possession by Steve Harrington (Joe Keery), Dustin, Lucas, Nancy and Robin.
Stranger Things (TV) (2016- )
Joyce and Murray infiltrate the prison, just as Hopper and his fellow prisoners take on the Demogorgon, a monster resembling its counterpart from Season One. Hopper holds the creature back with a flaming spear while Murray and Joyce subdue the guards and open the prison doors, allowing them to escape. They will later return to the prison to destroy the other creatures in the basement.
Vecna shows Nancy a vision of a Hawkins being destroyed by rifts in the ground and releases her to share it with her friends who now must stop this monster. Brenner dies when the missile silo is invaded by troops led by Colonel Jack Sullivan (Sherman Augustus).
Max, Lucas and Erica Sinclair (Priah Ferguson) return to the Creel house while Eleven, Mike, Will, Jonathan, and Argyle (Eduardo Franco) construct an isolation tank to communicate with a Vecna-possessed Max as the groups prepare for an all-out battle against him before a fiery apocalypse can destroy Hawkins. As the curtain falls, there is every indication that a just announced Season 5 will be needed.
In many respects, this has been the best Stranger Things season so far as the principal characters continue to develop as adolescents who manage to outpoint the other adults in the cast. One of the major surprises was the shaved head and stunning 60 pound weight loss by Jim Harbour to make him look like an abused prisoner. Millie Bobby Brown continues to impress as a maturing actress and the Duffer Brothers work their magic on a complex storyline that keeps us glued to the screen. While I could have used less time in the Russian gulag and its oppressive brutality, those scenes did provide an occasional break from the overwhelming CGI effects of the Upside Down with its ferocious monster bats and the pervasive tentacles of Vecna. This cast that has now spent enough time together to become a true ensemble, always the mark of a good series. For the many fans of Stranger Things, this is an obvious must-see show and one that never lets up on suspense, terror, and fantasy. Highest recommendation.
Stranger Things: Season 4 Parts 1 & 2 are now streaming in their entirety on Netflix
---
Show Creators: Matt Duffer | Ross Duffer
Original Release Date: 7 May 2022
Streaming Service: Netflix
Episode Run Time: 63-80 Mins.
Num. of Episodes: 9
Studios & Distributors: 21 Laps Entertainment | Netflix
Rating Certificate: TV-14