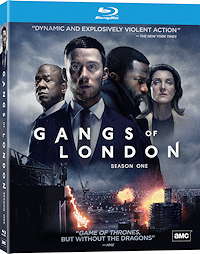 Gangs of London is a British TV crime drama that ran in the US on AMC+. The series tells the story of a powerful international crime syndicate that suffers a blow when London's most powerful crime family loses its head, Finn Wallace (Colm Meaney), when he's killed, creating a power vacuum. The Wallace organization, run by two families, the Wallaces and the Dumanis, is now ostensibly headed by Finn Wallace's son Sean (Joe Cole) who is out for vengeance, with his more even-headed friend and financial wizard Alexander Dumani (Paapa Essiedu) and Alex's father, Finn's partner and possibly the second most powerful man in London, Ed (Lucian Msamati) both trying to throttle his violent rage. There is also an undercover cop, Elliot (Sope Dirisu), with his own trying to get close to Sean and find out who is at the top of the international organization.
This is a brutal from the start series that is also undeniably addictive. While it can be violent, the violence is a side dish, not the main course. This is a series that is full of mystery, machinations, and corruption, exploring the elite, neoliberal corporate power structure at its worst, the sort of thing we all assume the rich and powerful can get away with and occasionally, have it confirmed for us in the headlines.
If there is a weak spot in the series' ten episodes, it's the performance of Joe Cole who has two expressions, emotionless, and squinting. Sope Dirisu as Elliot, however, is fantastic as the undercover cop and the always fantastic Michelle Fairley as the Wallace matriarch Marian steals every scene. Also providing a strong performance is Lucian Msamati who has an amazing amount of gravitas. One really believes he can and would do anything necessary to get the outcome he wants.

Gangs of London (TV) (2020- )
The Video
Gangs of London: Season One was shot digitally on the Arri Alexa LF and Arri Alexa Mini LF cameras and brought to Blu-ray in an AVC 1080p encodement framed at 2.00:1. This is a generally good-looking release on Blu-ray with excellent overall detail, extended shadow details and natural flesh tones. There are some spot issues with banding in the shadows and other background, flat surfaces and during dissolves that keep this from being a top tier reference release, but these are issues that may go unnoticed by all but the most particular videophiles.
The Audio
A solid DTS-HD Master Audio 5.1 lossless audio mix is the sole option for this release, and it works with excellent atmospheric effects, the sounds of chatter and traffic noise coming from behind you, gunfire hitting with impact and full, precise dialogue.
The Supplements
Gangs of London: Season One comes with forty-minutes of featurettes on the series looking at the characters and production.
Featurettes (1080p; 00:41:45):
The World
The Families
The Soldier
The Power
The Action
Anatomy of an Action Scene
The Final Assessment
A fantastic crime series that is like a gut punch of grit and mystery. Set aside a weekend, pop some corn and watch this Blu-ray release.
Gangs of London: Season One is out on Blu-ray July 20, 2021 from RLJE

---
Rating Certificate: TV-MA
Studios & Distributors: Pulse Films | Sister Pictures | Sky Atlantic | AMC+ | RLJE
Run Time: 544 Mins.
Street Date: 20 July 2021
Aspect Ratio: 2.00:1
Video Format: AVC 1080p
Primary Audio: English DTS-HD MA 5.1
Subtitles: English SDH