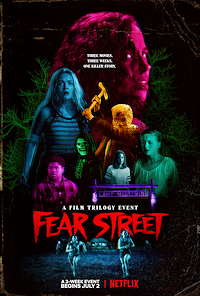 Based on R.L. Stine's series of young adult horror novels, writer-director Leigh Janiak and co-writer Phil Graziadei deliver a film trilogy that delves into the dark world of witches, Satanists, and a centuries-old curse.
Fear Street Part 1-1994
The small town of Shadyside was allegedly cursed by the witch Sarah Fier—pronounced "Fear"— (Elizabeth Scopel). who was hanged from a tree  now located in the center of Shadyside Mall where several employees have just been brutally murdered by zombie-like killers. Spoiler alert: each of the following installments will feature at least one such massacre. Deena Johnson (Kiana Madeira) has recently broken up with girlfriend Samantha "Sam" Fraser (Olivia Scott Welch) who now lives in neighboring Sunnyvale. During a vigil for the mall victims, Sam gets hit by a car and while  in the hospital, becomes possessed by a vision of Sarah Fier just before her boyfriend Peter (Jeremy Ford) and several hospital staff are murdered by one of the mall killers.
Fear Street Part 2-1978
Deena, her brother Josh (Benjamin Flores, Jr.) and the possessed and tightly bound Sam seek help at C. Berman's (Gillian Jacobs) house. Berman tells them about the 1978 Camp Nightwing massacre. Camp counselor Tommy Slater (McCabe Slye) becomes possessed and goes on a killing spree that claimed the lives of numerous campers until Cindy Berman (Emily Rudd) decapitates him. The Shadyside killers return and go after Cindy's younger sister Ziggy (Sadie Sink) who is saved when Cindy sacrifices herself.Returning to 1994, Deena and Josh discover that C. Berman (Gillian Jacobs) is actually Ziggy and tell her that they have found the witch's body. Hoping to end the curse, the pair will dig out the witch's hand from under the same tree on which she was hung and unite it with the body.
Fear Street Part 3-1666
The trilogy's final installment is told in two parts—one traveling back to 1666 for Sarah Fier's backstory and the other returning to 1994 for a final showdown with the devil.
1666
Deena gets a vision that she has become Sarah Fier living in 17th-century Union, the original settlement that later became Sunnyvale and Shadyside. Pastor Cyrus Miller (Michael Chandler) becomes possessed and murders a group of children before getting taken down by Solomon Goode (Ashley Zukerman). Hannah (Olivia Scott Welch), Pastor Miller's daughter, is Sarah's secret girlfriend and the two women are accused of practicing the witchcraft. Hannah is captured and sentenced to be executed at dawn. Sarah escapes to Solomon's house where she discovers a ritual chamber that he used to make a deal with the devil. Solomon offers to share his magic powers with Sarah, but she refuses and flees.  Solomon catches her and during the ensuing struggle her right hand is severed. Sarah gets arrested, convinces the townsfolk to spare Hannah's life and, before being hung, swears she will get her revenge from beyond the grave.
Fear Street Trilogy (2021)
1994: Part 2
As Deena's vision ends, she realizes that the first-born males of the Goode family have been responsible for the Shadyside curse started by Solomon. Deena, Josh, and Ziggy recruit Martin (Darrell Britt-Gibson), the Shadyside mall janitor, to lure Sheriff Nick Goode, Solomon's descendant to the mall and plot to kill him and end the curse.
This cinematic style of this ambitious trilogy recalls that of popular scary movies like Scream and A Nightmare on Elm Street. Unlike its predecessors, the three Fear Street films are a five-and-a-half-hour long series that shifts back and forth in time. The films do so quite skillfully with a recurring cast of actors most of whom assume the same roles in each installment, the obvious exception being the 1666 segment.  There is enough hacking, slashing, and blood spatter to get our attention but the storyline that running through these three films is strong enough to stand on its own. Most of the cast was unfamiliar to me but, as an ensemble, they play off each other extremely well, particularly the sharply contrasting siblings portrayed by Kiana Madeira and Benjamin Flores, Jr.  Kudos also go to Ashley Zukerman's villainous Solomon/Nick and to Sadie Sink and Gillian Jacobs as the adolescent and adult Ziggy Berman, respectively. As the reluctant vigilante, Britt-Gibson adds some much-needed comic relief to the final chapter. Veteran screen composer Marco Beltrami's atmospheric score and the striking visuals of cinematographer Caleb Heymann enhance the sense of terror and foreboding that runs through this trilogy.
While the R.L. Stine books might have inspired these films, the stories themselves are new takes on the original Fier family and the citizens of Shadyside. Parents should consider checking out the trailers to decide if the MPAA R-rated Fear Street Trilogy is appropriate for their teens, the audience at whom the Stine novels were originally aimed.  Veteran horror film aficionados will find much to appreciate here and will, like myself, almost certainly want to binge-watch it.  The third film gives us an ending that might seem entirely conclusive except for a brief scene during the end credits that leaves the door open for a sequel.  Netflix has not announced any plans for a Fear City-4 but I hope the network will consider it. Highly recommended
---
Rating Certificate: R (for strong bloody violence, drug content, language and some sexual content)
Studios & Distributors: Chernin Entertainment | Netflix
Country: USA
Language: English
Run Time: 107 Mins. (Part 1) | 110 Mins. (Part 2) | 114 Mins. (Part 3)
Aspect Ratio: 2.39:1
Director: Leigh Janiak
Written By: Leigh Janiak | Phil Graziadei
Release Date: 2 July 2021