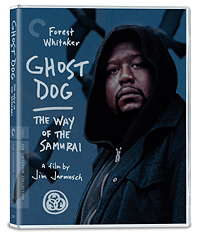 Ghost Dog: The Way of the Samurai is the 1999 surreal crime drama from director Jim Jarmusch starring Forest Whitaker. Set in an undefined urban setting, the film follows a black hitman known as Ghost Dog (Whitaker) because of his ability to get into and out spaces where he kills his targets without being seen or heard. Ghost Dog is a loner and strict follower of the way of the samurai, which he has taught himself through books, mostly from reading Hakagure: The Book of the Samurai, an 18th Century writing from the monk Yamamoto Tsunetomo. He takes as his friend a French-speaking ice cream truck driver and pledges his fealty to the low-level mafia crime boss Louie (John Tormey) who once saved his life. When Louie's superiors decide that Louie needs to be killed, Ghost Dog decides to protect Louie out of a sense of perhaps misplaced loyalty and begins to assassinate Louie's enemies.
Jarmusch's film combines the coolness of the Nouvelle Vague and Italian Surrealist films with the New American Cinema for what is one of the best offerings of 1990s Post Modern American Indie cinema. The film is saturated with characters who tend pigeons, mafia mistresses who read Rashomon, and little girls who fill their lunch boxes with fine literature. All of this plays against the cool backbeat of a RZA hip-hop score which is the epitome of post-modern Americana, taking bits and pieces of everything and every style to form something unique. And given RZA and the Wu-Tang Clan's own fascination with Asian and martial arts culture, it is fitting and quite meta in its own right to have his music as the score.
As with Jarmusch's other films, there is a sense of detachment that permeates Ghost Dog: The Way of the Samurai, which is only broken when he unapologetically presents the intricately choreographed violence that often breaks the film's even keel. That's not to say it glorifies the violence. It is rather more of a commentary on violence, and American violence in particular. One can also see it as a commentary on the interplay and intersection of inner-city violence and mafia violence.
Jarmusch's film has gained in cult popularity over the years going on to be one of his most favored across generational and cultural lines. It's one that holds up well today even in the crazy times we are living through.
The Video
Ghost Dog: The Way of the Samurai is a new 16-bit 4K restoration scanned on a Lasergraphics Director film scanner from the 35mm original A/B camera negative and the transfer was overseen by director Jim Jarmusch and appears on Blu-ray in its original aspect ratio of 1.85:1 in an AVC 1080p encodement. This has always been a somewhat grainy looking film with a muted color palette that favors cooler tones like greys and blues, so the visual aesthetic doesn't 'pop,' but what we do get with this new release is a very authentic, pleasing, and organic looking transfer that is full of detail, has excellent shadow nuance in the numerous dark scenes, and is free from major source damage or any things like that.
The Audio
The 5.1 soundtrack was remastered from the 35mm magnetic print master using Avid's Pro Tools and iZotope RX. Criterion Collection provides the mix on Blu-ray in a lossless DTS-HD Master Audio 5.1 track that is very good. The RZA hip-hop score is punchy and has deep bass while the dialogue remains clear and forward. There's a natural sense of dynamic range, tight midrange and wide stereo imaging.
The Supplements
Criterion Collection doesn't disappoint with this release of Ghost Dog, delivering their typical high-quality collection of bonus features, even in the age of Covid, as can be seen by the "Zoom" conference call discussions and more. The inclusion of the pamphlet with excerpts from Hakagure: The Book of the Samurai is a classy touch.
Q&A with Jim (1080p; 01:24:06) – In June 2020, the Criterion Collection invited fans to send in questions about Ghost Dog: The Way of the Samurai for director Jim Jarmusch to answer. The questions came from cities around the world.
Forest Whitaker, Isaach De Bankolé, and Michael B. Gillespie (1080p; 00:29:57) –This conversation among actors Forest Whitaker and Isaach e Bankolé is moderated by Michael B. Gillespie, author of Film Blackness: American Cinema and the Idea of Black Film, and was recorded using an online video-conference-call application in summer 2020.
Casting with Ellen Lewis (1080p; 00:15:32)
Shifu Si Yan Ming (1080p; 00:05:35)
Archival Interviews:

Jim Jarmusch, Forest Whitaker, and RZA, 1999
The Odyssey: A Journey into the Life of a Samurai – This 2000 program features interviews with director Jim Jarmusch, composer RZA, and actor Forest Whitaker

Flying Birds: The Music of "Ghost Dog" (1080p; 00:14:47)
Deleted Scenes and Outtakes (1080i; 00:05:25)
Trailer (1080p)
Booklet: Essays by critics Jonathan Rosenbaum and Greg Tate, a 2000 interview by Jim Jarmusch, and an insert with excerpts from Hagakure: The Book of the Samurai, by the early-eighteenth-century monk Yamamoto Tsunetomo, which features prominently in the film.
The Final Assessment
This is a super transfer of an excellent late 1990s indie film presented by Criterion Collection. Jarmusch fans and Whitaker fans should grab this one up.
Ghost Dog: The Way of the Samurai is out on Blu-ray November 17, 2020 from Criterion Collection
---
Rating Certificate: R (for strong violence and language)
Studios & Distributors: Pandora Filmproduktion (in association with) | Arbeitsgemeinschaft der öffentlich-rechtlichen Rundfunkanstalten der Bundesrepublik Deutschland (ARD) (in association with) | Degeto Film (in association with) | Plywood Productions | Bac Films | Canal+ | JVC Entertainment Networks | The Criterion Collection
Director: Jim Jarmusch
Written By: Jim Jarmusch
Run Time: 116 Mins.
Street Date: 17 November 2020
Aspect Ratio: 1.85:1
Video Format: AVC 1080p
Primary Audio: English DTS-HD MA 5.1
Subtitles: English SDH