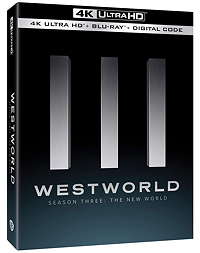 After the convoluted season that was season two that left many viewers either tuning out or hoping for an improved season three, two years later and as a global pandemic was beginning to lock us all down in our homes, Westworld: Season Three finally arrived. The third season with its eight hour-long episodes, transported us out of the amusement park and into the world of humans focusing on the host Delores (Evan Rachel Wood) as she allies with a human named Caleb (Aaron Paul) — a man who earns his living on a crime underworld gig economy app called RICO – in order to bring down the world's technocrats. It won't be easy as the world – the real world – as Delores discovers has a lot more in common with Westworld than she could have imagined. People's fates are being controlled by a massive supercomputer under the control of a nefarious billionaire (Vincent Cassel) that uses centuries of data mining to tilt the balance of power and the outcomes of people's lives. Meanwhile Maeve (Thandie Newton) finds herself tossed into a new virtual reality and Bernard (Jeffrey Wright) is still on a quest of self-discovery, while Hale (Tessa Thompson) may be experiencing something new with her family.
It is easy to understand where Season Three was trying to go and that is an allegory of today's technological age, the age of social media, the gig economy, and the nearly unchecked power of big tech's control over our personal data and our lives. These are all noble themes to explore, but as storytelling they don't work, or at least the creators of Westworld don't tell the story in a compelling way. So many of the characters that made this series so intriguing in Season One, such as Bernard, seem to be aimless here. Aaron Paul's character as a barely defined motivation to follow Delores to the bitter end, so to speak, and Maeve, well, she remains badass. There are some plot points that can't be mentioned without giving away major spoilers but lets say that the Hale character has evolved the most, and Tessa Thompson really nails her part, but it hasn't gone the way you would think, and one wonders how far they can take that subplot assuming Westworld continues.
This is a series that started with so much potential, but each subsequent season has seemed to be grasping for greatness rather than trying to tell a great story. If they don't right the ship soon, it may be too late. Season Three is uneven at best, but still shows a series with a lot of potential and is certainly still one with marvelous production values and superb acting.
The Video
Season Three of Westworld was shot on Super 35 (3-perf) film on various Arri cameras and a variety of Fujinon, Sony, Zeiss, Leica, Canon, and Angenieux lenses and utilized a 4K DI with Dolby Vision HDR. The season arrives on 4K Ultra HD Blu-ray framed at 1.78:1 in a 2160p (4K) HEVC encodement with Dolby Vision that looks stunningly filmic and organic, with lots of detail and a perfect grain structure. The Dolby Vision color grading and dynamic range does allow for excellent colors and highlights that particularly 'pop' especially in dark scenes where you see things like lights or digital displays, but the subtly and artistic intent of the series, which has always kept the series looking rather reserved, keeps this from having that outright 'wow factor' in Dolby Vision of a lot of other HDR discs.
The Audio
Westworld continues to be released on 4K Ultra HD with a lossless Dolby Atmos audio mix. Unlike the other HBO series hitting 4K with Atmos, Game of Thrones, this series has from the beginning had a much subtler mix and likely would have been served just as well with a 5.1 mix. The height channels rarely come into effect to offer much of an extended soundscape, but when they do for the occasional sound of something drifting overhead, they are effective. This is a more atmospheric (no pun intended) Atmos mix, utilizing subtle ambient effects and dialogue, which is always clear, and the post-modern scoring that is also well balanced and dynamic.
The Supplements
The various featurettes and episode making-ofs are interesting to watch even if they are typically self-congratulatory.
Digital Copy Code
Blu-ray Discs with season and bonus features in HD
Disc 1
Escape from Westworld (1080p; 00:01:53) – The cast and crew of Westworld discuss the incredible lengths taken to bring Season 3 to life
Creating Westworld's Reality – Behind-the-scenes looks at the episodes with cast and crew:

Parce Domine (1080p; 00:06:36)
The Winter Line (1080p; 00:07:18)
Absence of Field (1080p; 00:06:05)

Exploring Warworld (1080p; 00:03:56) – Find out what went into making the World War II-era theme park come to life.
Disc 2
Creating Westworld's Reality – Behind-the-scenes looks at the episodes with cast and crew:

Genre (1080p; 00:03:54)
Decoherence (1080p; 00:04:48)
Disc 3
We Live in a Technocracy (1080p; 00:13:44) – Jonathan Nolan, Lisa Joy, and the cast examine the parallels between Westworld and the effects of data mining and algorithmic determinism in our everyday lives.
A Vision for the Future (1080p; 00:14:09) – Westworld's creators reveal the epic new world designed for Season 3
RICO: Crime and the Gig Economy (1080p; 00:07:07) – Explore the technological roots of RICO, an app closer to reality than it seems.
Westworld on Location (1080p; 00:11:20) – Join Westworld's cast and crew as they venture beyond the United States to capture the landscapes of far-off countries like Singapore and Spain for the expanding universe of Season 3.
Welcome to Westworld

Evan Rachel Wood & Aaron Paul – Analysis (1080p; 00:03:46)
Evan Rachel Wood & Aaron Paul – Who Said It? (1080p; 00:03:43)
Thandie Newton & Tessa Thompson – Analysis (1080p; 00:03:22)
Thandie Newton & Tessa Thompson – Who Said It? (1080p; 00:02:57)

Creating Westworld's Reality – Behind-the-scenes looks at the episodes with cast and crew:

Passed Pawn (1080p; 00:04:09)
Crisis Theory (1080p; 00:09:03)
The Final Assessment
A visually stunning season with great acting that disappoints from the perspective of its plot and how it uses some key characters. Still, this 4K Ultra HD Combo release is reference and vastly superior to broadcast and streaming versions.
Westworld: Season Three is out on 4K Ultra HD Combo Pack November 17, 2020 from Warner Bros. Home Entertainment
---
Studios & Distributors: Bad Robot | Jerry Weintraub Productions | Kilter Films | Warner Bros. Television
Run Time: 492 MIns.
Street Date: 17 November 2020
Aspect Ratio: 1.78:1
Video Format:HEVC 2160p (4K)
HDR Format: Dolby Vision (Compatible with Dolby Vision)
Primary Audio: English Dolby Atmos
Secondary Audio: French DD 5.1 | German DD 5.1
Subtitles: French DD 5.1 | German DD 5.1
---