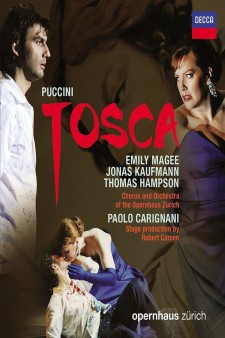 – –
The Performance
[Rating:3.5/5]
Famously referred to as a "shabby little shocker" by musicologist Joseph Kerman, Giacomo Puccini's Tosca is one of his most frequently performed operas since its 1900 debut in Rome, the location of its action. This 2009 Opernhaus Zurich production by director Robert Carsen updates the opera to the 20th century.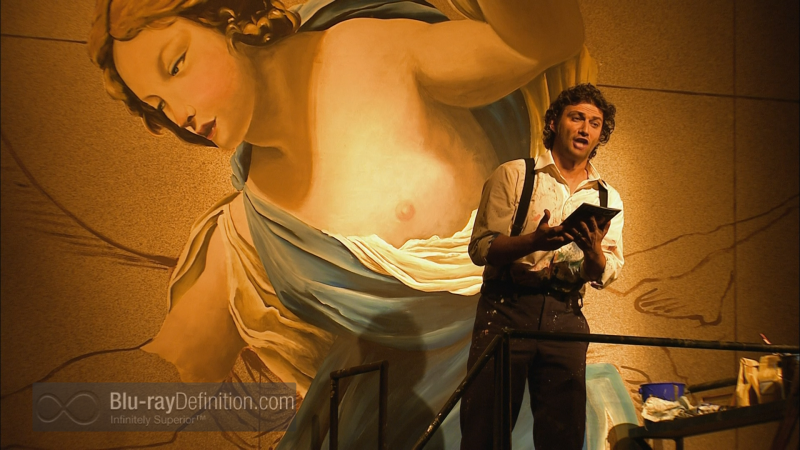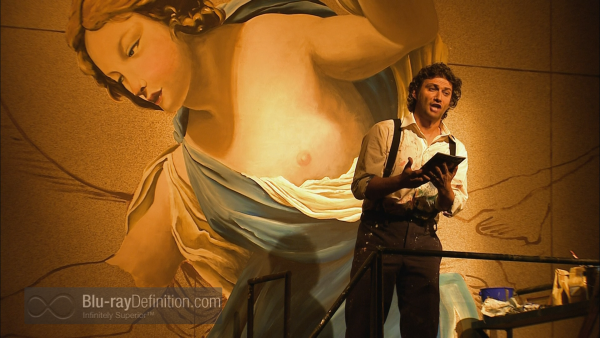 Tosca's classic love triangle involves its three principals, Floria Tosca (Emily Magee) an opera singer, her lover, the painter Mario Cavaradossi (Jonas Kaufmann), and the evil chief of police Baron Scarpia (Thomas Hampson).  The entire action takes place during a single afternoon, evening, and morning from June 17 to June 18.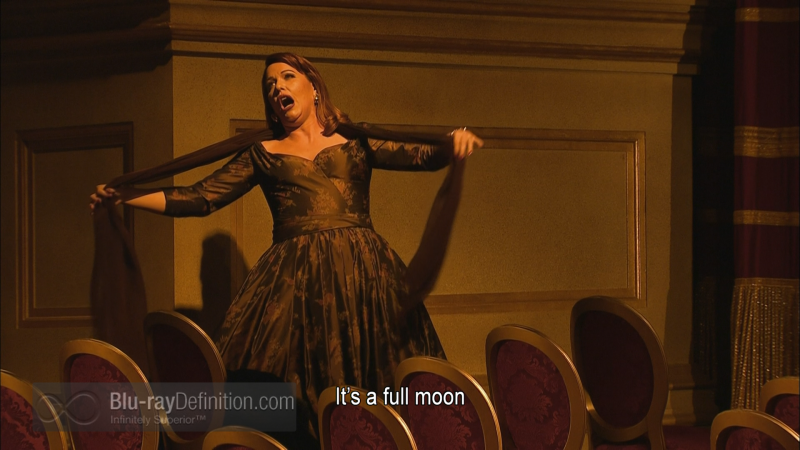 The first act is set in Sant'Andrea della Valle churcl where Cesare Angellotti (Valeriy Murga), an escaped political prisoner, is hiding.  Mario Cavaradossi is painting the Madonna (complete with exposed breast). The Sacristan (Giuseppe Scorsin) is intent on pilfering Mario's lunch basket when Tosca arrives to set up an assignation with Cavaradossi. After she leaves, Angelotti comes out of hiding and Cavaradossi, who shares the same political views, offers him sanctuary at his villa. Both men depart before Baron Scarpia and his agent Spoleta (Peter Draka) arrive in pursuit of Angelotti.  When Tosca returns to meet Cavaradossi, Scarpia stirs up her jealousy. After a Te Deum, the Baron reveals his plans to kill the painter and have Tosca to himself.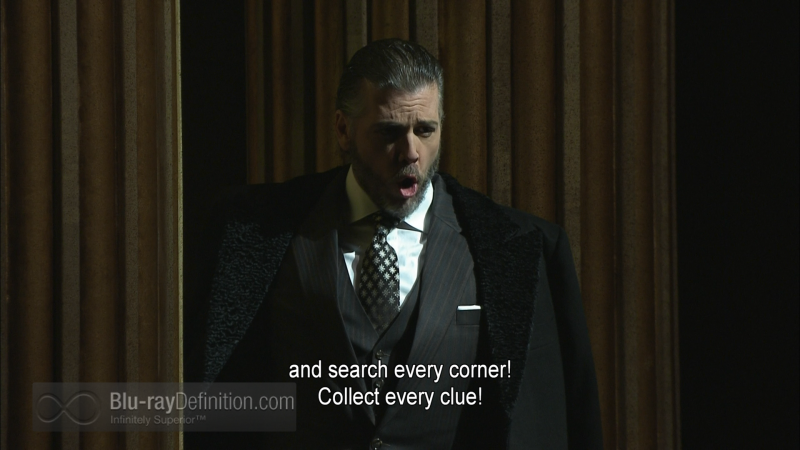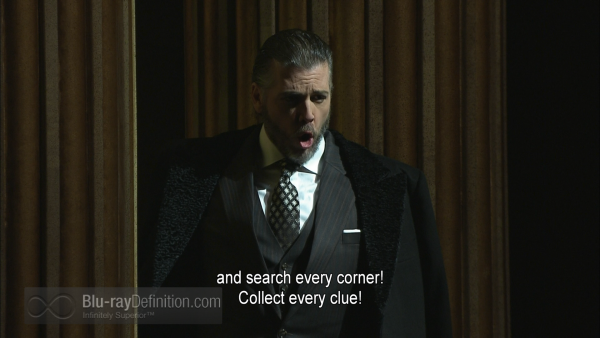 The second act occurs in Scarpia's Palazzo Farnese apartment as he awaits Tosca.  Although failing to capture Angelotti, the Baron has arrested Mario. Tosca arrives to find Cavaradossi being tortured to get him to reveal Angelotti's hiding place. Hearing the painter's anguished screams, Tosca gives away Angelotti's location. Cavaradossi repudiates her when he learns of this betrayal. Later, Scarpia brokers a deal with Tosca: if she gives herself to him, he will free her lover. Tosca agrees but imposes one more term: a safe conduct for her and Mario out of Rome. An exultant Scarpia agrees to stage a fake execution of Cavaradossi after which the latter and Tosca will leave. Tosca gets her safe conduct letter, and when Scarpia makes his move, she stabs him to death.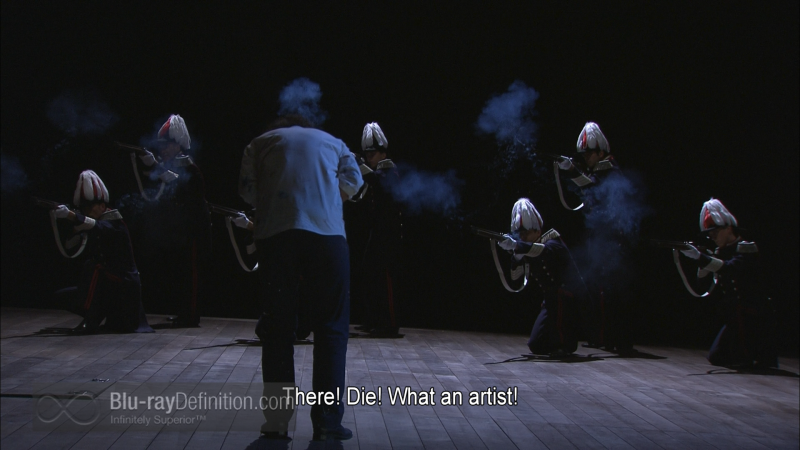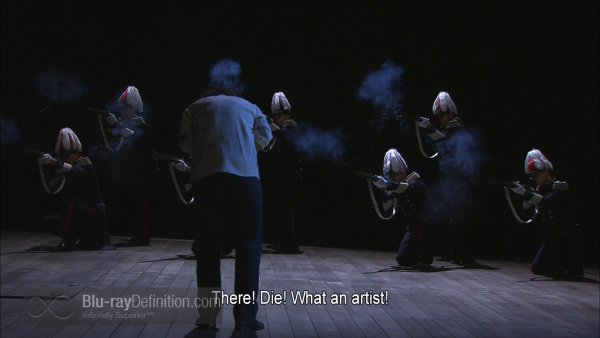 The final act on the rooftop of the Castel Sant'Angelo finds Cavaradossi awaiting his imminent execution and writing his farewell to Tosca. Floria suddenly appears and tells him that the planned execution will be fake but Mario needs to appear dead until the firing squad has departed. Mario agrees and takes his stand as the soldiers line up, take aim, and shoot. But the bullets are real as Tosca soon discovers. Spoleta and the guards arrive to arrest her for the murder of Scarpia, but they are too late, as Tosca leaps from the parapet to her death.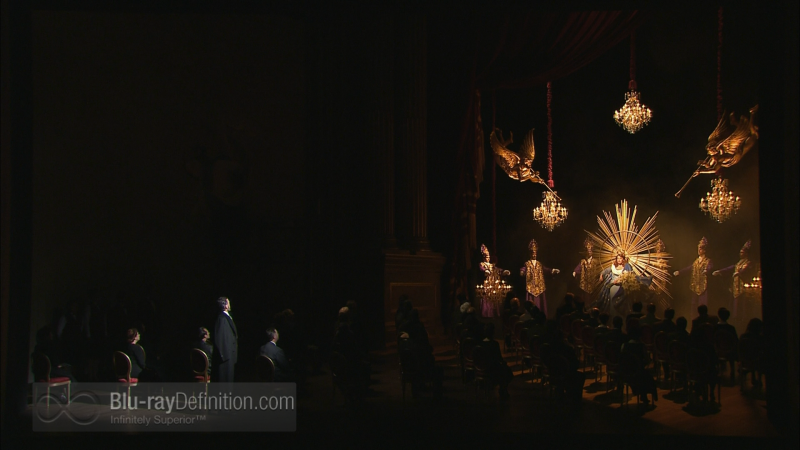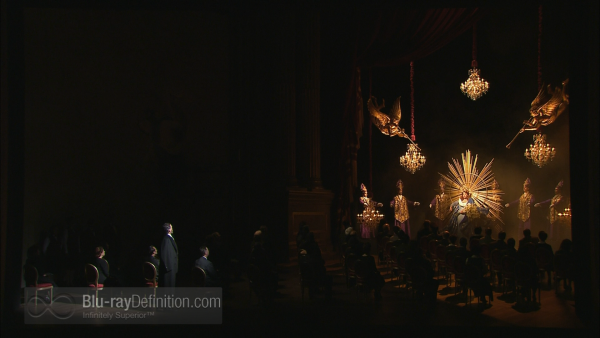 The Carsen production received mixed reviews five years ago and the tricked out sets provide maze-like obstacles in Act I, a nearly empty room in Act II, and a completely empty stage in Act III, not much help for the singers. While we get some fine singing particularly from tenor Kaufmann, he is the only member of this trio who turns in a convincing dramatic turn as Magee constantly over emotes, and Hampson, lacking the vocal gravitas for his role, works too hard to be the oily villain. Maestro Paolo Carmignani assumed the musical direction of the Opernhaus Zurich orchestra and chorus at the literal last minute and produces mostly  ponderous tempos.
Video Quality
[Rating:3.5/5]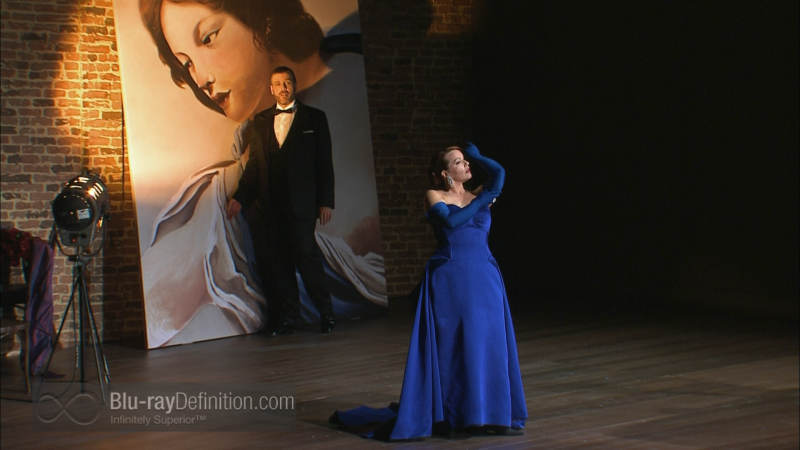 Tosca is a dark opera but the oppressive darkness of the stage lighting smudges details and blunts colors, bathing the characters in shadow much of the time. Camera work is decent but is best appreciated in the close ups that make us forget the bleakness of Anthony Ward's sets.
Audio Quality
[Rating:3.5/5]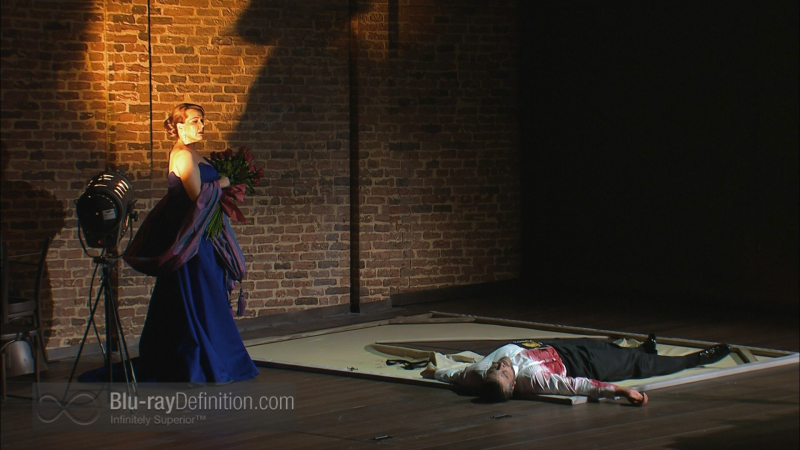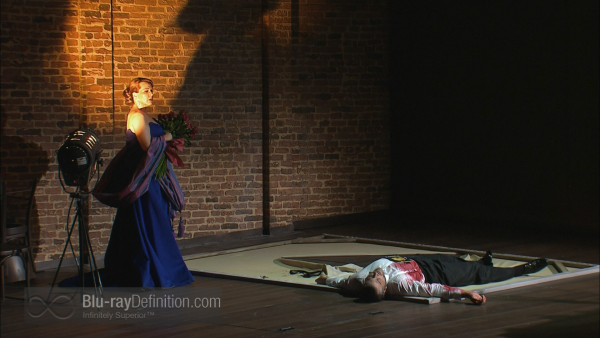 The sound balances are quite decent without excessive prominence to either the singers or the orchestra. The surround channels provide plenty of ambience and occasional audience response noise.
Supplemental Materials
[Rating:0.5/5]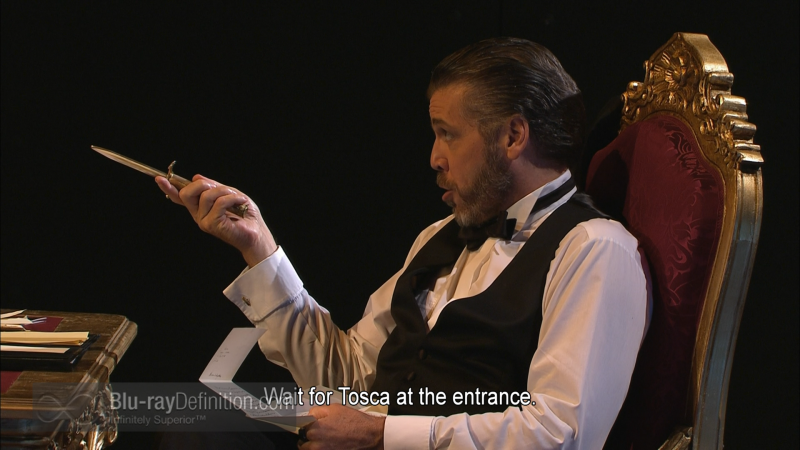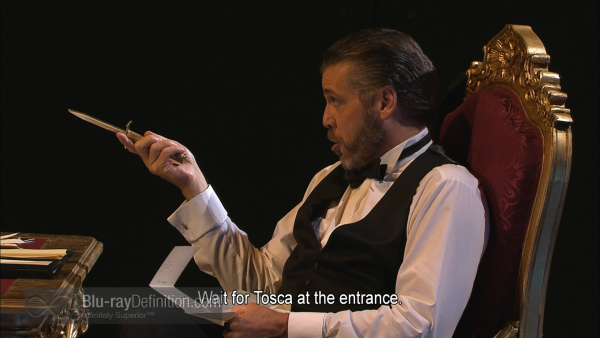 Decca gives us only a program book with cast and production credits, a background essay on the opera and director Carsen's concepts for this work and a synopsis that incorporates track listings.
The Definitive Word
Overall:
[Rating:3.5/5]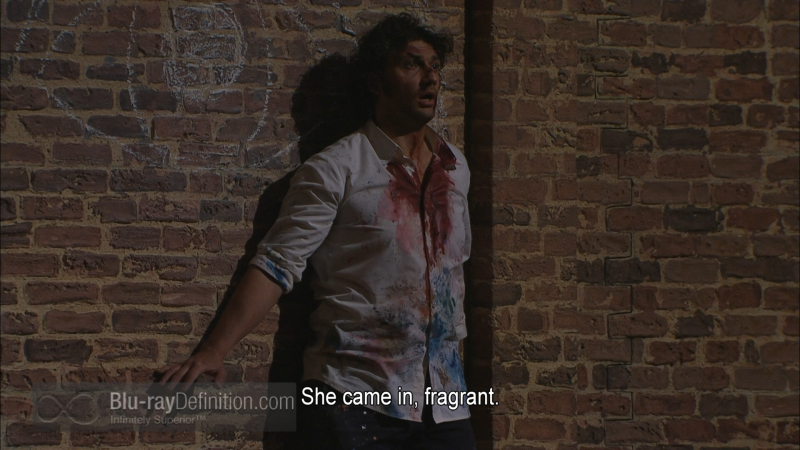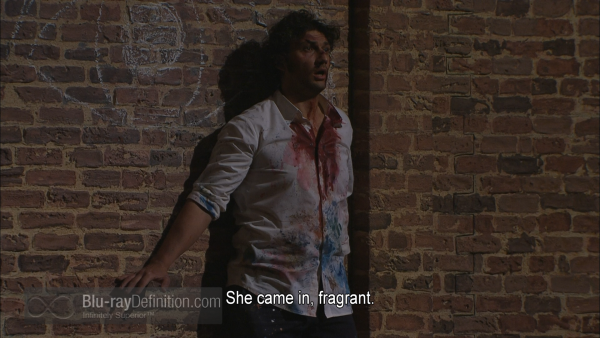 Since I reviewed the Arena di Verona Blu-ray Tosca three years ago (and mostly liked it), four more Blu-rays of this opera have been released including a well-sung standard definition version with no less than Placido Domingo and shot on-location in Rome. For those who want Jonas Kaufmann (and he is the principal reason for getting this disc), there is a far better Blu-ray that partners him spectacularly with Angela Gheorghiu and Bryn Terfel under the baton of Sir Antonio Pappano.
Additional Screen Captures
[amazon-product region="uk" tracking_id="bluraydefinit-21″]B00E45VJU2[/amazon-product]
[amazon-product region="ca" tracking_id="bluraydefinit-20″]B00E45VJU2[/amazon-product]
[amazon-product]B00E45VJU2[/amazon-product]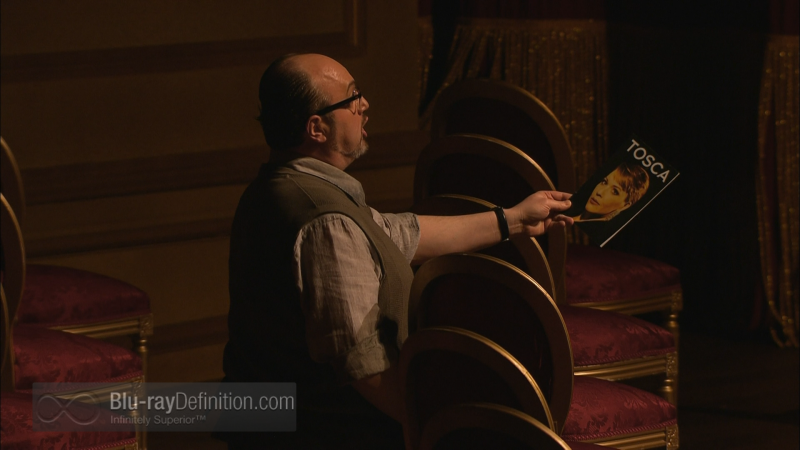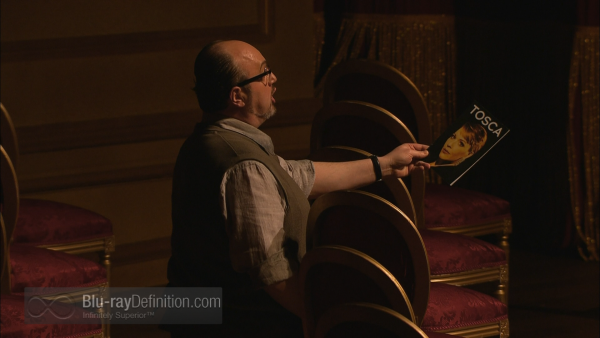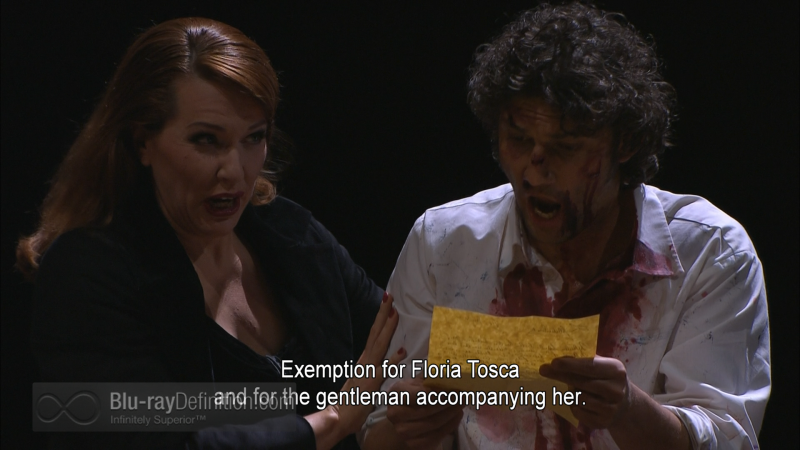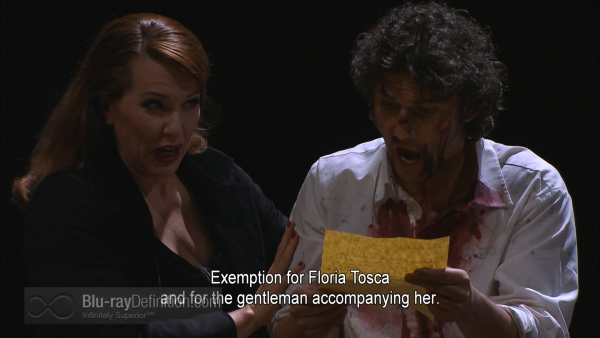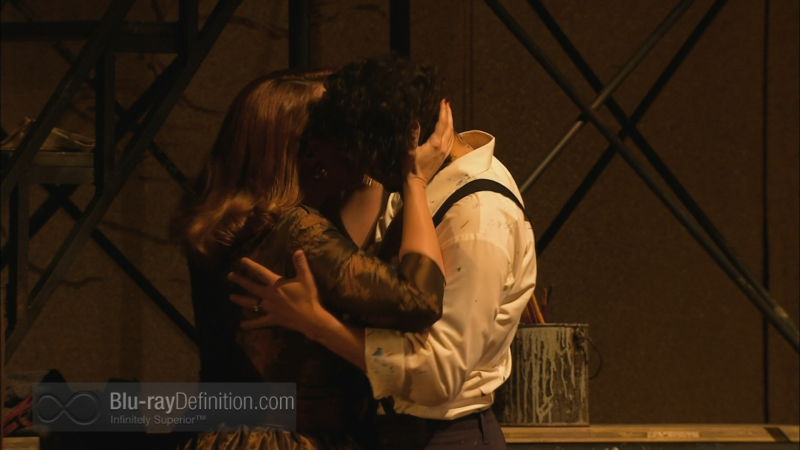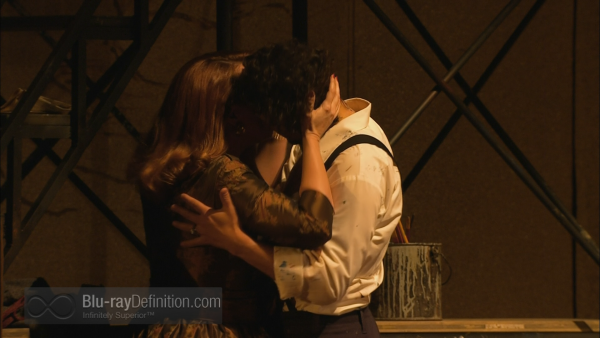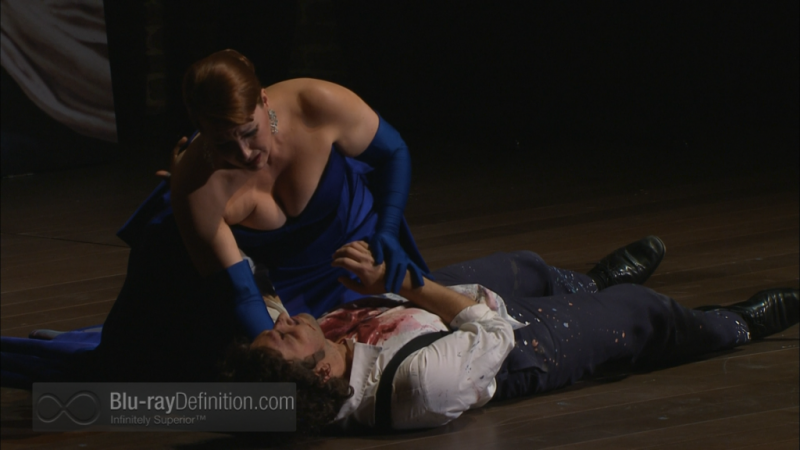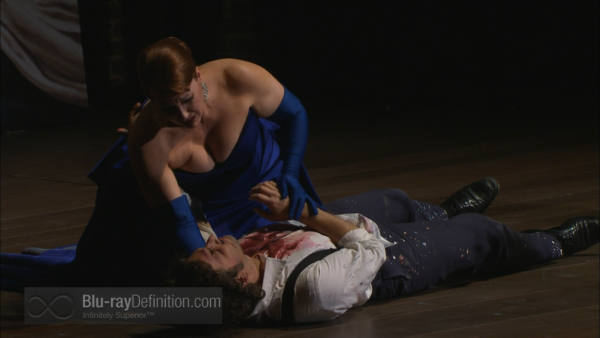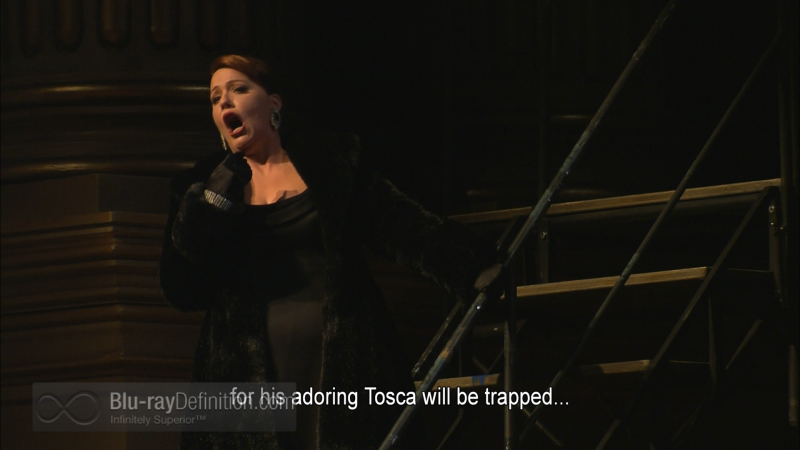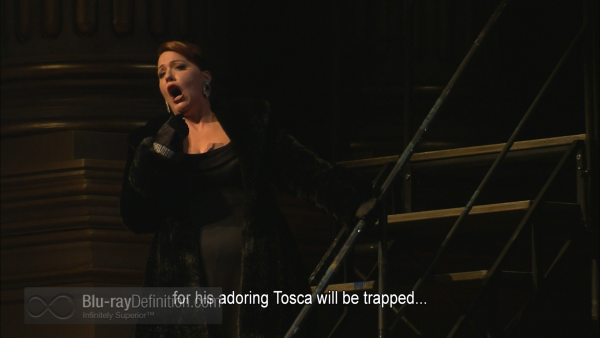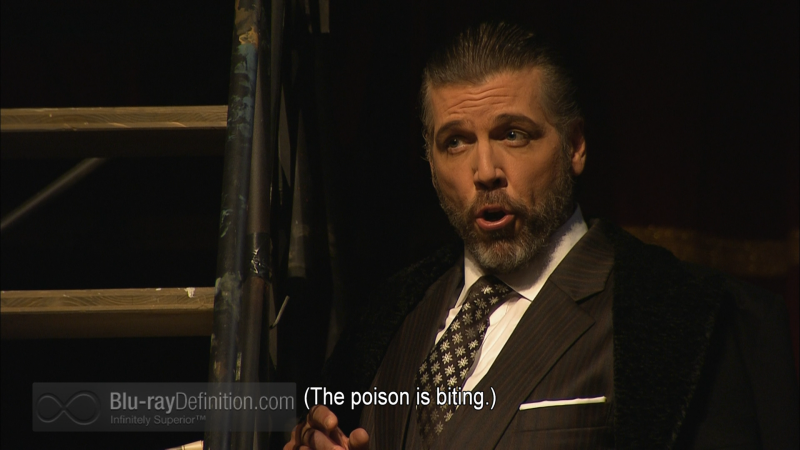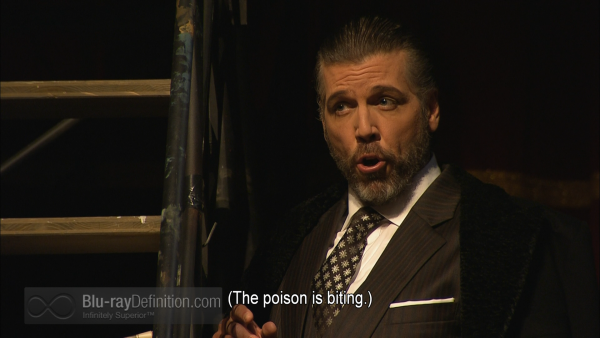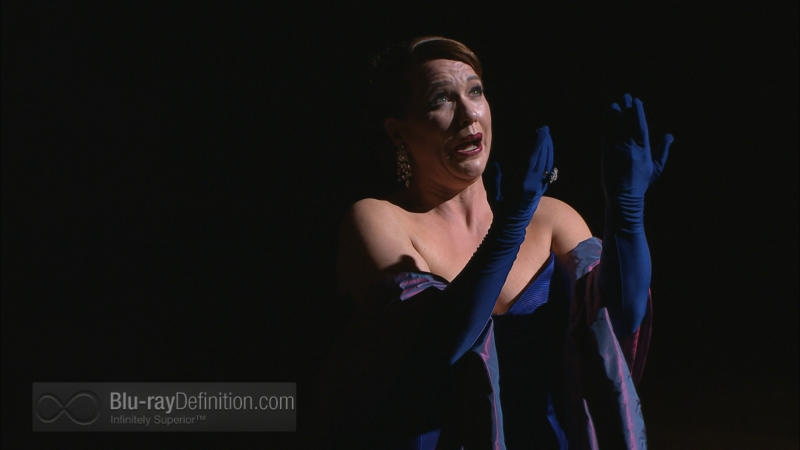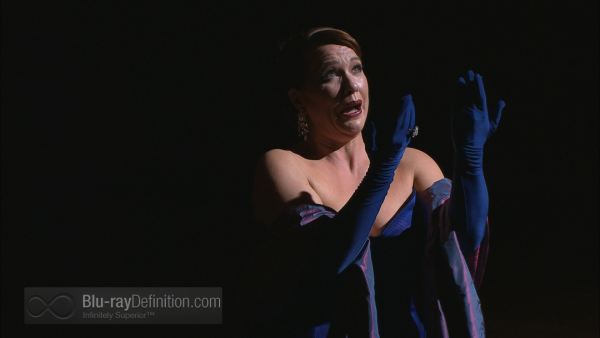 [amazon-product region="uk" tracking_id="bluraydefinit-21″]B00E45VJU2[/amazon-product]
[amazon-product region="ca" tracking_id="bluraydefinit-20″]B00E45VJU2[/amazon-product]
[amazon-product]B00E45VJU2[/amazon-product]