Estimated reading time: 5 minutes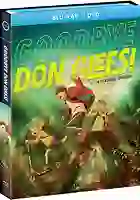 Director Ishizuka Atsuko used Rob Reiner's 1986 coming of age film Stand by Me as an inspiration for Goodbye, Don Glees! There are obvious similarities between the two films. Don Glees, like Reiner's film, follows the adventures of boys on a summertime adventure in a small town – at least one returning for the first time.
It is the first year of high school and friends Roma and Toto will see each other for the first time since Toto moved to Tokyo. The pair of friends have always been nerdy outcasts who had their own club, Don Glees. It is a ply on the word "donguri" which means acorn in Japanese. Roma, who works on his parents' farm, stayed in their small town to take an educational track toward a degree in farming. He is excited to see his intelligent friend Roma who left to go pursue a career in medicine.
They are planning their annual get together of the Don Glees during the town's fireworks festival. This is when they usually set off their own fireworks, drink sodas, and have their own separate fun away from everyone else since they have never been invited. This year will be different, however. This year Roma has a new friend, Drop. Drop is not yet in high school but is 15 just like Roma and recently returned from living in Iceland with his grandfather.
Their celebrations will also include a new and expensive drone they plan to fly over the town to capture images of the big fireworks display. When the drone goes awry and their own fireworks do not properly light, their evening turns out to be a bust. What is worse is a huge forest fire starts and they get the blame for it.
The three boys decide to go find their lost drone the next day to prove their innocence, but it is 15 miles away and the roads and forest have been closed off. These things do not deter them. They set out into the forest and at once come across obstacles that make their journey both perilous and enlightening.
Ishizuka – who also wrote the screenplay – gives us a heartwarming coming of age story, a gorgeously made animated adventure, and a character study on each of the three teens. As the story develops, we find more out about Drop who acts as an unbalancing element in the friendship between Roma and Toto.
Her animation style is also gorgeous. There is dazzling and detailed background artwork in combination with unique and distinctive character designs. Each design suits the personality of the character being portrayed very well, from the bowl cut on the still childlike Roma to the stylish Tokyo hairstyle of Toto who is trying to grow up but still does not fit in, in either of his worlds.
Goodbye, Don Glees! may have started life inspired by Stand by Me, but it is thoroughly its own. It is an enjoyable, heartfelt telling of the teenaged experience, of facing reality and speeding towards adulthood.
The Video
Goodbye, Don Glees! was created digitally in the hand drawn style but there has been an application of digital grain to the animation. This gives it a more filmlike appearance and softens the detail a bit. Despite that the 1.78:1 AVC 1080p encodement on Blu-ray is still filled with rich details and vibrant colors. The scenes with the fireworks festival are very color and the verdant greenery of the forest stands out well.
The Audio
Goodbye, Don Glees! Has the original Japanese-language 5.1 mix in DTS-HD Master Audio and an English dub in DTS-HD Master Audio 5.1. I used the Japanese track as my main reference for this review. The mix is almost flawless for the material. Birds chirp in the surrounds. Commercial airliners from the nearby airport boom through the channels and fill the LFE with rumbling low frequencies. The sounds of the forest in the boys' adventure are wonderfully balanced and dynamic. The rush of rivers and waterfalls bring beefy lows. There is even an airy and dynamic string-based score. Dialogue also sounds clean and full.
The Supplements
Shout! Factory has given us a barebones release with only an interview with the director and trailers. There is also a DVD with the feature film and bonus features included.
DVD with feature film and bonus features
Interview with Director Atsuko Ishizuka (1080p; 00:10:33)
Trailers (1080p; 00:07:09)
The Final Assessment
Of her number of projects, which include Supernatural: The Animation and A Place Further than the Sun, Goodbye Don Glees! is perhaps the most melodramatic of Ishizuka's works. It may be off-putting for someone going into it looking for something closer to the works they are familiar with from her, but that would be a shame. This is a delightful feature film. Recommended.
---
Goodbye, Don Glees! it out on Blu-ray Combo Pack December 27th, 2023 from Shout! Factory
---
Rating Certificate: PG (for thematic elements, some peril and suggestive material)
Animation Studio: Madhouse
Distributors: Kadokawa Animation | GKIDS | Shout! Factory
Director: Ishizuka Atsuko
Written By: Ishizuka Atsuko
Run Time: 95 Mins.
Street Date: 27 December 2022
Aspect Ratio: 1.78:1
Video Format: AVC 1080p
Primary Audio: Japanese DTS-HD MA 5.1
Secondary Audio: English DTS-HD MA 5.1
Subtitles: English SDH | English for Original Language Version | Spanish for Original Language Version | French for Original Language Version