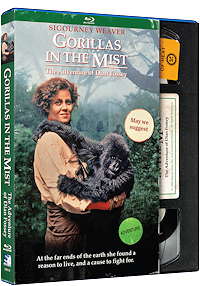 Gorillas in the Mist is the 1988 film based on the 1983 biography of anthropologist Dian Fossey. A passionate defender of the African primates she would first go to study and then defend against poachers, Fossey would die in mysterious circumstances before her book could ever make it to the screen.
The film tells the story of the young Fossey (Sigourney Weaver, Alien) who is inspired by famed anthropologist Louis Leakey (Iain Cuthbertson) to spend her life studying primates in Africa. Leakey hires her for National Geographic to take a census of the gorillas living deep in the mountain jungles of Uganda. After being forced out of Uganda due to a civil war, Fossey takes her work to neighboring Rwanda where she goes beyond just taking a census and begins to approach a family of gorillas, learning their habits, develops a means of communicating with the gorillas, and becoming one of the first scientists to be able to make actual contact with a big silverback male gorilla. She develops a romance with a NatGeo photographer (Bryan Brown) that itself eventually takes a backseat to her work with the gorillas.  Her work also brings her into conflict with poachers. She becomes so passionate about protecting the gorillas, despite being told that poaching them and selling their skins is the only way some can survive, she begins to have run-ins with the government and even starts burning the poachers' villages.
The film is notable for two things and they are the standout performance from Weaver who does an excellent job as the passionate Fossey and for the gorgeous cinematography from John Seale of the lush greenery of the Rwandan jungle. The film moves along at a smooth, steady pace thanks to the taut direction from Michael Apted (Gorky Park, 'Rome'), who has been known mostly as a TV director over the years but is served well by his experience here. Ultimately, however, the film never rises above the beautiful surroundings and wonderful cinematography and performances to get into the mind and motivation of Fossey.


Gorillas in the Mist (1988)
The Video
Gorillas in the Mist hits Blu-ray in this Retro VHS Blu-ray package from Mill Creek Entertainment framed at 1.85:1 in an AVC 1080p encodement that is about what we have come to expect from this series at this point. It's not a restoration, it doesn't look terrible, but it's certainly not going to be the showcase disc to reach for any time soon. Colors look good, but depth of detail trails off pretty quickly. Close-ups are relatively crisp, but midrange shots begin to soften and background shots are quite soft. The grain can be noisy at times covering up some of the beautiful, verdant jungle cinematography of this film and in shots of the skies.
The Audio
Gorillas in the Mist ran in theaters with a Dolby Stereo track for its 35mm print and a 6-track mix with its 70mm blow up. This Blu-ray comes with a very subtle English DTS-HD Master Audio 5.1 mix that is front-heavy, has what I would consider a medium width for its front stereo panning and very mild atmospherics in the surround channels that is barely audible even in scenes with heavy rainfall. The dialogue is clear and there are no major flaws that can be heard, but low end and dynamic range are not very extended.
The Supplements
There are no supplements on this barebones release, but it does come packaged in Mill Creek's cool retro VHS packaging which should trigger some nostalgia for anyone old enough to remember the old home video format and will be a great collectible for those younger ones looking for that '80s and '90s throwback feel.
The Final Assessment
Mill Creek Entertainment offers up another VHS-era classic in their Retro VHS packaging with this release.
---
If you found this review useful please consider clicking the button below and donating to help keep TheaterByte funded and to allow us to continue posting great content.
---
Gorillas in the Mist (Retro VHS) is out on Blu-ray March 9, 2021 from Mill Creek Entertainment.
---
Rating Certificate: PG-13
Studios & Distributors: Universal Pictures | Warner Bros. | The Guber-Peters Company | Mill Creek Entertainment
Director: Michael Apted
Written By: Harold T.P. Hayes (article) | Dian Fossey (work) | Anna Hamilton Phelan (story) | Tab Murphy (story) | Anna Hamilton Phelan (screenplay)
Run Time: 129 Mins.
Original MSRP: $14.99
Street Date: 9 March 2021
Aspect Ratio: 1.85:1
Video Format: AVC 1080p
Primary Audio: English DTS-HD MA 5.1
Subtitles: English SDH