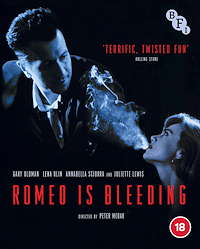 Romeo is Bleeding is the 1993 neo-noir directed by Peter Medak (The Krays) starring Gary Oldman and Lena Olin.
Oldman stars as the corrupt New York City cop Jack Grimaldi. On the outside Grimaldi is living a good middle-class lifestyle. He has a nice house, beautiful wife, Natalie (Annabella Sciorra), and sexy girlfriend, Sheri (Juliette Lewis), on the side. But Grimaldi isn't satisfied. His nights spying on the wealthier underbelly of the city leaves him craving a more lavish lifestyle, so, in his capacity guarding witnesses, he earns extra money by betraying mob witnesses to Mafia-boss Don Falcone (Roy Scheider). When he is assigned to protect the super sexy and duplicitous Russian-born hit woman Mona Demarkov (Lena Olin), Grimaldi is instantly seduced by Mona, allowing her to escape. He ends up in hot water with Falcone who orders him to hunt Mona down and kill her, but he also ends up in a double-cross deal with Mona to kill Falcone. Numerous plot twists ensue leading to Grimaldi's life being thrown into chaos.
The film, which plays out with a pulpy voice over by Oldman, is set against the moody, atmospheric, neo-noir backdrop of New York City which Medak captures beautifully, especially in the film's third act where the high contrast nighttime visuals of the cityscape really ooze the sensual and lush imagery associated with the genre. They are also in fitting with the nearly camp feel of the Hilary Henkin screenplay. She plays up the tropes and the oversexualized demon-woman villainess as played by Olin, who carries off her one-dimensional role with amazing gusto, making the film much worthier of watching than it would otherwise be. Oldman also helps rescue the film, which breaks down at every turn in terms of confused plot and, well, just ludicrous circumstances. But it is the combination of Olin and Oldman and Medak's visuals that elevate this to something worth sitting through more than once and making it a worthy entry into the neo-noir cannon.

The Video
BFI brings the film to Blu-ray in its original 1.85:1 aspect ratio in an AVC 1080p encodement. This 1993 film was originally shot in 35mm film stock and it looks natural in this transfer. This isn't the cleanest or crispest catalogue release I have seen from BFI, but it is still satisfying. Some source damage is visible throughout the presentation in the form of minor scratches and dirt and certain frames look softer than other with heavier grain than others, but most of the presentation shows a relatively fine layer of grain and good detail. Colors and contrast are gorgeous especially in the film's third act where we see a lot of high contrast dark, nighttime city street scenes.
The Audio
BFI provides a LPCM 2.0 stereo mix for Romeo is Bleeding. The film originally ran in theaters with a Dolby Stereo mix. This stereo track is very good for an audio track from 1993. There is a slight bit of edginess or brittleness to the high frequencies that you can hear particularly in the soundtrack and score when there are drum hits and other percussive sounds, but otherwise this sound is very beautifully atmospheric, dynamic, wide, and clean, with a good, punchy midrange.
The Supplements
The Covid-19-era shot interview with Medak is a very good inclusion and Alexandra Heller-Nicholas' audio commentary goes into depth on the socio-political implications of the film, particularly in relation to feminism in its era.
Newly recorded audio commentary by author and film critic Alexandra Heller-Nicholas
Medak on Medak: An Interview with Peter Medak (1080p; 00:43:16) – A newly recorded interview with director Peter Medak whose films include The Ruling Class (1972), A Day in the Death of Joe Egg (1972), The Changeling (1980) and The Krays (1990).
Isolated Score (includes some effects)
Original Theatrical Trailer (1080p)
Image Gallery (1080p)
FIRST PRESSING ONLY: Illustrated booklet with new essays by Rebecca Feasey, Lou Thomas and Josephine Botting and full film credits
The Final Assessment
BFI's Romeo is Bleeding is a satisfying Blu-ray release of this B-grade neo-noir. It has a good if modest selection of bonus features, and workable transfer. Definitely worth owning!
---
If you found this review useful please consider clicking the button below and donating to help keep TheaterByte funded and to allow us to continue posting great content.
---
Romeo is Bleeding is out on Blu-ray in the UK 8 March 2021 from the BFI
---
Rating Certificate: UK:18
Studios & Distributors: Polygram Filmed Entertainment | Working Title Films | Hilary Henkin | BFI
Director: Peter Medak
Written By: Hilary Henkin
Run Time: 110 Mins.
Original MSRP: £19.99
Street Date: 9 March 2021
Aspect Ratio: 1.85:1
Video Format: AVC 1080p
Primary Audio: English LPCM 2.0 Stereo
Subtitles: English HOH