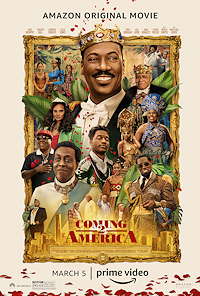 Perhaps the most telling line in this movie is spoken by Mirembe (Nozamo Mbatha) royal groomer to Crown Prince Lavelle Junson (Jermaine Fowler), the illegitimate son of King Akeem of Zamunda (Eddie Murphy). Halfway through the film, she is discussing her love of American cinema genres and mentions "sequels to old movies that nobody asked for." Is this an intentional tongue-in-cheek swipe at Coming 2 America that receives its Amazon Studios screening thirty-two years after the debut of its predecessor? Read on and draw your own conclusions.
This sequel opens with Price Akeem Joffer celebrating his 30th wedding anniversary with his wife Queen Lisa McDowell Joffer (Shari Headley) and their three daughters Princess Meeka (Kiki Layne), Princess Omma (Bella Murphy), and Princess Tinashe (Akiley Love).  King Jaffer Joffer (James Earl Jones) is dying and because Prince Akeem has no male heirs, there is the possibility of a war with the aptly named nation of Nextdoria to determine the successor to his throne. Nextdoria's leader General Izzi (Wesley Snipes), the brother of Imani (Vanessa Bell Calloway) whom Akeem rejected in favor of Lisa, will try to take over Zumanda if no male Joffer heir can be found. Suddenly, the witch doctor Baba (Arsenio Hall) produces a sketched likeness of Lavelle whose mother Mary (Leslie Jones) was a hooker who had a drug-fueled one-night stand with Akeem. King Jaffer dies and Akeem and his best friend Semmi (Arsenio Hall) travel to Queens, New York to find his long-lost son and bring him back to Zamunda.
amzn_assoc_tracking_id = "theaterbyte-20";
amzn_assoc_ad_mode = "manual";
amzn_assoc_ad_type = "smart";
amzn_assoc_marketplace = "amazon";
amzn_assoc_region = "US";
amzn_assoc_design = "enhanced_links";
amzn_assoc_asins = "B08R114191";
amzn_assoc_placement = "adunit";
amzn_assoc_linkid = "b52b235dbd05ca9209dbcbcdc8fbf4f3";
When Akeem brings Lavelle, Mary, and her brother Reem (Tracy Morgan) back to Zamunda, Izzi tries to get the young man interested in his daughter Bopoto (Teyana Taylor) but without success. In order for Lavelle to become a worthy heir to Zamunda's throne, he must pass three hazardous tests—which he does—but in the process falls for Mirembe. After hearing the plans that Akeem and Izzi are making for him to marry Botopo, Lavelle, Mirembe, Mary, and Reem take a royal jet back to New York. Akeem arrives just in time to bless the union between Lavelle and Mirembe at a street corner church and relieves his son of his princely duties. As is the case in most romantic comedies, this one is destined to have a happy ending.
The good news here is that if you liked the cast of the original Coming to America, a number of them have returned in this sequel. Even better news is that you will also get a reprise of the barbershop comedy routines with Murphy and Hall in their heavily disguised alter egos—that were my favorite scenes in the original film.  The palace scenes including King Jaffer's pre-funeral celebration, hosted by Morgan Freeman, and featuring performances by the original En Vogue, Salt-N-Pepa and Gladys Knight are visually and musically over the top.
Aside from these high points, things quickly go downhill  as neither Jermaine Fowler nor Nomzamo Mbatha add much to the rather banal characters handed them by the screenplay from Kenya Barris, Barry W. Blaustein and David Sheffield. In fact Lavelle looks so little like his father, that I am surprised that the King did not demand a paternity test before engaging in the nonsense that follows. It is the lackluster screenplay, in fact, that really becomes this film's Achilles' heel. There is no new ground broken here and the romantic situations are not nearly as compelling as they were in the original film. Eddie Murphy is much older, and it shows—he simply is not as perky or funny in this one. Ditto for Arsenio Hall.  I wished that there had been more of Leslie Jones as she is a fresh face that adds a nice comedic touch to her role, even if her getting drunk with Queen Lisa is a rather incongruous female bonding moment. If you are merely looking for truly mindless entertainment with occasional laugh-out-loud moments, you will enjoy Coming 2 America in spite of its obvious weaknesses as a film. Otherwise, just watch the original movie and call it a day.
---
If you found this review useful please consider clicking the tip button to donate and help keep TheaterByte funded to allow us to continue posting great content.
---
Coming 2 America is streaming now on Amazon Prime Video
amzn_assoc_tracking_id = "theaterbyte-20";
amzn_assoc_ad_mode = "manual";
amzn_assoc_ad_type = "smart";
amzn_assoc_marketplace = "amazon";
amzn_assoc_region = "US";
amzn_assoc_design = "enhanced_links";
amzn_assoc_asins = "B08R114191";
amzn_assoc_placement = "adunit";
amzn_assoc_linkid = "b52b235dbd05ca9209dbcbcdc8fbf4f3";
---
Rating Certificate: PG-13 (for crude and sexual content, language and drug content)
Studios & Distributors: Paramount Pictures | New Republic Pictures | Eddie Murphy Productions | Misher Films | Amazon Studios
Country: USA
Language: English
Run Time: 110 Mins.
Aspect Ratio: 2.00:1
Director: Craig Brewer
Written By: Kenya Barris | Barry W. Blaustein | David Sheffield
Release Date: 5 March 2021