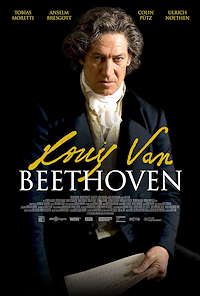 December 16, 2020 marks the 250th anniversary of the birth of a trailblazing classical music composer, Ludwig van Beethoven or "Louis van Beethoven", as he was known in his youth. Writer-director Niki Stein gives us a film biography of this titanic figure that covers his life from age eight (Colin Putz) until his final days (Tobias Moretti) with frequent time-shifts along the way.
As the film opens, Beethoven and his nephew Karl are moving in to the house of his brother Johann (Cornelius Obonya) so that Karl can recover from wounds suffered in a failed suicide attempt. Shifting back in time to Beethoven's hometown of  Bonn, 11-year-old Louis gets a career boost from the court organist Christian Gottlob Neefe (Ulrich Noethen) who sees his promise as a composer. Some years later, and now an adolescent, Louis (Anselm Bresgott), gets his first paying job as a court organist and accompanist but at the cost of half of Neefe's salary. Pupil locks horns with teacher as Louis's compositions become increasingly avant garde for this musical era. Nevertheless, a piano recital wins him a trip to Vienna and a visit with Mozart (Manuel Rubey) who sees Louis's talent but makes it clear that he is not interested in becoming the young man's teacher. Just for the record, "Wolfi" does not come across well in this screen portrayal and it is not clear that the two ever met in real life. Louis's alcoholic father Jean (Ronald Kukulies) who pushed him to become a child prodigy is portrayed as yet another unsympathetic character.
A romance blossoms between Louis and Eleonore (Caroline Hellwig), the beautiful daughter of the aristocratic von Breuning family whose mother Therese (Johanna Gastdorf) has been his loyal patron. Therese makes it clear that the difference in their stations renders any such relationship impossible but agrees to support Louis and his family as long as he leaves Eleanor alone. The turning point in Beethoven's career comes when he is taken in by the great Viennese composer Franz Josef Haydn and the rest, as they say, is history.
Most of this film deals with the young Beethoven prior to his profound hearing loss and  huge success as a composer. This approach provides a different perspective on his beginnings as a wunderkind and the continual challenges of becoming accepted in the musical world of his era. We definitely see and hear how much deafness contributes to the changes in Beethoven's personality as he ages. Yet, the decade before he died became the one of the most prolific periods of his composing career. Most viewers will know little about how the youthful Beethoven became caught up in the zeitgeist of pre-French Revolution Europe and, later, the Napoleonic era. The influence of these times clearly impacted the spirit of his crowning work, the Ninth or "Choral" Symphony with its famous musical adaptation of Friedrich Schiller's Ode to Joy.
Louis Van Beethoven (2020)
While the German cast will be largely unknown to American audiences, they are a talented group and receive the knowing directorial hand of Niki Stein who takes his first dip into the biopic pond. This is not the first film about the noted German composer and rather than a line-by-line account of his life, Stein takes considerable dramatic liberties with the facts including the pure invention of the identity of the woman who became known as Beethoven's "Immortal Beloved." His relationship with nephew Karl was considerably shorter than it is portrayed in this film and was clouded by bitter legal battles with his sister-in-law. Most likely in the interest of time, numerous wealthy patrons that kept Beethoven's finances from tanking are omitted. Louis van Beethoven may well be among the best Beethoven film biographies in terms of demonstrating the trajectory of his life and career with an eye toward dramatic acuity and poignancy. The stunning recreation of the period as filmed in Germany and the Czech Republic is an obvious visual asset. Classical music lovers may feel short-changed by the mere snippets of music by Beethoven and other composers but these brief pieces do adequately convey the styles of the period.
Non-German speakers need not be deterred from checking this one out since there are excellent subtitles. There have been numerous films about famous composers but this one comes much closer than most to revealing the very human side of a musical icon. Highly recommended.
Louis van Beethoven will become available on digital/VOD and DVD on December 15, 2020
---
Studios & Distributors: Eiken Media GMBH
Rating Certificate: Not Rated
Country: Germany
Language: German
Run Time: 120 Mins.
Aspect Ratio: 1.85:1
Director: Niki Stein
Written By: Niki Stein
Release Date: 15 December 2020