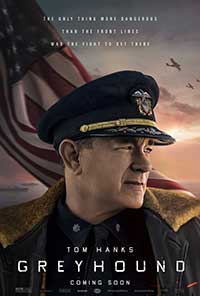 By this point in his long and illustrious career, Tom Hanks should have gotten the role of Captain—Jim Lovell (Apollo 13), John Miller (Saving Private Ryan), Richard Phillips (Captain Phillips), Chesley Sullenberger (Sully)—totally down pat. Yet, here in Greyhound Hanks is again playing a Captain, in this case, Ernest Krause, commanding officer of the USS Keeling, a WW II destroyer (call sign "Greyhound), and charged with leading a large convoy of Allied ships across the North Atlantic that is absolutely rife with Nazi submarines.
Greyhound takes place in 1942 (before the US officially entered the war against Germany) and is based on the novel The Good Shepherd, noted English author C.S. Forester's fictionalized account of the long-running Battle of the Atlantic. Greyhound was another film originally scheduled for theatrical release in June 2020 that fell victim to the COVID-19 pandemic. The Apple TV+ streaming service is to be thanked for giving viewers an opportunity to see one of our best actors assume the kind of role that he was born to play.
Krause, a man of faith who says grace before meals and prays before going to bed, appears to have passed over for his first command until now. His dangerous mission is to safely lead the Convoy H-25 vessels that are carrying much-needed supplies to our closest ally, Great Britain. To do so, these ships must traverse the stretch of the Atlantic known as The Black Pit since thousands of ships have been sunk there by the German U-Boats.  Greyhound is flanked by two British destroyers, Eagle and Harry and once their air coverage is left behind, it does not take long to discover a nearby U-Boat. After a tense chase, aided by sonar operator Eppstein (Karl Glusman), the sub is located and destroyed.
[envira-album id="123941″]
Krause gets word that a German "wolfpack" of six U-Boats has been identified in the region. After a tanker gets sunk, the U-Boats go in hot pursuit of the remaining vessels. It now becomes a race against time for Krause and his crew to stick it out for another 24 hours with only a few depth charges remaining on board until they can regain air cover and reach the British coast.
Although the supporting cast, led by Stephen Graham's portrayal of the Greyhound's XO, is quite large, Tom Hanks is the focal point in this very deliberately paced naval war film as his Captain Krause, working on fumes and constant cups of coffee tries to steer Greyhound out of trouble.  Dialogue is sparse and punctuated by a seemingly constant series of commands issued by the skipper to change Greyhound's course coordinates. With the backdrop of Blake Neely's (The Pacific) expansive bass-heavy WW II score, the real heroes of Greyhound are Shelly Johnson's film crew providing the up-close shots of what actually happens during war on the raging main. Special effects were liberally employed—close calls from German torpedoes among them—as the reality of what destroyers and their crews experienced during the bitter winter cold and the Atlantic's challenging waves was extremely well done.
What worked less well for me was Elizabeth Shue's brief appearance as Krause's love interest Evelyn who puts off their marriage until the "madness" is over, probably not realizing that they are not getting any younger and WW II will not end for another three years. There is no shortage of WW II victory-at-sea films and those interested in a more effective treatment of this subject (and another C.S. Forester book adaptation) might well seek out Sink the Bismarck! a 1960 taut British war film with a great cast and even more compelling storyline. With a PG-13 rating and millennial-friendly 91-minute running time, this is a good film to rally home-bound families into their television rooms to get another dose of WW II nostalgia.
Greyhound is streaming now on Apple TV+
[youtube https://www.youtube.com/watch?v=eyzxu26-Wqk&w=864&h=486]
---
The Film: 3.5/5
Studios & Distributors: Columbia Pictures | Stage 6 Films | Zhengfu Pictures | BRON Studios | Creative Artists Agency (CAA) | Creative Wealth Media Finance | FilmNation Entertainment | Playtone | Sycamore Pictures
Rating Certificate: PG-13 (war-related action/violence, brief strong language)
Country: USA
Language: English
Run Time: 91 Mins.
Aspect Ratio: 2.39:1
Director: Aaron Schneider
Writer: Tom Hanks (screenplay by) | C.S. Forester (based on the novel "The Good Shepherd" by)
Release Date: 10 July 2020