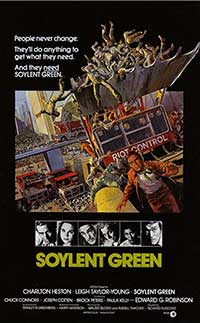 Soylent Green is a film that is placed in a dystopian future world polluted by the greenhouse effect and afflicted by overpopulation and lack of food supplies.
PLOT
The movie takes place in 2022, in a dystopian world that is burdened by environmental problems and food shortages. Only the rich have access to real food and water, both of which have become very expensive. The common people eat nutritional wafers as a substitute for food, Soylent Red, Soylent Yellow, and the brand new Soylent Green. Because of the lack of supplies, people are frustrated and riots happen frequently. Detective Frank Thorn is about to investigate the death of William R. Simonson, who was a member of the Soylent Green corporation. In his investigation, he is assisted by his friend Sol Roth who offers him his knowledge and memories of a past era, when food was natural and had real flavor and taste, and by Shirl who was Simonson's sexual escort.
As far as the film's concept is concerned, it is very interesting, as it raises awareness concerning the matter of environmental disaster and food shortages, while it also raises poses questions about morality and ethics in human nature during harsh times. In general, the plot is appealing and well-structured and the viewer's interest remains till the very end.
CHARACTERS
• Frank Thorn is a detective who is about to unravel the mystery concerning William R. Simonson's assassination by searching for substantial information about Soylent Green's actions.
• Sol Roth is Frank's old friend who helps him in his investigation, by providing him with important information, which sometimes is not to be found in books, like giving him an idea of what real food used to be before the pollution. Also, he gives him some insight into books in the library related to the case.
• Shirl used to be Simonson's sexual escort. In the beginning, Thorn is doubtful about her motives, but later he understands she is innocent. They cooperate, with her helping him close the case, and she ends up in a relationship with him.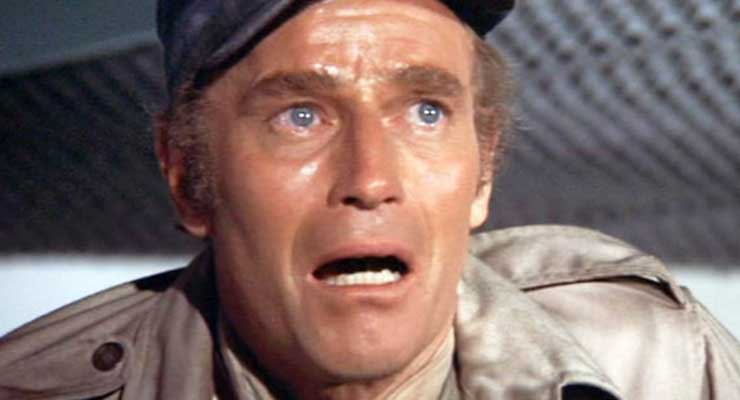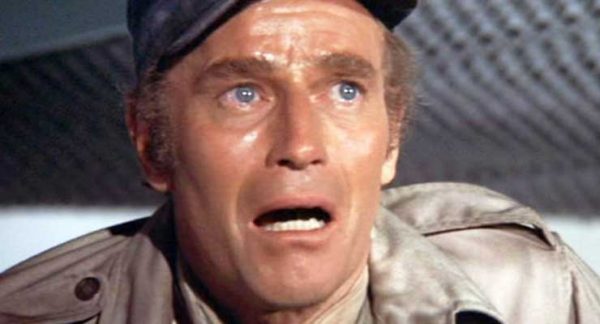 ACTING
Charlton Heston as Detective Thorn was very good and I also enjoyed the chemistry between him and Leigh Taylor-Young, playing Shirl. Both of them were very convincing in their roles. Edward G. Robinson delivered an amazing performance as Sol Roth, and especially the best of the cast. His part towards the end became very emotional and he was exceptional in transmitting to us all the feelings a character like him would feel and made us sympathize with.
DIRECTION
Richard Fleischer did a very good job with the direction. The film is full of mystery and tension, and there are some rapid scene interchanges, which make the movie even more intriguing.
CINEMATOGRAPHY
The cinematography was amazing in terms of building interiors, such as the factory and the mansion of the victim, which both captivate the eyes of the viewer.
THE END
Although there is a little preconception towards the end, the finale is mindblowing and gives us food for thought.
Soylent Green was originally released 9 May 1973 (USA)
---
The Film: 4.0/5
Plot: 4.0/5
Character —  Lead: 4.0/5
Character: Supporting: 4.5/5
Directing: 3.5/5
Cinematography: 3.5/5
Studios & Distributors: Metro-Goldwyn-Mayer (MGM)
Rating Certificate: PG
Country: USA
Language: English | Spanish
Run Time: 97 mins.
Aspect Ratio: 2.35:1
Director: Richard Fleischer
Writers: Stanley R. Greenberg (screenplay) | Harry Harrison (novel)
Original Release Date: 9 May 1973 (USA)