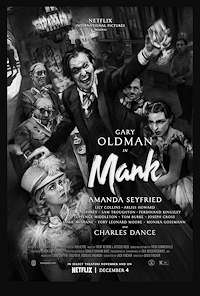 There have been numerous films about filmmaking but there have not been many good films about filmmaking that are based on actual people and events. Director David Fincher has compiled a small but eclectic body of work including Seven, The Game, Zodiac, and, most recently, Gone Girl. The Mank project was clearly a labor of love as his late father Jack wrote the original screenplay more than two decades ago.
Mank opens in 1940 with the enfant terrible of Hollywood, 24-year-old Orson Welles (Tom Burke), receiving complete artistic control from RKO studios over his upcoming film Citizen Kane.  Welles still needs a script and gets steered to the brilliant but alcoholic screenwriter Herman J. Mankiewicz (Gary Oldman) who is recovering in Victorville, California from a broken leg suffered in an auto accident. As Herman or "Mank," as he prefers to be called, dictates lines to his secretary Rita Alexander (Lily Collins), it becomes obvious to his brother Joseph (Tom Pelfrey) and Welles close associate John Houseman (Sam Troughton) that this screenplay is far behind schedule.
Occasional flashbacks to the early 1930s finds Mank reconnecting with popular actress Marion Davies (Amanda Seyfried), who, in turn, introduces him to her lover, the newspaper tycoon William Randolph Hearst (Charles Dance). Hearst becomes his patron and pays off his large gambling debts, much to the relief of Mank's long-suffering wife Sara (Tuppence Middleton). Louis B. Mayer (Arliss Howard) has Mank under contract and continues to support him in spite of his erratic behavior.
The highlight, or what will be for many viewers the lowlight, of this film takes place in 1937 at the Hearst Castle.  Herman staggers into a costume party and pours out his "quixotic" idea for the upcoming film of Citizen Kane that is clearly a thinly veiled and less than flattering portrait of Hearst himself. Mank's drunken monologue is poorly received as the guests abruptly leave, and WRH puts the writer in his place with a brief parable about a dancing monkey and his organ-grinder.  Herman stays sober long enough to finish his screenplay and, in spite of numerous warnings to downplay its obvious references to Hearst and his mistress Marion, he sticks to his guns. Eventually Herman has it out with Welles, gets onscreen credit for the screenplay and the rest is Hollywood history.
Mank is a well-cast film and most of its principals deliver worthy performances, in spite of their receiving a very problematic script.  Along the way, there are brief views of the era's numerous silver screen luminaries like producer Irving Thalberg (Ferdinand Kingsley), writer Ben Hecht (Jeff Harms), and actor Charlie Chaplin (Craig Robert Young).  David Fincher's use of black-and-white footage, complete with grain and occasional blurs and bubbles is a reasonably successful attempt to recreate the look of 1930s films.  A brilliant score by Trent Reznor and Atticus Ross keeps the pulse of the film beating even when its pace begins to drag. That is the end of the good news. The heavy-handed treatment of Mank's alcoholism limits Gary Oldman's  pudgy and dissolute character to little more than a caricature of a sot who makes witty off the cuff remarks before passing out. The tension of will he or won't he get the screenplay done on time is vitiated by frequent interruptions, courtesy of the flashbacks.  Here is my biggest problem with Mank. Unless you have seen what may have been one of the best films ever made in the United States, you will not understand why it caused such an uproar in 1941 because so little about the film is actually revealed. Even if you have seen Citizen Kane a number of times, its creative process seems entirely peripheral to what happens in this film. In the final analysis, those wishing to get more insight into the life of one of the most talented screenwriters of the first half of the 20th century will not get it from Mank. With all due respect to the late Jack Fincher, this film deserved a better screenplay or at least a better rewrite than the one that Mank received.
---
If you found this review useful please consider clicking the button below and donating to help keep TheaterByte funded and to allow us to continue posting great content.
---
Mank is streaming now on Netflix
---
Rating Certificate: R (for some language)
Studios & Distributors: Netflix International Pictures
Country: USA
Language: English
Run Time: 131 Mins.
Aspect Ratio: 2.20:1
Director: David Fincher
Written By: Jack Fincher
Release Date: 4 December 2020 (USA)