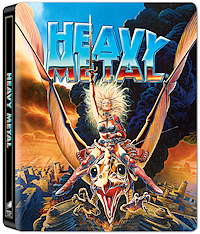 Heavy Metal is the groundbreaking animated anthology feature film produced by Ivan Reitman based on the illustrated fantasy magazine of the same name. The five-part animated feature brings together the hundreds of artists and animators from seventeen countries. Although there is no central story arc to this film, all the vignettes are loosely connected by the story of glowing, green orb called the Loc-nar, that spreads its evil throughout the galaxy and destroys whoever it encounters. Some of the stories include that of a cabbie in New York City, 2023, who picks up a sexy fare carrying the Loc-Nar, and it turns out to be a regrettable event. Another story is one of yet another sexy woman from Earth having a sexual affair with a sentient robot who wants to marry her. Then there's the story of a nerdy kid who has the Loc-Nar drop into his backyard, transport him to a strange world and transform him into a superhuman. He becomes a hero of sorts and rescues a, you got it, another sexy and naked woman.
If there is an underlying theme in Heavy Metal at all it's that the women are all there to be sexual objects. Nearly every female character that is drawn appears naked, hyper-sexualized, and scantily clad. This is very much a film aimed at a certain demographic, which accounts for not only the naked women, but the soundtrack which includes songs from the likes of Black Sabbath, Blue Oyster Cult, Nazareth, Cheap Trick, Devo, and Grand Funk Railroad.
Despite its very much non-feminist leanings, the power, artistry, and groundbreaking nature of the animation in this film are just about undeniable. From the intricate glass plate technique used for the background artwork to the wonderful character designs, its influence is far-reaching. One can immediately find similarities in the opening cabbie sequence and the cult classic from Luc Besson, The Fifth Element (1997).
This 40th Anniversary release also includes the far inferior Heavy Metal 2000 (not remastered or restored for this release). Released in 2000, HM2K is based on a graphic novel, The Melting Pot. This tells a rather convoluted story about a world named Eden that wants to keep out unwanted visitors. Julie Strain features as one of the main characters, with both her voice and the character design based on her. The film's animation incorporates CGI that is not always very effective or as visually appealing as the 1981 film. Like the 1981 film, there is also a soundtrack filled with some successful rock bands including Pantera, Insane Clown Posse, System of a Down, and more.
The Video
Heavy Metal comes to 4K Ultra HD Blu-ray in what Sony says is "presented" in 4K with Dolby Vision "reviewed and approved by Ivan Reitman." While they don't specify a new restoration or remastering, it is very clear looking at the disc and comparing it to the included, previously released Blu-ray that it has been newly restored and remastered. It arrives in an HEVC 2160p (4K UHD) encodement with Dolby Vision framed at 1.85:1. Compared to the previous Blu-ray, this 4K release has far less instances of dirt and scratches all throughout the film yet the grain structure is retained and there is no excessive DNR. I would call it, in a word, miraculous. This is one of the best restorations/remasterings of a catalogue animated film I have ever seen. When you add in the added 'pop' of the Dolby Vision HDR [this dis shows HDR metadata of MaxLL 1800 nits and MaxFALL 678] this 4K release is just stunning. Chapter 10 starting around the 53-minute mark or so is probably the best chapter to show off the best this release has to offer visually (and aurally, see below). It has the vivid primaries, the glowing green that is a constant in the film, and in outer space scenes, excellent specular highlights in the stars against an inky black background.
The Audio
Sony is really promoting the new 'soundscape' for this 4K Ultra HD release of Heavy Metal and with good reason, this release gets an all-new immersive Dolby Atmos mix that utilizes enhanced sound effects and much more, also supervised and approved by producer Ivan Reitman. There is a whole new level of clarity and impact with this new mix, and it can be heard from the opening sequence with the spaceship – it rumbles and flies overhead. Chapter 10 is again one of the reference points even for the audio mix. The music is spread out across the soundfield, the sound of the alien ship is big and extends way down into the low frequencies, while sound effects hit in the surrounds and overheads. This is sure to become a go-to reference catalogue Atmos remix. In comparison, the 5.1 mix from the Blu-ray has little impact and sounds veiled. There really is little comparison.
The Supplements
There isn't much included on the 4K disc but the included, previously released Blu-rays retain their bonus features which include a feature-length rough cut of Heavy Metal and a featurette on Julie Strain on the Heavy Metal 2000 disc.
Heavy Metal: A Look Back (1080p; DV; 00:09:20)
Bonus Features on Blu-ray:
Heavy Metal
Heavy Metal: Feature-Length Rough Cut w/optional commentary by Carl Mack
Deleted Scenes (SD; 00:08:42)
Imagining Metal (SD; 00:35:39)
Heavy Metal 2000
Julie Strain: Super Goddess (SD; 00:13:16)
Voice Talent (SD; 00:03:43)
Animation Tests (SD; 00:01:17)
Animatic Comparisons (SD; 00:11:29)
The Final Assessment
Heavy Metal is not a perfect film by any means, but it is visually and now, aurally amazing and arguably one of the most influential animated feature films ever made. This 4K Ultra HD release from Sony is stunning in every way. Highly recommended.
Heavy Metal (SteelBook) 2-Movie Collection is out April 19, 2022 from Sony Pictures Home Entertainment
---
Rating Certificate: R
Studios & Distributors: Columbia Pictures | Guardian Trust Company | Canadian Film Development Corporation (CFDC) | Famous Players | Potterton Productions | Sony Pictures Home Entertainment
Director: Gerald Potterton
Written By: Daniel Goldberg (screenplay) | Len Blum (screenplay)
Run Time: 90 Mins.
Street Date: 19 April 2022
Aspect Ratio: 1.85:1
Video Format HEVC 2160p (4K UHD)
HDR Format: Dolby Vision (HDR10 Compatible)
Primary Audio: English Dolby Atmos (Dolby TrueHD 7.1 core)
Secondary Audio: English DTS-HD MA 5.1 | English DTS-HD MA 2.0 Stereo | French DTS-HD MA 5.1 | German DTS-HD MA 5.1 | Italian DTS-HD MA 5.1 | Korean DD 5.1 | Polish DD 5.1 VO | Russian DD 5.1 VO | Spanish DTS-HD MA 5.1 | Turkish DD 2.0 Stereo
Subtitles: English | English SDH | Arabic | Chinese Traditional | Czech | Danish | Spanish (Latin American) | Swedish | Thai | Turkish