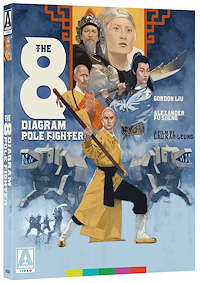 A magnificent period drama from the later years of Shaw Brothers directed by Lau Kar-leung, The 8 Diagram Pole Fighter managed to overcome tragedy (star Alexander Fu-Sheng – Sixth Brother — died tragically in the middle of production causing a rewrite of the ending) to go on to become one of the most loved films from the studio, although it did not fare well initially at the box office.
Purportedly based on a true from the Sung dynasty era, the Yang family are betrayed when General Pan Mai (Ku Ming) and his Mongol allies lead the brothers Yang into a trap. Only two brothers survive, and one manages to make it back home, Sixth Brother (Fu-Sheng), who relays to his mother Lady Yang (Lily Li) what occurred, but he begins to go mad. Meanwhile, Fifth Brother aimlessly wanders the countryside before settling at a Buddhist monastery where he settles in to hone his skills and plot his revenge, a plan completely at odds with the Buddhist way so he is asked to leave, but he refuses. When Lady Yang discovers where Fifth Brother is, she orders her daughter (Kara Hui), the eighth Yang, to go bring him back. She goes, disguised as a man, to retrieve her brother, but she is captured by General Pan's troops on her way to the temple. Now Fifth Brother is forced out of hiding to go rescue his sister and perhaps finally get the revenge he was seeking.
The 8 Diagram Pole Fighter is one of the most dramatic films to come out of the genre and from director Lau Kar-leung. Rather than rely on the comedic element usually so prominent in many of his films, this one has an ominous, foreboding tone from the start and as always is packed with masterfully choreographed martial arts. This is one of the more violent films in that regard as well. This is truly a classic that fans of Hong Kong cinema and kung fu films will love.
The 8 Diagram Pole Fighter (1984)
The Video
The 8 Diagram Pole Fighter comes from a brand new 2K restoration from the original camera negative by Arrow Films. This is truly a beautiful transfer that captures all the film grain and the splendor of the colors in this film from the 'pop' of the vermilions to the dazzling golds. There are some distant shots that look ever so slightly close to tipping towards being a bit noisy, but its generally a sharp, crisp, and organic transfer with no edge enhancement or compression issues. The film is encoded in AVC 1080p and framed at 2.35:1.
The Audio
The original Cantonese plus Mandarin and English dubs are included in DTS-HD Master Audio 1.0 tracks. The Cantonese and Mandarin tracks sound the clearest with the English dub having clear dialogue, but sound effects and score sounding a bit veiled.
The Supplements
Arrow does what we have come to expect from them and that is pack this full if excellent bonus features in a beautiful collectible package. The Tony Rayns video appreciation is wonderful as ever, giving his deep insight into the film and filmmakers as is the immensely listenable commentary from Jonathan Clements.
Commentary by Jonathan Clements
NEW Tony Rayns on The 8 Diagram Pole Fighter (1080p; 00:22:54) – A newly filmed appreciation by film critic and historian Tony Rayns, produced for Arrow Video in 2022.
Interview with Gordon Liu (1080p; 00:20:06) – An interview with actor Gordon Liu ("Fifth Brother"), filmed by Frédéric Ambroisine in 2004.
Interview with Lily Li (1080p; 00:32:43) — An interview with actress Lily Li ("Dowager She"), filmed by Frédéric Ambroisine in 2004.
Interview with Yeung Ching-ching (1080p; 00:32:09) — An interview with actress Yeung Ching-ching ("Ninth Sister"), filmed by Frédéric Ambroisine in 2004.
A Tribute to Fu Sheng (1080i; 00:06:12) – This short film, made by Shaw Brothers to commemorate the death of co-star Alexander Fu Sheng, played before several screenings of The 8 Diagram Pole Fighter in 1984. It is presented via a German-dubbed telecine, the only copy that could be located for this release.
Alternate Opening Credits as The Invincible Pole Fighters (720p; 00:04:04)
Trailer Gallery:

Theatrical Trailer (720p)
Digital Reissue Trailer (720p)

Image Gallery (1080p)
Reversible sleeve featuring original and newly commissioned artwork by Marc Aspinall
FIRST PRESSING ONLY: Illustrated collectors' booklet featuring new writing on the film by Terrence J. Brady
The Final Assessment
A magnificent genre entry from Shaw Brothers with magnificent action, operatic violence, and a sense of foreboding hits Blu-ray in a gorgeous restoration from Arrow Video.
The 8 Pole Diagram Fighter (Special Edition) is out on Blu-ray April 5, 2022 from Arrow Video

---
Rating Certificate: Not Rated
Studios & Distributors: Shaw Brothers | Arrow Video
Director: Lau Kar-leung
Written By: Lau Kar-leung | Ni Kuang
Run Time: 98 Mins.
Street Date: 5 April 2022
Aspect Ratio: 2.35:1
Video Format: AVC 1080p
Primary Audio: Cantonese DTS-HD MA 1.0
Secondary Audio: Mandarin DTS-HD MA 1.0 | English DTS-HD MA 1.0
Subtitles: English