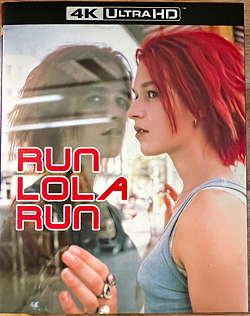 Run Lola Run (Lola Rennt) is the hyper-kinetic German crime thriller from writer/director Tom Tykwer (Sense8, Cloud Atlas) starring Franka Potente (TV's Titans, The Bourne Identity).
Lola has a dilemma: she was supposed to pick up her boyfriend Manni (Moritz Bleibtreu, The Fifth Estate) but her moped was stolen. Manni has done a smuggling job for dangerous criminal Ronnie (Heino Ferch), dropped off the goods and is supposed to return with the 100,000 deutschemarks in payment. Because Lola could not pick him up, he had to take the subway and he forgot the bag with the cash on the train. Now his life is in jeopardy. He has twenty minutes before Ronnie shows up looking for the loot. He calls Lola on the phone desperate for help. She has no transportation but is determined to find the cash in twenty minutes and get it to him before he decides to do something even more stupid by noon – walk across the street from the payphone (hey, this was 1998, those still existed) and holdup the grocery store. Lola runs. Her first instinct is to head to the bank run by her father (Herbert Knaup) and beg for the cash. There, not only does she not get the cash, but she discovers her father is having an illicit affair with a coworker and something awful about her family history. Lola runs again, this time back to Manni, but she is too late to stop him from holding up the grocery store at gunpoint. Things do not go well, and she is shot. The end. Only, not. The story resets like Groundhog Day, and Lola has a chance to do it all over again in a different way, with different outcomes.
Tykwer is genius at using every cinematic device to keep us interested in this repeating storyline, from the pulsating, Eurotrash EDM soundtrack, to mixing of visual formats between 35mm, video, and between color and black and white and even animation. He also gives little snapshot vignettes of some of the passersby on Lola's journey, their destinies shifting in classic butterfly effect theory as she changes her methods and decisions. By the time we reach the third act, Tykwer is throwing up full-on, split screen, no holds barred imagery.
Run Lola Run may be in line with films from the likes of Luc Besson in its audacity, but Tykwer serves it up on a smaller scale and offers a more complex, multilayered vision that can be missed in a first viewing, where someone like Besson is mostly all surface. This is one film that lends itself well to multiple viewings because of this reason.
The Video
The multiple formats used in Run Lola Run do not necessarily allow for a completely consistent video presentation. The most obvious issue being the video-sourced segments, which are all the scenes without Lola and Manni. That said, everything else looks excellent. Those segments were shot on 35mm and includes color; black and white; and animated segments as well. Arriving in a 1.85:1 HEVC 2160p (4K UHD) Dolby Vision encodement on 4K Ultra HD in the Sony Pictures Classics 30th Anniversary 4K box set, the film segments – leaving aside the video segments – look very natural, with a thin layer of grain and a lot of textural detail. The colors are natural, with flesh tones that look peachy and Lola's red hair having a shocking, candy apple red color. The pillow talk sequences that have the red filter also look stunning. The black and white sequences have stark contrast with inky blacks and no clipping in the white levels. Animated sequences of Lola running down the stairway looks filmic, organic, and free from source damage, with vivid primary colors. All the best parts of the transfer take a necessary step downward in the video sequences, which is unavoidable, but the transfer does no further harm. The Dolby Vision application doesn't necessarily add lots of brightness or stunning specular highlight 'pop,' but it does extend the contrast and colors that are in the film as it was on Blu-ray.
The Audio
The German DTS-HD Master Audio 5.1 audio mix for Run Lola Run included with this 4K Ultra HD disc is not super-aggressive by any means, and mainly uses the surround channels for heightened atmospherics, but there are some moments of more discrete sound effects in the rear, such as during one of the scenes where Manni is shot and the sound of an airplane pans back to front through the channels. This also offers even more opportunity for the low end to kick in, as if the excellent handling of the pulsating Euro-electronica score did not show that off well enough on its own. English and Spanish dubs in DTS-HD Master Audio 5.1 are also included.
The Supplements
The box set contains a 24-page booklet, featuring an all-new essay from renowned film critic David Thomson about the history of Sony Pictures Classics, along with information about each of the included films and an introduction from SPC co-presidents Tom Bernard and Michael Barker.
Sony does not provide any new bonus features with this release nor do they include any digital copies of any sort in this Sony Pictures Classics 30th Anniversary 4K Ultra HD box set. For now we will have to settle for the ported over and upscaled, previously released bonus features, which are fine for anyone who has never seen them. The two audio commentaries are interesting to listen to if you have seen this film many times like I have.
Making-of (1080p; 00:39:30)
Still Running (1080p; 00:16:58)
Believe Music Video (1080p/60; 00:04:01)
Commentary with Director Tom Tykwer and Editor Mathilde Bonnefoy
Commentary with Director Tom Tykwer and Franka Potente
Theatrical Trailer (1080p)
The Final Assessment
Sony continues to reign as far as the major studios go when it comes to 4K restorations on 4K Ultra HD disc with this release of the energetic, edge-of-your-seat thriller Run Lola Run, available in the Sony Pictures Classics 30th Anniversary 4K box set.
Run Lola Run (Sony Pictures Classics 30th Anniversary 4K Box Set Edition) is out November 22, 2022 from Sony Pictures Home Entertainment
---
Rating Certificate: R (for some violence and language)
Studios & Distributors: X-Filme Creative Pool | Arte Deutschland TV | Westdeutscher Rundfunk (WDR) | ARTE | WDR Fernsehen | Sony Pictures Home Entertainment | Sony Pictures Classics
Director: Tom Tykwer
Written By: Tom Tykwer
Run Time: 80 Mins.
Street Date: 22 November 2022
Aspect Ratio: 1.85:1
Video Format: HEVC 2160p (4K UHD)
HDR Format: Dolby Vision (HDR10 Compatible)
HDR10 Metadata:

MaxLL: 1088 nits
MaxFALL: 369 nits

Primary Audio: German DTS-HD MA 5.1
Secondary Audio: English DTS-HD MA 5.1 | Spanish DTS-HD MA 5.1
Subtitles: English | English SDH | Spanish