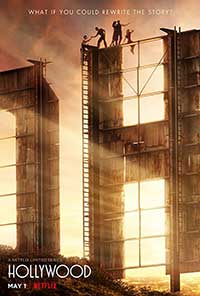 The new Netflix mini-series Hollywood returns viewers to what many considered the "Golden Age" of filmdom's capital city.
The seven episodes follow the careers of several young LA transplants vying to succeed in post-World War II Hollywood. Handsome WW II veteran Jack Castello (David Corenswet) shows up daily at Ace Studios hoping to get picked as a film "extra." Archie Coleman (Jeremy Pope), a gay black screenwriter has just penned a script, "Peg," referring to actress Peg Entwistle who jumped to her death from the Hollywoodland sign in 1932.  Raymond Ainsley (Darren Criss), a Filipino-American, hopes to direct an Ace Studio film while his girlfriend, black actress Camille Washington (Laura Harrier), an Ace Studio contract player, aspires to become a leading lady. Actor Roy Fitzgerald AKA Rock Hudson (Jake Picking) gets noticed for his good looks but constantly struggles with his lines during screen tests. His personal life gets better after he enters a steamy intimate relationship with Archie and gets snarky and closeted gay agent Henry Wilson (Jim Parsons).
Jack's wife Henrietta (Maude Apatow) has become pregnant with twins and to make ends meet, he becomes a gas station attendant/sex worker for garage owner/pimp Ernie West (Dylan McDermott). At the "Dreamland" hotel, he beds down Avis Amberg (Patti Lupone), wife of studio boss Ace Amberg (Rob Reiner) and this opens a major career door for him.  Jack also meets Avis's oversexed actress wannabe daughter Claire Wood (Samara Weaving) who will eventually play an important role in his life. Ray reads Archie's script and convinces studio executive Dick Samuels (Joe Mantello) to greenlight this project under his direction.  Ace Amberg finds out that "Peg" was written by a black man and threatens to can this film, but he suffers a near-fatal heart attack while shtupping his mistress, actress Jeanne Crandall (Mira Sorvino). Avis becomes the acting studio boss and agrees to move the film forward.  Samuels and fellow studio exec Ellen Kincaid (Holland Taylor) lobby to give the lead role, renamed "Meg" to Camille and, encouraged by none other than Eleanor Roosevelt (Harriett Harris), Avis agrees.
Things do not go smoothly for this new film. There is a considerable racist backlash against "Meg," cross-burning threats to the cast and director, and Southern boycotts of other Ace Studio movies. Fortunately, the publication of damaging mug shots of Jack's arrest for solicitation are quashed by Wilson but on the condition that he becomes an executive producer with substantial creative control.  The filming proceeds in fits and starts on a very constrained budget but when Ace briefly recovers and sees the final product, he realizes that "Meg" will likely be a success if it can safely get into movie theaters.  The big "Hollywood" ending at the Academy Awards ceremony reminds us that this film is as much a Tinseltown fairytale as was last year's Once Upon a Time in Hollywood.
[envira-album id="123492″]
Veteran television show creator/producer Ryan Murphy's (Nip & Tuck, Glee) Hollywood has taken on some weighty social issues in late 1940s Americas including racial and gender discrimination.  To add credibility to this tale, Murphy brings in actors portraying Hollywood heavyweights like Tallulah Bankhead, Vivien Leigh, George Cukor, Hedda Hopper, and Noel Coward. While most of the characters are composites of the era's Hollywood types, both Rock Hudson and Henry Wilson, were well-known names in La-La land.  Ernie West is based on notorious Hollywood pimp Scotty Bowers and Camille Washington was clearly inspired by the late Dorothy Dandridge (whom she resembles), the breakthrough black actress of the 1940s and 1950s.
Hollywood receives some remarkable performances, highlighted by those of Patti Lupone, Dylan McDermott, and Jim Parsons. The younger cast members are no slouches either and their ensemble work is clearly on a par with that of their elders.  As bonuses, we get brilliant cameos by Rob Reiner as Ace and Queen Latifah as foul-mouthed Oscar-winner Hattie McDaniels.  Visually, this is a stunning production with period-perfect sets, costumes, cars, and lavish Hollywood parties. Viewers should be prepared for a surfeit of gay sex, but this is very much in tune with Hollywood's 1940s zeitgeist.  One of this year's better offerings from Netflix and a most entertaining watch particularly for those who love Hollywood's sometimes outrageous history. Highly recommended.
Hollywood is streaming now in its entirety on Netflix
[youtube https://www.youtube.com/watch?v=Q3EASLgzOcM&w=640&h=360]
---
The Creative Content: 4.0/5
Show Creator: Ryan Murphy
Original Release Date: 1 May 2020
Streaming Service: Netflix
Ep. Run Time: 44-57 Mins.
No. Eps.: 7
Studios & Distributors: Ryan Murphy Productions | Netflix Studios
Rating Certificate: TV-MA