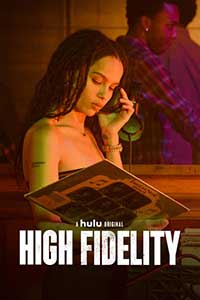 Over the years, rom-com movies have often served as the sources for subsequent small-screen series. Stephen Frears's big-screen realization of Nick Hornby's novel was well-received twenty years ago and now High Fidelity returns as a 10-episode series created by Veronica West and Sarah Kucserka for the Hulu studios. Maintaining the unbroken circle between the original and the reboot is the series' lead-role casting of Zoë Kravitz whose mother, Lisa Bonet, was John Cusack's one-night stand in the film version.
Robin AKA "Rob" Brooks (Kravitz) owns Championship Vinyl, a vintage record store in Crown Heights, Brooklyn. Her store appears to enjoy modest sales but gets some interesting regular visitors like Rob's brother Jackson (Rainbow Francks), an out-of-work music critic, and legendary rock journalist "The Hammer" (Brian Silliman). The film's trope of "top five heartbreaks" also kicks off Rob's recollection of her failed romances, the most recent being  Russell "Mac" McCormack (Kingsley Ben-Adir), a suave English dude who had planned to marry her until she failed the commitment test.
Championship Vinyl has two regular employees, Simon (David H. Holmes), one of Rob's earlier heartbreaks who came out as a gay man, and Cherise (Da'Vine Joy Randolph), a generously proportioned Black woman, who harbors hopes of someday becoming a pop music star. As in the film, Rob bounces some of her innermost thoughts off of this odd couple while searching for the perfect hook-up to finally lead to a lasting relationship.  She meets handsome gym rat Clyde (Jake Lacy) at the local dive bar, and after a torrid one-nighter, Rob thinks that this could be the beginning of something good.
The count-down crisis in Rob's life is her rapidly approaching her thirtieth birthday and she has a near-miss romance with Liam (Thomas Doherty), a promising pop singer who turns out to be way too young for her. Another door to lasting happiness closes when Mac becomes engaged to lovely Lily (Dana Drori) who offers a less complicated alternative to the very complicated Rob.
[envira-album id="122315″]
High Fidelity takes dead aim at millennials in search of answers to life's basic questions, flavored by a background of some really good vintage music. We watch the principal characters trying to cope with their personal situations–Rob coming to terms with Clyde and Mac, Simon with his on-again-off-again lover Benjamin (Christian Coulson), Cherise and her urgent desire to get noticed, and Jackson struggling with his wife Nikki's (Nadine Malouf) pregnancy will drastically change their lives. The two Robs as portrayed by Kravitz and Cusack share similar personality traits, particularly their hedonism and stunning lack of insightfulness, although the role's gender-reversal adds a different perspective on affairs of the heart. The series like the film frequently uses Rob's commentaries to move its various subplots along and the location change from Chicago to Brooklyn makes everything edgier. The sex is also more explicit and the language more profane meriting its TV-MA rating, but this is surely a stylistic concession to a new audience that typically expects these features.  As the season concludes, enough tantalizing loose ends dangle to leave the door open for the Championship Vinyl crew to grace us with a second season. Highly recommended.
High Fidelity is streaming now in its entirety on Hulu
[youtube https://www.youtube.com/watch?v=r5bkbfdVzbI&w=850&h=478]
---
The Creative Content: 4.0/5
Show Creators: Veronica West | Sarah Kucserka
Original Release Date: 14 February 2020
Streaming Service: Hulu
Ep. Run Time: 26-34 Mins.
No. Eps.: 10
Studio/Distributor: ABC Signature Studios | Midnight Radio | Hulu
Rating Certificate: TV-MA