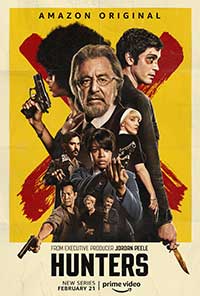 Moments into Episode One of Hunters, the proverbial cat escapes the bag during a 1977 poolside party at the home of Undersecretary of State, Biff Simpson (Dylan Baker).  Helen Hirsch (Izabella Miko), wife of a Simpson aide, recognizes their host as the Nazi who murdered her family. Simpson responds quickly by killing all of the guests including his wife and children, then has young Nazi-wannabe Travis Leitch (Greg Austin) shoot him in the arm with the same weapon to cover up his crime.  As this ten-episode series unfolds, there is undeniable evidence that real Nazis are living in America and are planning the emergence of the Fourth Reich.  
Jonah Heidelbaum (Logan Lerman) is a young Jewish man working in a comic book store and sharing an apartment with his elderly safta (grandmother) Ruth Heidelbaum (Jeannie Berlin), one of the many Holocaust survivors living in New York. Her fellow Holocaust survivor is the wealthy businessman, Meyer Offerman (Al Pacino) who shares with her a terrible secret about something that happened in their concentration camp. Lurking in the background is the "ghost" of Wilhelm Zuchs (Christian Oliver), a death camp surgeon  AKA  "The Wolf," whose advances were rebuffed by the young Ruth (Annie Hagg) at Auschwitz.
Offerman's motley crew of Nazi hunters consist of codebreakers Murray (Saul Rubinek) and Mindy (Carol Kane) Markowitz, driver Roxy Jones (Tiffany Boone), master of disguise and television actor Lonny Flash (Josh Radnor),  troubled Vietnam vet and martial arts expert Joe Mizushima (Louis Ozawa), and former MI6 agent-turned-"nun" Sister Harriet (Kate Mulvaney). After a home invader kills Ruth in front of Jonah's eyes, the Hunters quickly track down her murderer Heinz Richter (Kenneth Tigar), a former concentration camp officer, and eliminate him in his toy store. There are numerous and grim flashback scenes to the death camp where we see the backstories of Ruth, Mindy and Murray, and others who did not survive like the Markowitz's young son Aaron (Joshua Satine).
[envira-album id="122357″]
Other ex-Nazis get their due—NASA scientist Gretel Fischer (Veronika Nowag-Jones) is gassed in her shower, successful musician Karl Holdstedder is shot in his recording studio and Swiss banker Frederic Hauser (John Noble) dies by his own hand. This trail of bodies gets the attention of FBI Agent Millie Morris (Jerrika Hinton) and her investigation eventually leads her to Offerman. Jonah, a math whiz, joins the group and decodes a Nazi message giving the date of a major attack planned for somewhere in New York. Meanwhile, Offerman is being held in Morris's custody and his warnings of impending calamity in the Big Apple go unheeded. The Colonel (Lena Olin) who, assisted by Schidler Corporation executive Katarina Low (Megan Channell), is the mastermind behind this heinous scheme that begins with a power blackout throughout New York.
The storyline moves on apace and the final plot twists caught me completely off-guard and make this dark tale even darker. Hunters is a quirky and intense show that mixes dark humor—brief segments of a panel quiz show "Why Does Everyone Hate The Jews"—and pathos—Mindy briefly reuniting with her dead son. It also becomes clear that something is rotten in the FBI, surprise, surprise.  Al Pacino makes his first television appearance in more than half a century and creates a memorable yet conflicted character.  Logan Lerman and Jeannie Berlin and their fellow hunters all create credible characters that surmount their differences to mete out justice to the evildoers. Although Lena Olin's appearance is relatively brief, she exudes the kind of tightly controlled malevolence that would instill fear in nearly everyone.  The 1970s zeitgeist is faithfully recreated down to the hairstyles, wardrobes, music, and automobiles. Viewers that are easily shocked will have a difficult time with the violence that accompanies every episode but this is an intrinsic part of the story.  Easily one of the better shows of 2020 and, as the final scenes roll, one that will keep the door open for a second season.
Hunters: Season 1 is streaming now in its entirety Prime Video
[youtube https://www.youtube.com/watch?v=HBGkjmfIzAw&w=850&h=478]
[amazon box = "B07ZPGMH1B" ]
---
The Creative Content: 4.0/5
Show Creator: David Weil
Original Release Date: 21 February 2020
Streaming Service: Amazon Prime Video
Ep. Run Time: 60 Mins.
No. Eps. 10
Studio/Distributor: Monkeypaw Productions | Big Indie Pictures | Sonar Entertainment | Amazon Studios
Rating Certificate: TV-MA