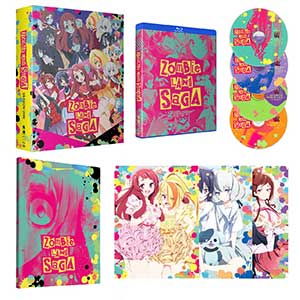 Zombie Land Saga is an anime television series produced by MAPPA, avex pictures and Cygames. Set in 2018, the series follows a man named Tatsumi Kotaro who brings six "legendary" girls from the past – including high school student Minamoto  Sakura whom we see abruptly killed by a truck one morning in 2008 as she is on her way to apply to become an idol. Although they may be back there's one problem – they're all undead zombies. Kotaro's brilliant plan is to bring them together and form an idol group in order to drum up publicity for his flagging prefecture. The series basically follows the six girls from their awakening of consciousness – meaning the return of their memories – and the relationships they begin to build with each other as an idol group as they try to navigate the new and unusual world they have found themselves in. Of course, they must try to hide their identities as zombies.
The interaction between the girls is one of the main driving forces behind this series as is its truly easy humor. The series also breaks ground by delivering what is perhaps the first transgender character in Lily, an idol who died from the unbearable shock of growing facial hair in her past. I don't believe I have ever seen a trans or LGBTQ character in anime that wasn't played as a stereotype, cliché "fabulous" or, in the case of a transgender character, just a man in a dress or an antagonist. I'm open to being corrected if I'm overlooking something.
This being a show about idols, there is of course also plenty of time for musical performances, so there are a lot of those standout moments and they leave hardly a genre untouched, from rap battles to death metal to straight-up sugary J-pop.
Anyone looking for a zany, well-written satire with excellent character designs and detail in their anime should look no farther than Zombie Land Saga Season 1.

The Video
Zombie Land Saga comes to Blu-ray with an AVC 1080p encodement of its digital animation. We get a solid transfer here with crisp line art and vibrant colors that aren't oversaturated There's some mild color banding, but not enough to ruin the overall detail and presentation.
The Audio
Both the original Japanese-language stereo in Dolby TrueHD 2.0 and an English dub in Dolby TrueHD 5.1 are provided on Blu-ray. The sound for both mixes is decent with good midrange 'punch' and stereo separation of the instrumentation for the musical performances in the 2.0. The 5.1 mix is only average but still enjoyable. It seems to be more atmospheric than discrete. Both provide clear and full dialogue. The Japanese and English voices casts do great jobs but the translations for the English dub are at times a little too far off from the original dialogue for my taste.
The Supplements
On-disc extras for Zombie Land Saga Season 1 are slim. Funimation provides only an Episode 2 Audio commentary and textless songs, but the collectible swag in this limited edition is really where it's at. You get three holographic art cards, chibi magnets, and a 20-page artbook. The entire 4-disc, 2-Blu-ray+2-DVD set is housed in a high quality matte colored chipboard slipcase.
The Final Assessment
A gut-punch of laughs, J-Pop, and zombies, Zombie Land Saga is a binge-worthy, top-notch series that breaks new ground and is well worth owning in this dual format limited edition set from Funimation.
Zombie Land Saga Limited Edition is out now from Funimation
---
The Story: 3.5/5
The Animation: 4.5/5
The Video: 4.5/5
The Audio: 4.0/5
The Dub: 3.0/5
The Supplements: 3.0/5
TV Rating: TV-14
Animation Studio: MAPPA
Distributors: Crunchyroll | Funimation Entertainment
Director: Sakai Munehisa
Writer: Murakoshi Shigeru
Run Time: 300 Mins.
Aspect Ratio: 1.78:1
Video Format: AVC 1080p
Primary Audio: Japanese Dolby TrueHD 2.0 Stereo
Secondary Audio: English Dolby TrueHD 5.1
Subtitles: English