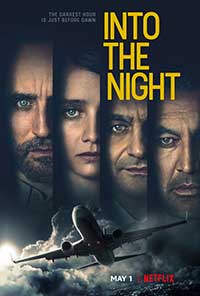 In a world struggling with a pandemic, there have already been plenty of streaming sci-fi offerings to divert the many shut-in Netflix subscribers. The basic premise of the 6-episode Belgian series Into the Night is that our sun has gone haywire and is now emitting radiation that is killing the Earth's inhabitants as each new day dawns.
In Brussels International Airport, a frantic NATO officer Terenzio Gallo (Stefano Cassetti) bolts past security checkpoints, grabs a guard's assault weapon, and charges onto an airplane bound for Moscow.  Gallo has seen televised pictures of those already killed by the solar flares and he forces flight attendant Gabrielle Renoir (Astrid Whettnall) to shut the entry door with only a few passengers and a partial crew on board. At gunpoint, he orders co-pilot Mattieu Douek (Laurent Capelluto) to change course and fly west to avoid the lethal sunrise. When Mathieu balks, Terenzio accidentally shoots the pilot's left hand and damages the cockpit's radio. Former Air Force helicopter pilot Sylvie Dubois (Pauline Etienne) assumes the vacant chief pilot's seat as home healthcare nurse Laura Djalo (Babetida Sadjo) bandages Matheiu's bloody hand.
Other Moscow-bound passengers include anxious mother Zara Oblonskaya (Regina Bikkinina) and her ailing son Dominik who suffers from cystic fibrosis, scientist Horst Baudin (Vincent Londez), bordello owner Ayaz Kobanbay (Mehmet Kurtulus), religious freak Rik Mertens (Jan Bijvoet), engineer Jakub Kieslowski (Ksawery Szlenkier); airplane maintenance man Osman Azizi (Nabil Mallat), and an unnamed passenger sitting next to Ayaz who is clearly unwell.
It seems that nearly everyone on the flight has a backstory. Sylvie has an urn containing her dead boyfriend's ashes and has been contemplating suicide. Jakub took an earlier than planned flight so he could return home sooner and attempt to get his wife pregnant. Rik is en route to pick up what he thinks is an email-order Russian bride. Mathieu has cheated on his wife and knocked up the other flight attendant who got locked out of the airplane.  Ayaz had "obtained" some rare emeralds, placed them in a bag, and paid the ill passenger (who later dies) to swallow it.
[envira-album id="123159″]
What ensues is a continually changing flight plan that bypasses Iceland for Scotland, then heads to Canada, Alaska, and eventually Hawaii. When Mathieu receives news that the Hawaiian safe haven is not ready, he reverses the plane's course again and takes everyone back to Brussels with hopes of eventually reaching an underground bunker in Bulgaria before sunrise.
The trope of a runaway sun that will destroy the Earth's population has been used before and to much better effect in recent international series like Hard Sun. Where Into the Night lost me was in its endless array of in-flight disasters that somehow are miraculously surmounted by a group of passengers with no jet aircraft flying experience after the co-pilot gets injured—a successful landing with YouTube guidance, anyone? There are also plot device oddities like ready on-board Internet access when it is highly unlikely that the transmitters were still functional, broadcasts from cosmonauts on the plane's repaired radio, or the endless availability of jet fuel in untended airports.  While this could have been a fascinating race against time, Into the Night is a rather hum-drum exercise in survivorship that does leave the door open for a second season. The Old Axolotl, Jacek Dukaj's book on which this show is based, has robots replacing people after the solar event is over. Perhaps, the 'bots might be an improvement over the stereotypic characters that populate this series. Netflix releases so many new shows that there are bound to be hits and misses. Unfortunately, the series falls into the latter category.
Into the Night is streaming now in its entirety on Netflix
[youtube https://www.youtube.com/watch?v=ZGosoC7q_po&w=784&h=441]
---
The Creative Content: 2.5/5
Show Creator: Jason George
Streaming Service: Netflix
Ep. Run Time: 35-40 Mins.
No. Eps.: 6
Studios & Distributors: Entre Chien et Loup | Netflix
Rating Certificate: TV-MA